BCN3D has re-engineered the Sigma R19 with innovative IDEX system printing modes and a slew of new design upgrades. The IDEX system includes two extruder heads that are able to operate independently from one another. Originally, while one print head was in action, the other toolhead would remain idle to prevent molten plastic from dripping onto the part.
Now, with the BCN3D Sigma R19, both toolheads can be used at the same exact time to print the same model, effectively doubling productivity. The new Mirror and Duplication printing modes allow users to print a model and a symmetrical copy at once, increasing the printing capacity and reducing production time.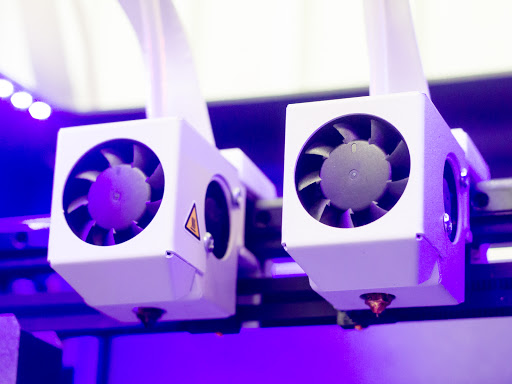 There are also a number of hardware and design upgrades that place the BCN3D Sigma R19 one step ahead of its predecessors. It's equipped with redesigned Sigma HotEnds by E3D, which provide smoother and more reliable extrusion.
The Swedish extruder manufacturer BondTech has designed new Sigma extruders that contain high-tech dual drive gears, meant to eliminate any possibility of grinding and filament slippages. According to the manufacturer, this refined extrusion system yields more control and superior printing performance.
BCN3D has also integrated a full-color touchscreen that grants users with quick and reliable access to various print settings. With this user interface, you can manage the printing process right 3D printer, conduct calibration tests, and load models directly onto the printer via an SD card. The revised GUI also offers guided assistants, maintenance tips, and more comprehensive system settings.
Compared to the R17, the most notable differences in the BCN3D Sigma R19 are the new printing modes and enhanced extruder system. Other improvements to usability include a mechanical filament detection switch that automatically stops a print once the material runs out.
For those who own an older Sigma model, BCN3D will offer upgrade kits to bring them up to par with R19. BCN3D has also released version 2.1.0 of its own Cura fork, which includes optimized print profiles for the company's range of technical materials. And of course, being an open source machine, the manufacturer is planning to share the source files, design, and BOMs for the new 3D printer.
The BCN3D Sigma R19 is currently available for pre-order at $2,995. The 3D printer is expected to start shipping by the end of October 2018.