The BigRep ONE v3 is a cleverly simple cube. For printers as large as the BigRep ONE v3 (1005 x 1005 x 1005 mm³), printing is a series of trade-offs between quality and speed, which can be incrementally chipped away at with improvements to hardware, slicer settings, and materials.
For hardware, the modular dual extruders occupy a small lightweight gantry, reducing the risk of pendular rocking or vibrations during fast movements. The rigid frame and Z-stage show a similar stability-centric intent — altogether evoking the company's "German engineering" aesthetic.
With a heated build plate, newly released "Power Extruders", filament detection, acceleration up to 400 mm/s², and resolutions from 100 to 1400 microns, the BigRep ONE v3 reads like a supersized desktop 3D printer.
Appropriately, it supports a range of common desktop materials, like PLA, PVA, PETG, flexible and high-temp plastics. Most notably, BigRep offers a high-speed PLA, dubbed "PRO HS," whose "high throughput characteristics" enables faster printing. For software, the printer is optimized to run on the popular slicer Simplify3D but is also compatible with Cura or Slic3r.
If you've ever needed to build a large or human-scale part and had to rely on manually fabricating it or 3D printing it in multiple pieces, you understand the serious advantage a full cubic meter of build volume offers. BigRep cites impressive furniture and bicycle design use cases, and claims Etihad Airways as a partner. A number end-use applications exist within the range of materials the BigRep ONE offers, but the printer's real constructive capability is in producing large prototypes quickly and reliably.
Different barriers to speed, like instability or low surface quality, continue to challenge large-format printer manufacturers to find new ways to shave off print time. Given the industry's history, we can expect a large portion of this to happen on the software side.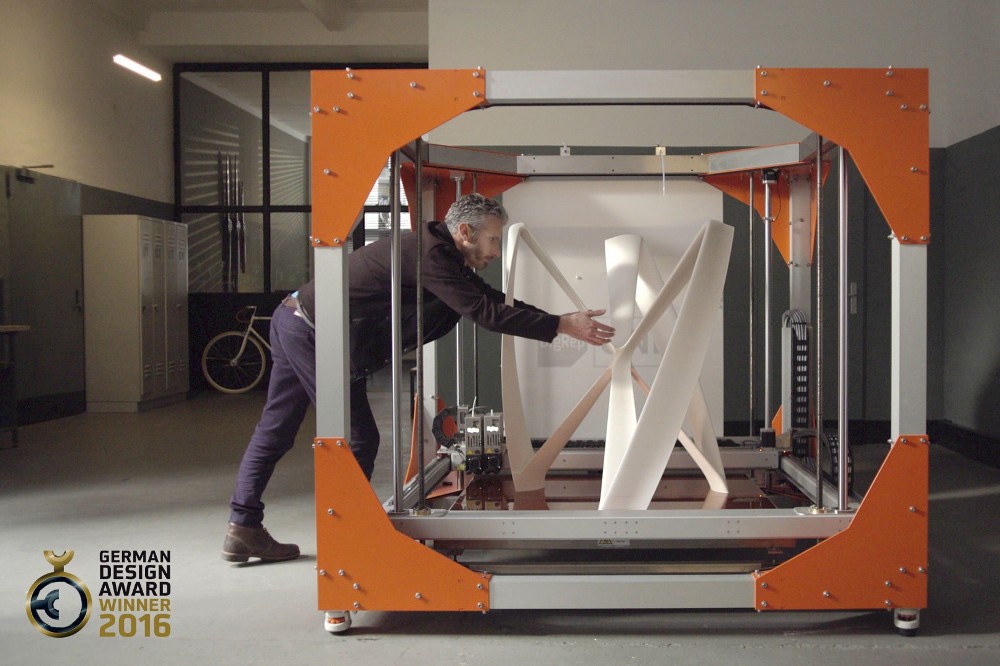 Smarter toolpathing and better material print profiles have been key drivers in reducing print time. However, BigRep's "PRO HS" and fast extruder upgrades demonstrate serious attention to unlocking even higher speeds.
All told, the company's focus on print quality and customer needs inspires confidence that the BigRep ONE v3 is the sort of powerful, stable platform that will easily enable further improvements and innovations.
For a deeper look at large-format 3D printers, check out our guide to The World's Biggest and Most Expensive 3D Printers in 2018.