With the latest update to their Z-SUITE software, desktop 3D printer manufacturer Zortrax is rolling out support for third-party filaments
Desktop 3D printer manufacturer Zortrax is doing the unthinkable. They're opening up their 3D printers to third-party filaments. The changes are effective immediately, with the release of the latest version of their Z-SUITE slicing software.
What does this mean, exactly? It means that users of the Zortrax M200 and Zortrax M300 3D printers are now able to fabricate with materials from outside the Zortrax ecosystem.
Previously, Zortrax customers were confined to using the Polish company's own range of proprietary materials. But it appears that growing demand from the maker community (like the video below from 3D Printing Nerd Joel Telling) has encouraged the company to adopt a more open approach.
According to the Zortrax Chairman of the Management Board, Rafał Tomasiak:
"We have received signals from users who wanted to experiment with external printing materials not included in our current material range. The newest software update is a response to those signals."
Intriguingly, this monumental change is bundled together with a list of other "business-as-usual" updates for the Z-SUITE update. That means stuff like managing infill level, model splicing, size control and printing speed, plus separate settings for the printing material.
Third-Party Filaments a Big Step Forward for Zortrax
Adopting support for third-party filaments is a significant move for Zortrax.
The open source philosophy is a cornerstone of the desktop 3D printing revolution, as championed by the likes of Prusa Research, Aleph Objects, Ultimaker and BCN3D Technologies. Zortrax is a big brand that's one of the few holdouts.
And while that position is unlikely to change in the near term, allowing their customers to experiment with third-party filaments is a big win for consumer choice.
The company maintains that its initial drive for a closed ecosystem was to ensure quality and reliability. And naturally, it will continue to encourage customers to use their own-brand materials to guarantee the best results.
"Please keep in mind," cautions Tomasiak, "that the only way to ensure the top quality and hardware reliability of our solutions is by using Zortrax materials."
Zortrax current range of 3D printing materials includes:
Z-ABS — designed for printing concept models and mock-ups, available in 11 colours.
Z-PCABS — an ivory coloured durable material for items such as casings, moving parts or structural elements.
Z-PETG — provides models with a shiny surface immune to damage caused by mechanical factors, time and light. It is also highly resistant to salts, acids, bases and solvents. Available in grey and black.
Z-ULTRAT — an original Zortrax polymer available in 22 colours with increased resistance to external factors and easy mechanical post-processing.
Z-GLASS — a light-transmitting material for printing items with transparent surfaces.
Z-HIPS — reduces risk of deformation and time required for post-processing. Its unique structure absorbs light and reduces visible imperfections.
Z-ESD — a black filament, resistant to electrostatic discharge, ideal for electronics casings.
The latest version of Z-SUITE 1.10 is available to download now.
Source: Press Release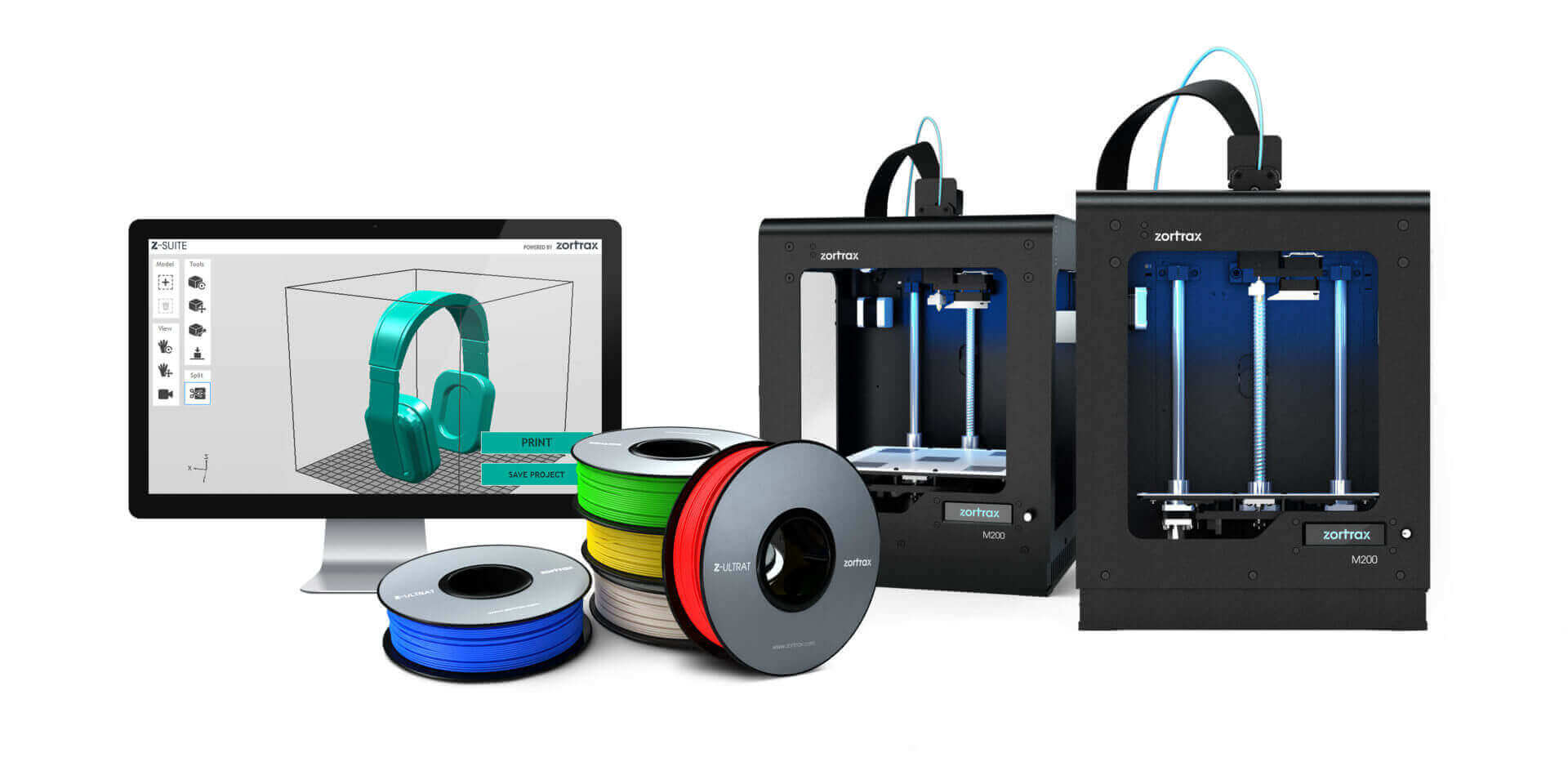 License: The text of "Zortrax Now Open to Third-Party Filaments for 3D Printing" by All3DP is licensed under a Creative Commons Attribution 4.0 International License.
Subscribe to updates from All3DP
You are subscribed to updates from All3DP
Subscribe
You can't subscribe to updates from All3DP. Learn more…