Italian startup Youbionic has developed a new 3D printed bionic hand which they claim can perform all movements that a biological hand can. However, with a price tag of €1,499, it doesn't come cheap.
Youbionic, an Italian startup working with robotics and bionics, has developed a bionic hand called "Youbionic Hand" which they hope will interact with the outside world in a similar fashion to a biological hand.
The Youbionic Hand is made using 3D printing and designed to perform the movements of a human hand. The company claim that the new design is stronger and more capable of gripping and picking up objects than their previous designs.
In fact, the new hand offers a complete redesign on previous bionic offerings and now has a "structure optimized for resistance". The company explains on their website that studying natural forms and mathematical algorithms were used to generate the models.
Federico Ciccarese is the founder of Youbionic. He explains on the company website: "Today humanity is going through an unprecedented historical period, any of us have access to technologies and tools to create high-level devices that can change deeply the world we live in, making mankind evolve towards goals more and more ambitious."
Redesigned Bionic Hand from Youbionic
The Youbionic Hand has been designed so that each finger is stand-alone, offering modularity. This means each finger can be part of alternative configurations. The Hand also offers active movements with 6 active actuators.
Ciccarese adds: "Soon, components will be available that allow different assemblies: you will be able to create three-finger clamps for installations on anthropomorphic robots or wearable human-armored devices."
The Youbionic Hand is 3D printed using PLA and be controlled by programming an Arduino microcontroller using a PC or Mac. This Hand now promises the latest firmware meaning more responsive control and advanced position features.
"The future of robotics is in the hands of those who know how to observe (…) nature, collect the significant aspects and design by starting from the white sheet," said Ciccarese.
If you're interested in the Youbionic Hand, make sure to visit the website. It is now available and costs €1,499. For this price, you'll receive a fully assembled Youbionic Hand with a wearable support for your arm. As well as this, the arm comes with a Micro USB cable for programming, a power bank 5V 12000mAh 3A and a MyoWare Sensor.
Please be aware that there are also other 3D printable prosthetics around that can't keep up with the functionality, but come at a much lower price.
Read more about Youbionic on All3DP.
Source: Press Release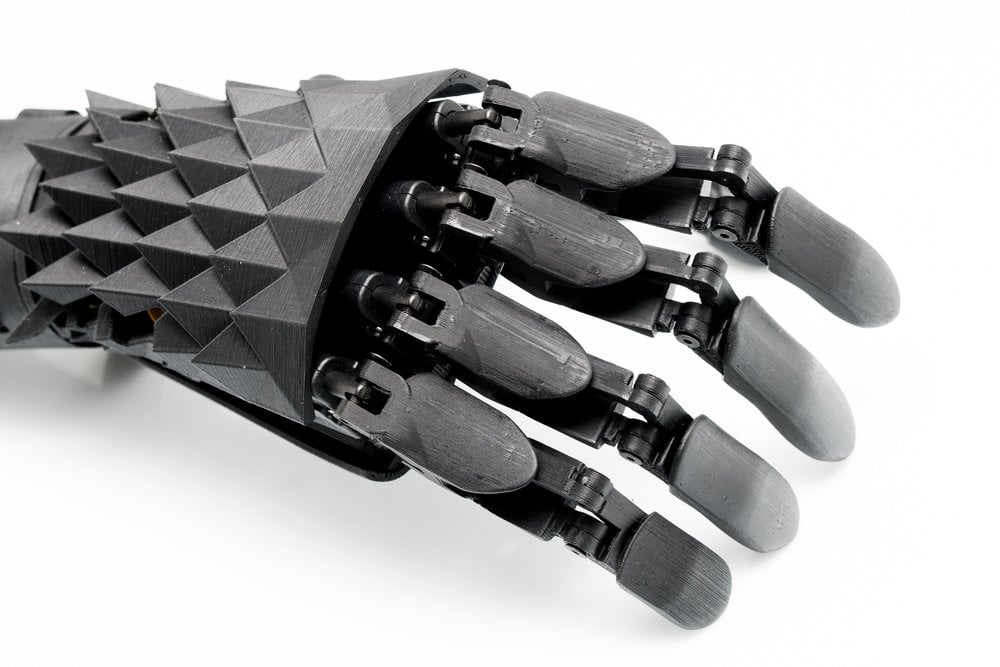 License: The text of "Youbionic Develops New Version of 3D Printed Bionic Hand" by All3DP is licensed under a Creative Commons Attribution 4.0 International License.
Subscribe to updates from All3DP
You are subscribed to updates from All3DP
Subscribe
You can't subscribe to updates from All3DP. Learn more…