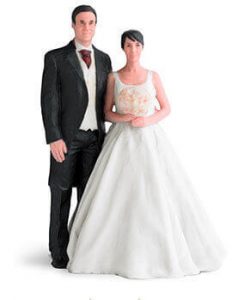 A 3D printed selfie – for the wedding cake[/caption]
In recent years, selfies have taken over the world by storm. From common people to celebrities, everyone has taken part in the selfie trend. Now, 3D printers have stepped it up a notch and brought about the idea of 3D selfies, which are basically 3D busts of the person of whom the selfie is being taken.
Nowadays, there are several apps which allow you to take 3D selfies. All you have to do is to move the camera from left to right in front of your face which will create a 3D rendering of your face. On the other hand, there are several companies which offer a full 3D rendering, right up to the wrinkles in your clothes.
Now if you're wondering whether there are other purposes to 3D selfies other than placing a lifelike bust of yourself on the mantelpiece, you do not have to worry. Some of the more popular applications include creating rendering of your pets by using any pictures you may have, and hence immortalizing them.
Furthermore, you can print 3D figurines of you and your loved one as toppings for your wedding cake. Of course, once you start thinking about it, the possibilities are endless.
License: The text of "What is a 3D Selfie?" by All3DP is licensed under a Creative Commons Attribution 4.0 International License.
Subscribe to updates from All3DP
You are subscribed to updates from All3DP
Subscribe
You can't subscribe to updates from All3DP. Learn more…