Online 3D printing service i.materialise launches intriguing new material; a waterproof polyamide for objects that need to be submersible.
If there's one thing the world needs more of, it's 3D printed bath ducks. Praise the celestial overlords of additive manufacturing, then, for today's announcement. Professional 3D printing service i.materialise is launching a new waterproof polyamide finish.
That means 3D printed objects with a watertight finish. So in theory, it would be great for stuff like bath ducks, cups, vases, and anything that needs to withstand getting wet.
To obtain the waterproof finish, the model is 3D printed using the same procedure as standard polyamide prints. That's selective laser sintering (SLS), for the uninitiated. Once the object is completed, an aqueous solution is applied to the surface to fill the small pores and close them up. The net result is a water repellent object.
The thing to note, however, is that this a post-processing stage. A technician at i.materialise applies the solution either manually or by dipping the part (depending on the design). That means an extra labor cost is required, plus an addition of two working days to the standard lead time when an item is ordered.
It's a promising new customization, to be sure, but at this early stage the waterproof polyamide is only available in white. The company says they want to ensure maximum quality of the final product.
Design Tips for Waterproof Polyamide

Polyamide is a popular material for 3D printing, perhaps because it allows the greatest freedom of design. It can be used for complex models, small series, and functional models. Adding a waterproof finish to your 3D printed objects will make them more useful.
But there are a couple of specifications to pay attention to when designing for this new finish.
Firstly, the maximum size when selecting waterproof polyamide should be 300 x 300x 300 mm.
Also, due to the manual application process, surfaces which are not easily accessible will not be treated as thoroughly. This results in a lower level of sealing.
Finally, for those objects with internal channels, it's important to make sure that the diameter is at least 6mm or you could risk blocking them with the sealing agent.
i.materialise recommends thorough testing of the finished item before completely submerging it. Resistance to liquids will depend on different factors such as the complexity of the design, the temperature of your surroundings, water pressure, and which liquid you use.
More announcements about additional finishes are promised. Stay tuned for more details. In the meantime, learn more about all the materials and finishes from i.materialise for polyamide.
Source: i.materialise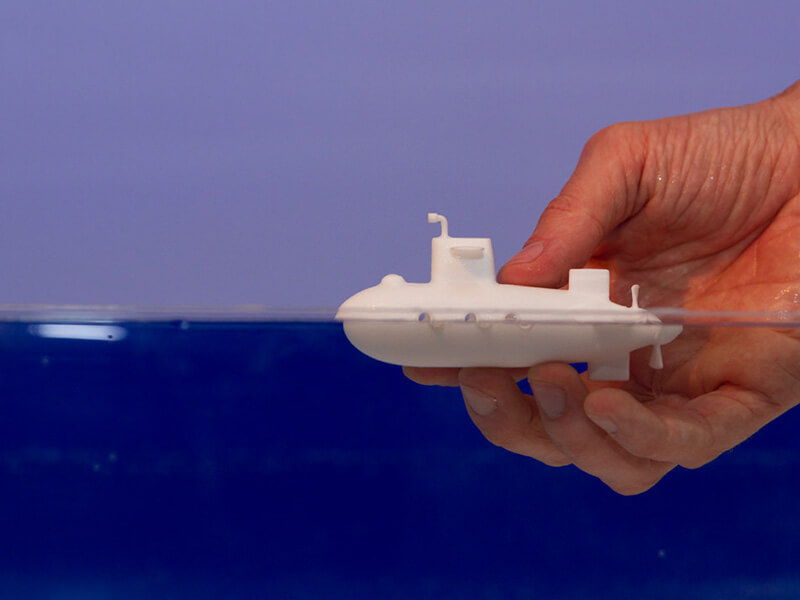 License: The text of "New Waterproof Polyamide SLS Objects from Imaterialise" by All3DP is licensed under a Creative Commons Attribution 4.0 International License.
Subscribe to updates from All3DP
You are subscribed to updates from All3DP
Subscribe
You can't subscribe to updates from All3DP. Learn more…