Italian 3D printing WASP announced that Shamballa Technology Park has moved. Now, it's located in an industrial warehouse which is the first service center for large-scale 3D printing in Italy offering its service to everyone.
Italian 3D printing company WASP (short for "World's Advanced Saving Project") was founded in 2012. The company produces 3D printers of all shapes and sizes but are known for their huge delta 3D printers.
The money made from these WASProject printers is then invested into research projects. For example, building an ecological 3D printed village in Massa Lombarda with the help of the world's biggest delta 3D printer, also made by the company.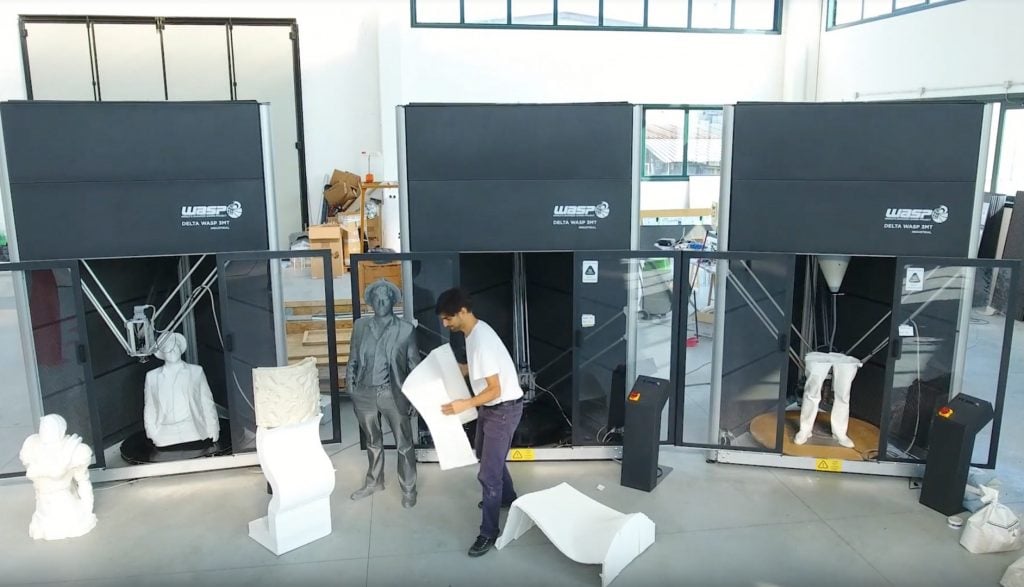 CEO Massimo Moretti previously said: "We decided to name the technological village Shambalha, from the name of the mythological place that symbolizes the city of peace, tranquility, and happiness."
Although it's unclear as to when the village will be finished, changes are happening. WASP announced that its Shamballa Technology Park has moved and shifted it's perspective to large 3D prints. Its new location is an industrial one thousand square meters warehouse, which offers plenty of room (and storage) for prints that are far too big for most 3D printing manufacturers.
New WASP Warehouse Doubles Up as Showroom
This warehouse is the first Italian service center for the large-scale 3D printing. But, the WASP warehouse is also a showroom. The company state in a press release that it'll be possible to view the vast range of printers at work. Such printers include the DeltaWASP Turbo 2, the DeltaWASP 4070 Industrial and the DeltaWASP 3MT Industrial. Also, one of the biggest 3D printers in the world, the 5-meters delta printer is located outside of the showroom (see image below).
As well as this, outside of this warehouse, the research and experiments continue. For example, if you're in Rome between March 21st and 27th, it's possible to see the work of the DeltaWASP 3MT printer.
For the play "Fra Diavolo", the machine was used to create the first 3D printed scenography. The play will now be shown at the Teatro Massimo in Palermo.
You can also meet the WASP team at MECSPE in Parma. This is the reference fair for the manufacturing industry. It will be taking place from 22nd to 24th of March (Pavilion 6 Stand I13).
Source: Press Release
License: The text of "WASP Shamballa Technology Park Can Print Huge Structures" by All3DP is licensed under a Creative Commons Attribution 4.0 International License.
Subscribe to updates from All3DP
You are subscribed to updates from All3DP
Subscribe
You can't subscribe to updates from All3DP. Learn more…