A Venus de Milo replica and other statues in Paris, France received 3D printed prosthetics as part of Handicap International's #BodyCantWait campaign.
Handicap International, the French nonprofit organization, is using an unusual, yet effective method for raising awareness of the approximate 100 million amputees across the world who need prosthetics.
The organization works in "situations of poverty and exclusion, conflict and disaster" to provide aid for people with disabilities. Their latest campaign is called #BodyCantWait.
This campaign involved 3D printing prosthetics for famous statues in Paris, France. The highest profile statue to receive prosthetic arms was a replica of Venus de Milo, the armless Greek goddess, located at the Louvre-Rivoli metro station.
She was fitted with to-scale arms, one of which is holding an apple, that strap across her body. Other statues around the city, including Alexandre Combattant, based in the Tuileries Garden, also received prosthetics.
The organization trialed 3D printing technology with people in Togo, Syria, and Madagascar – 19 amputees received prosthetics printed from resin. But, there are also plans to provide 100 people in India with prosthetics too.
"We want to take this to the next level, bringing them to more countries and equipping more people," Xavier de Crest, head of Handicap International France, told AFP.
3D Printing Provides Prosthetics Quickly
Although 3D printing regularly provides a cheaper manufacturing option, in this case, the resin-based printing technique is more expensive when compared to traditional methods of producing prosthetics.
However, de Crest points out that although Handicap International's prices are higher, the prints are easier to produce, especially in developing countries. He explains the process, saying:
"Before 3D printing, you had to make a plaster cast of the stump, adjust it four or five times, encase it in resin, things that required trained professionals and lots of equipment.  Now a tiny scanner can analyze the stump and transfer the measurements to modeling software, then to a 3D printer. You save time and it's more practical, especially when we're working in a conflict zone like Syria."
Although the prints from Handicap International are currently expensive, there are many other organizations working on creating cheap and quick 3D printed prosthetics. Check out the work of LimbForge, Open Bionics, and Taurus 3D.
The trials in Togo, Syria, and Madagascar were encouraging, but Handicap International now need donations to develop the program further. Find out more about Handicap International's campaign by following the hashtag #BodyCantWait.
Source: Manila Bulletin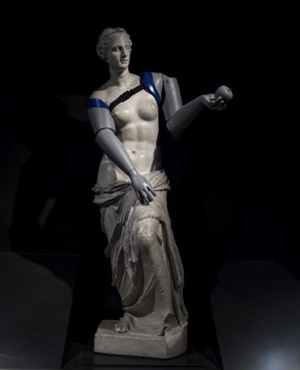 License: The text of "Venus de Milo Receives 3D Printed Prosthetics for Handicap International Campaign" by All3DP is licensed under a Creative Commons Attribution 4.0 International License.
Subscribe to updates from All3DP
You are subscribed to updates from All3DP
Subscribe
You can't subscribe to updates from All3DP. Learn more…