Taurus 3D founder, Jerry Ennett, is heading to remote India with 3D printers and designs for artificial limbs. His goal is to teach clinicians to quickly print affordable custom-fitting prosthetics on demand.
A 3D printing company based in Stratford, Ontario, is looking to help the rural community of Ayikudi, southern India, with 3D printing technology. Taurus 3D's goal is to enable to local clinicians away from the the typical urban centers to create fast and affordable prostheses.
Currently, those in remote locations who lose a limb face a dramatic loss in livelihood. Fittings for prosthetic limbs means travelling to rehab clinics in larger population centers at great expense.
However, as we've seen countless times, 3D printing democratizes this process and can vastly lower the price point for prostheses. For m any, this difference could be life changing.
Ennett, the founder of Taurus 3D, is preparing for a visit to Ayikudi in southern India this November. While there, he will train staff at the Amar Seva Sangam rehab clinic to use 3D printers to create artificial limbs for patients.
"There will be five days of training, design training and technical skills training, and then a few days of case study work where we find a patient that could benefit and document the case study – hopefully two or three of those. I'm also bringing a documentary filmmaker so we can document that and maybe distribute that film to other clinics," explains Ennett.
Ennett is also raising money for clinics worldwide by holding 3D printing workshops for kids in his hometown. At these events, kids can learn about the technology, keep whatever they print and receive a Taurus 3D t-shirt.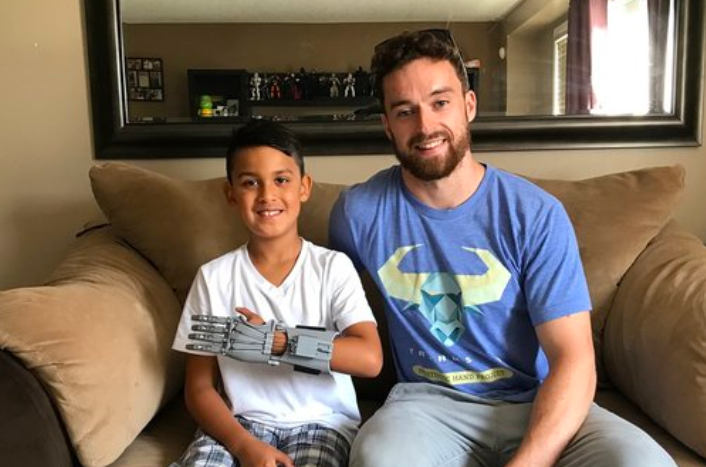 Global 3D Printing Knowledge
Ennett will take two 3D printers to India with him. Training clinicians on both, he plans to leave one behind at the Amar Seva Sangam clinic. He continues "…we're bringing and donating the 3D printer for them and the materials, and then as patients come in, through emails they can send me photos and I can design a device and then email them the design file back, and then all they have to do is print it off".
He chose the Amar Seva Sangam rehab clinic due to its inability to meet the demand for the limbs. Indeed with 16-20 amputees turned away each month, he hopes to save them the considerable time and cost in travelling to a larger city to be fitted with a prosthesis.
Along with the money raised from educational workshops, Ennett also received $25,000 from the World Vision Social Innovation and Design Challenge and $8,000 from the University of Guelph to fund his venture.
Interested in donating to Taurus 3D? Ennett will be hosting a workshop for kids this Sunday from 9am – 12pm at Gallery Stratford in Ontario.
Source: Stratford Beacon Herald
License: The text of "Taurus 3D Brings 3D Printed Prosthetics to Remote India" by All3DP is licensed under a Creative Commons Attribution 4.0 International License.
Subscribe to updates from All3DP
You are subscribed to updates from All3DP
Subscribe
You can't subscribe to updates from All3DP. Learn more…