The US Navy has 3D printed their first submersible hull, developed by the US Departments of Energy and Defense with support from academia and industry.
Don't Miss: The World's Biggest & Most Expensive 3D Printers in 2018
Is that ceremonial bottle of champagne ready for smashing? The US Navy has 3D printed the hull of a submersible vehicle, their largest object yet made using additive manufacturing technologies. The proof of concept is made from 6 carbon-fiber composite sections, and was constructed in just four weeks.
The Optionally Manned Technology Demonstrator is based on the submersible SEAL Delivery Vehicle (SDV). SDVs are typically used to transport US Navy SEALs and their equipment on special operations missions. The use case is that such vehicles could be manufactured faster and incorporate new designs for custom support on each Navy mission.
The hull is the result of a collaboration between Oak Ridge National Laboratory's Manufacturing Demonstration Facility (ORNL MDF) in Tennesse, United States and the US Navy's Disruptive Technology Lab.
See it in action in the video below, released by the US Department of Energy:
US Navy Plumbing New Depths with 3D Printing
The team at the ORNL was asked to build a 30-ft proof-of-concept hull out of carbon fiber composite material. Given only four weeks to complete the job, they used ORNL MDF's Big Area Additive Manufacturing (BAAM) machine. This is an industrial 3D printer that lays down a thermoplastic resin reinforced with chopped carbon fibers.
The most remarkable result from this project is not just the size, but the savings in cost and time. The price of a conventional SDV hull hovers in the region of $600,000-$800,000 dollars. Moreover, they're typically manufactured in 3-5 months. Using BAAM reduced hull production costs by an astonishing 90%, and reduced production time to a matter of weeks.
For the next phase of the project, the US Navy wants to create a second, water-tight version of the hull. The new hull will be tested in the wave pool at the NAVSEA Carderock Division in Maryland, United States. This is a facility that replicates the most challenging conditions that ships and submarines might encounter in the open sea.
If the waters for research and development are not too choppy, fleet-capable prototypes could be introduced as early as 2019.
Source: US Energy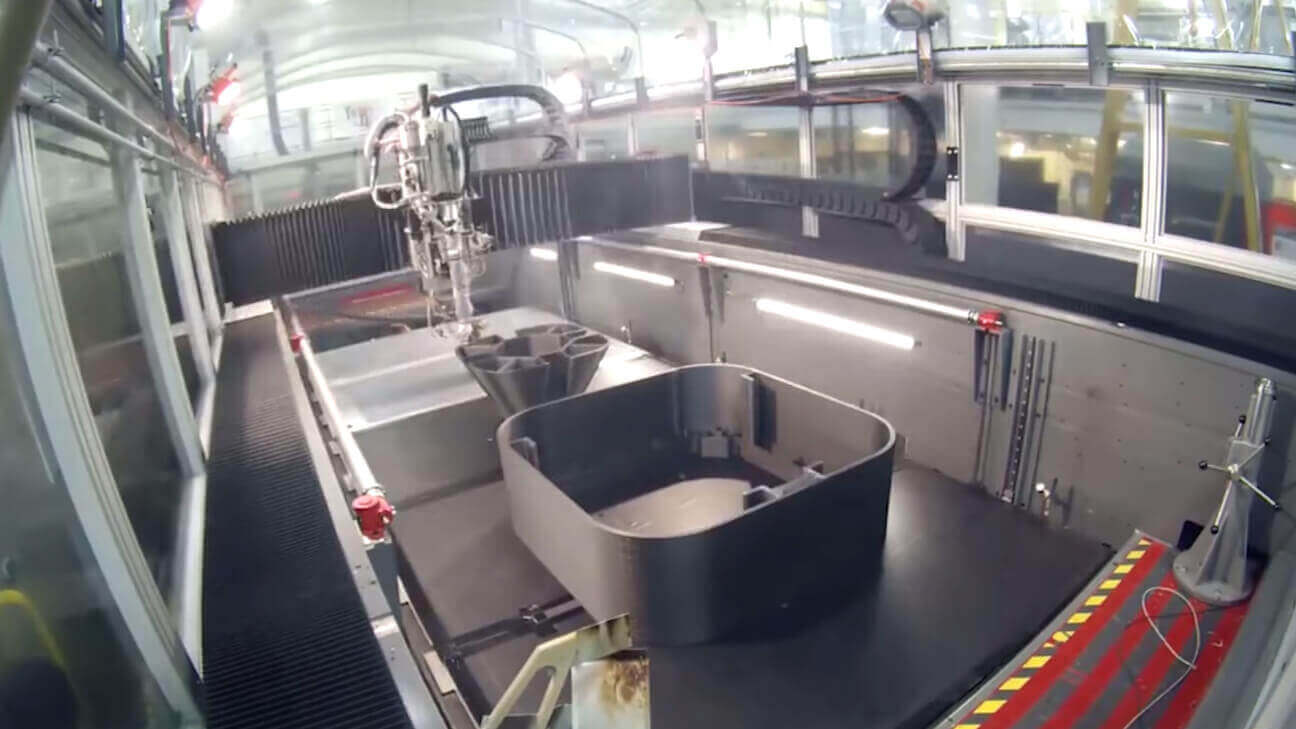 License: The text of "US Navy 3D Prints First Submersible Hull in Just Four Weeks" by All3DP is licensed under a Creative Commons Attribution 4.0 International License.
Subscribe to updates from All3DP
You are subscribed to updates from All3DP
Subscribe
You can't subscribe to updates from All3DP. Learn more…