3D Printing camera modder Camerhack has just released an adapter to fit 35mm film into Kodak's iconic 126 film Instamatic camera.
Coming to a classic snapper near you, Italian project Camerhack has released its latest film-bending camera mod. The mod allows the ever-abundant 35mm film type to be used in any camera that accepts 126 film cartridges.
Camerhack began with founder Claudio receiving a Kodak Six-16 camera as a gift. Frustrated with the lack of readily available and inexpensive film stock (for this now 80-year-old camera), he turned to 3D printing with laser-cut steel parts to create a robust and practical way to open the camera up to 120 film.
And thus, the Film Adapter Kit was born. Or rather, FAK. There have since been many for a variety of film types.
Most recently, a FAK kit for fitting 35mm (135) film into 126 cameras joined the lineup.
A popular film for low-end point-and-shoots, Kodak's Instamatic range of cameras helped popularize the film, which is distinctive for its square format.
Playing on the name, this particular Camerhack kit is called the FAKMATIC.
Camerhack 35mm Film Mod is Reusable
There are existing methods to mod other size films into 126 cameras, which require harsh surgery on existing 126 film cartridges. Such methods physically replace the film inside.
Sadly Camerhack's model isn't open for download to print at home. So to give it a go, you'll need to drop about $25 on the Camerhack store for one.
The FAKMATIC is reusable by design. To fit the 35mm film inside, you need only cut out the 35mm from its spool and reroll. Then place this tight roll inside Camerhack's FAKMATIC adapter cartridge, and fit inside the Instamatic like you would an original film.
It's important to note that since you'll be exposing the 35mm film, much of the process needs to happen in the dark to avoid ruining the film.
Once done, you're away and snapping.
A little on the enterprising side for a personal project (the online store also lists t-shirts and other merchandise alongside the FAKs), these 3D printed camera mods are now in use all over the world.
Have you used 3D printing to enhance or mod your photography? Let us know in the comments.
Source: Lomography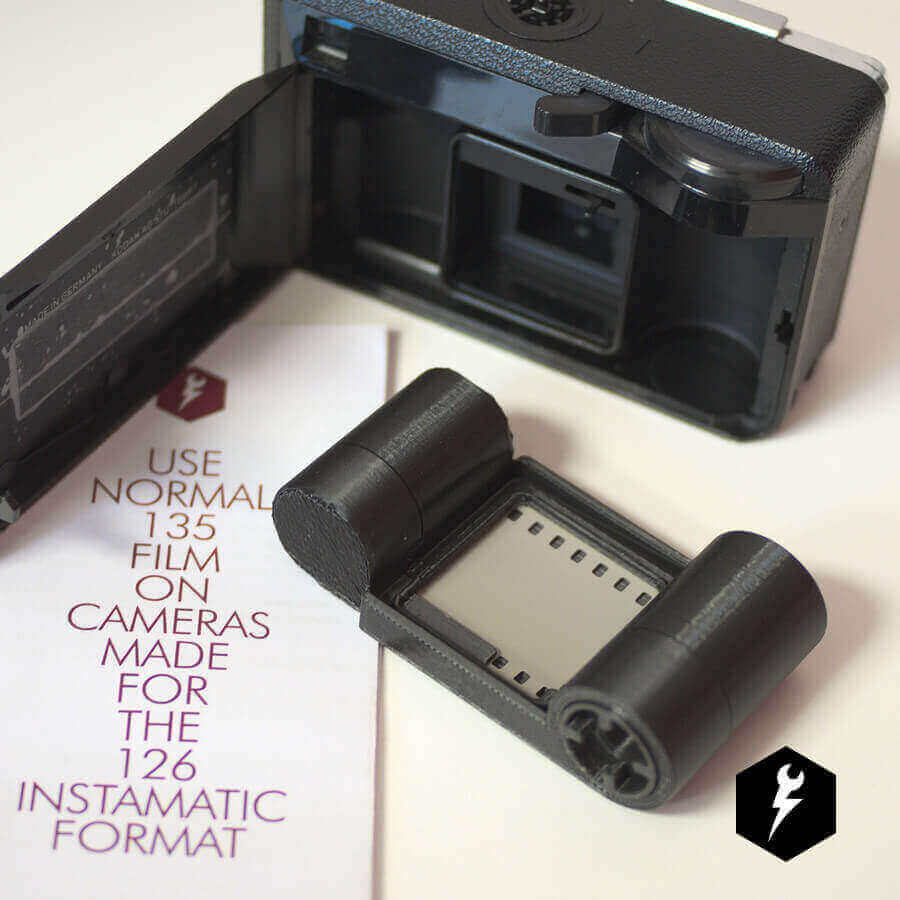 License: The text of "3D Printed Camerhack Adapter Allows Old Instamatic Cameras To Use 35mm Film" by All3DP is licensed under a Creative Commons Attribution 4.0 International License.
Subscribe to updates from All3DP
You are subscribed to updates from All3DP
Subscribe
You can't subscribe to updates from All3DP. Learn more…