As long as there is no Tiko 3D printer review available: Here are the pros and cons of buying Tiko 3D printer?
I got my teeth into 3D printing something over three years ago. I have seen a technology rise and grow and read so many headlines I would have lost count a long time ago, if I ever counted them. So many 3D printers were hyped on crowdfunding platforms, mostly Kickstarter, and while some of them were a huge success, there was an unknown mass of them that never got produced. It didn ot even need to be a bad idea; some 3d printers were gaining enormous momentum online while in my eyes they just did not do anything better than existing models. They just were 3D printers you could crowdfund and in some cases that seemed to be a sufficient reason to throw money at them. Some of them, overfunded to the max, failed to be delivered in time, or at all.
Other 3D printer projects did not even get funded, sometimes despite a great concept behind them. It was sad to see that just because someone with some great ideas failed to market them with a nice video and cool imagery, they fell through.
So while the constant stream of new crowdfunding projects for 3D printers flies by, sometimes even I get curious and ecstatic about it. The last time this happened was with the Tiko 3D printer on Kickstarter. All3dp already reported on it and talked to Matt Gajkowski, one of the founders of TIKO 3D.
Here are my thoughts on why or why not to fund Tiko. (Disclaimer: I funded it myself, so expect much more pros than cons.)
PRO
1. Design
Ok, I admit it: The Tiko looks amazing. While unibody is a term that Apple coined and used consistently since they introduced the unibody Macbook Pro, the Tiko's design is done very minimalistic and clean. And still, it does not look overdesigned, still form follows function.
2. Attention to detail
While their FAQ is not the most extensive (in fact All3DP's unofficial Tiko FAQ seems more so), they have thought of many little things you just need to be aware of. And based on how they write about them, they thought about them before they went on Kickstarter and not just after the question occurred.
3. Concept, concept, concept
I do concept work myself a lot. It's safe to say I know a good concept when I see it. The Tiko may have flaws, but in the way it is presented, it seems the creators have put lots and lots of effort in lining out what the Tiko will be. Everything is explained very reasonably. Tiko is supported by a technology entrepreneur program, which sure helped it to mature.
4. Non-proprietary
I always hate it when somewhere in the lower part of a site or in the small print you read that a 3D printer uses his proprietary filament cartridges, communicates via a proprietary protocol or can only be used with the software the manufacturer provides. Tiko's creators state that it will print any files in the standard open source G-Code format. While the results may vary, to me it is important to have opportunities like that to experiment or increase the quality.
CON
1. Unrealistic Timeline
Though I appreciate their optimism, it is not realistic that manufacturing and development can be done in such a short timeframe. There is no room for delay in the fulfillment timeline presented on Kickstarter. Especially in international business, with manufacturing and software development that is both going on parallel, every minor problem can cause enormous delay in the overall process. I have no problem with that, but I do not think I can get my Tiko as fast as the team estimates.
2. Wifi only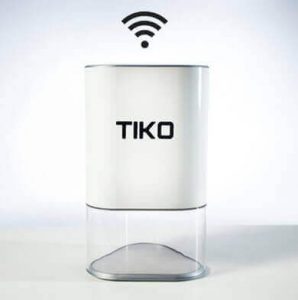 The Tiko will not have an SD card slot or a connection cable as of now. It will connect via WiFi, if none is available, create its own hotspot. That means you can easily print even from your smartphone, and while this is a possibility to create a whole ecosystem of apps and software, it makes me uncomfortable. Sometimes you just have a bad connection with your devices. For example, the router at my girlfriend´s house has random disconnects. It is a known problem for over a year with this model, and there is no way it can be fixed yet. And what if the WiFi board dies? I´d love to have a hardware port of any sort as a backup option.
My conclusion
Concluding, if you don't have your expectations set too high (this is a $200 3D printer, after all), the Tiko may be a fabulous low-budget 3D printer, and the first unibody 3D printer also. Just try to not be overwhelmed by the great product presentation and expect it to be delivered later than promised.
License: The text of "Should I Buy a Tiko 3D Printer? (Pros & Cons)" by All3DP is licensed under a Creative Commons Attribution 4.0 International License.
Subscribe to updates from All3DP
You are subscribed to updates from All3DP
Subscribe
You can't subscribe to updates from All3DP. Learn more…