Learn everything you need to know about the Tiko 3D printer on Kickstarter with our Tiko FAQ. Check back for regular updates.
Tiko 3D Printer Update #34: November 21st, 2016
TL;DR
It took nearly a year, but Tiko 3D printer is finally shipping the rewards to their Kickstarter backers. They also start taking preorders starting at 12pm EST, November 28th.
First 1000 Units for Kickstarter Backers Shipped
As of last week, Tiko claims to have shipped over 1000 units to backers. In their press release the team states: "With production continuing at a rate of approximately 1000 units per week, all Kickstarter orders will be fulfilled in a matter of months."
Preorders start with Special Tiko 3D Printer Cyber Monday Deal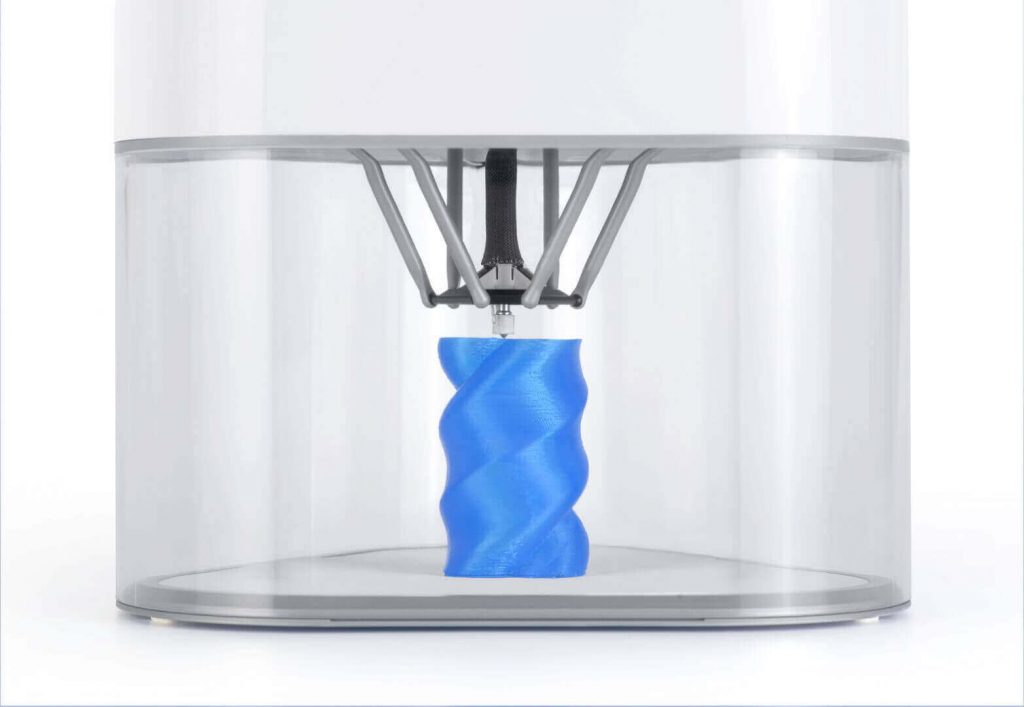 If you want to buy a Tiko 3D printer, you can now do so. The company starts mass-manufacturing and shipping, launching pre-orders November 28th at 12pm EST (noon) through their website.
They'll offer their printer at the Kickstarter price of just $179 for 12 hours on Cyber Monday, November 28th (noon to midnight) after which pre-orders will continue at $199.
Tiko also introduces their software, forum, customer service portal, and services for their users.
New Web Interface of Tiko (WIT)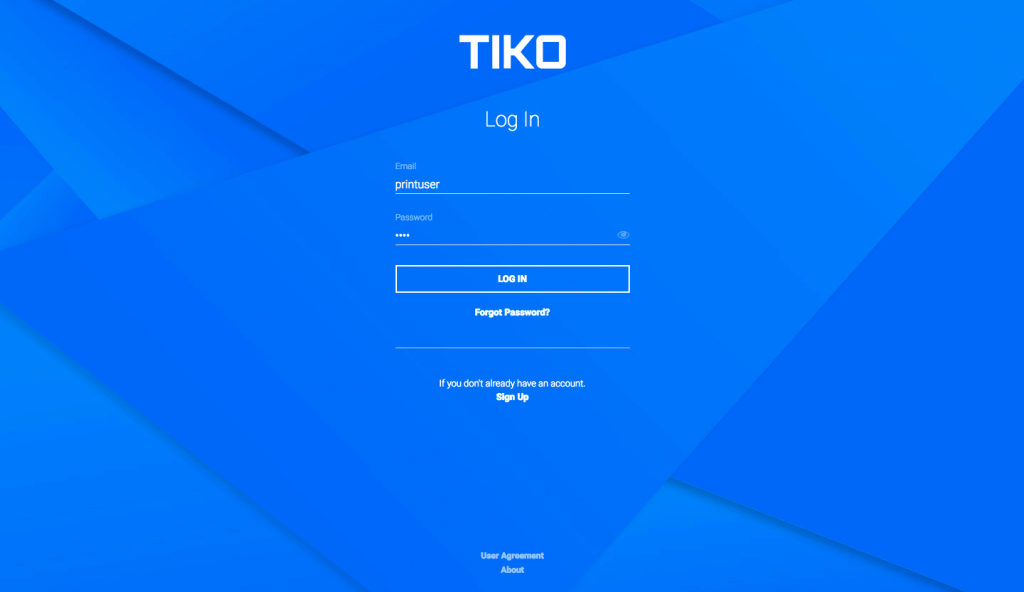 Tiko has released a demo of their slicing software at demo.tiko3d.com. The WIT is Tiko's browser based software that works over Wi-Fi or the cloud. It's streamed straight from Tiko to a computer requiring zero installation. This software was developed from the ground up and only requires 4 settings to achieve quality prints.
Also, you can use other 3D slicing software like Simplify 3D or Cura to do the job.
All3DP will keep you updated on the newest developments. Also, we're looking forward providing you with an in-depth review of this interesting 3D printer.
Tiko 3D Printer Update #33: July 11th, 2016
TL;DR
That's what we call good news: The first Tiko 3D printers have already shipped to Kickstarter backers in the US. If you're interested in the in-depth technical specs, the FCC has layed open the results of their extensive tests. (Due to IP reasons, we've removed the link to the FCC – according to Tiko, these documents were published by accident. 7/11/16 19:00 CET)
Tiko 3D Printer Quick Start Guide: What you need to know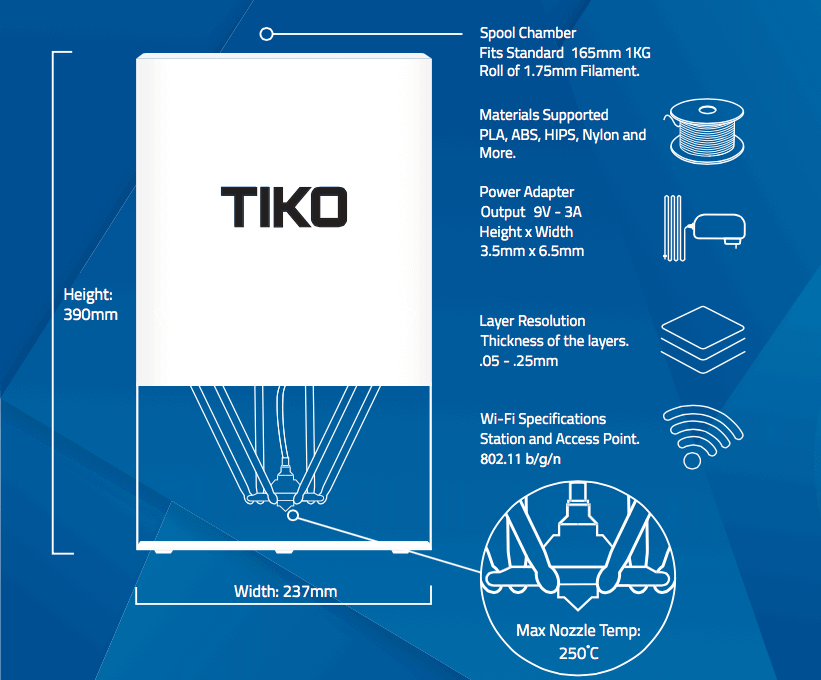 Tiko 3D Printer Setup Step #1: Unboxing
With every Tiko 3D printer, there comes an interesting User's Manual. When you receive the printer, you will find these items in the box
A spool of 3D printing filament for the Tiko 3D printer
additional printed materials
the power adapter
the Tiko 3D printer itself, which is already fully assembled.
According to the Tiko 3D printer Quick Start Guide, setting up the Tiko 3D printer should be fairly easy and pretty much plug & play. All you have to do is to plug in the power. During start-up, Tiko communicates with you through LED lights. If all lights turn green, you're good to go.
Tiko 3D Printer Setup Step #2: Connect the Printer
Next, you need to connect the printer to your Wi-fi network. Connect your computer to the "TIKO HOTSPOT" you'll find as soon als the system's powered up. As the Tiko 3D printer doesn't have a display, you resort to your Browser to communicate with the machine. Just type
to access Tiko's user interface. This can take – according to the company – up to a minute. All communication, settings and prints will use your internet browser.
From this browser-based command center, you'll be able to
level the build bed
load filament
start the printing process itself.
Tiko 3D Printer Setup Step #3: Start the print!
Finally, you're ready for your first print with the Tiko 3D printer. The company has provided you with a demo model, which is already pre-installed in the memory of the printer.
Some Information on Tiko 3D Printer filament
So you want to experiment with 3D printing filament for your new printer? According to the Tiko 3D printer Quick Start Guide,
the spool chamber holds a standard 165 mm, 1-kilogram spool of filament.
supported filament types are
PLA
ABS
HIPS
Nylon
and others (which basically means you're free to experiment).
But before you start buying several spools of 3D printing filament, please read this article – it can save you a lot of money.
Tiko 3D Printer Update #32: June 27th, 2016
The first batch of the Tiko 3D printers has start shipping Friday, July 1st.
After intensive testing at the Tiko Wall (see Tiko update #18), almost a dozen problems were solved, it all came down to just one issue: the bowden tubes were still popping out – but now, Tiko claims also this problem is solved.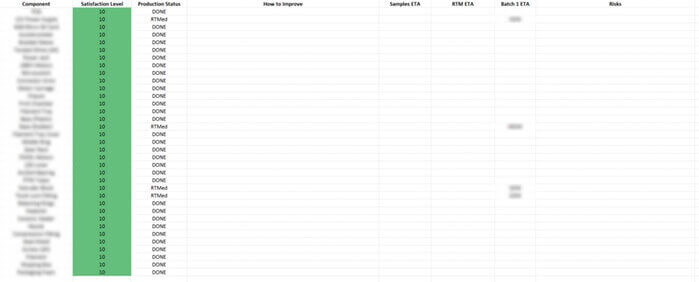 Also, they Tiko crew now has opened a two-stories tall Tiko Factory. This is where the printers will be assembled on a conveyor belt, then be packaged and shipped. They even bought a forklift (not too bad for a then small Kickstarter project).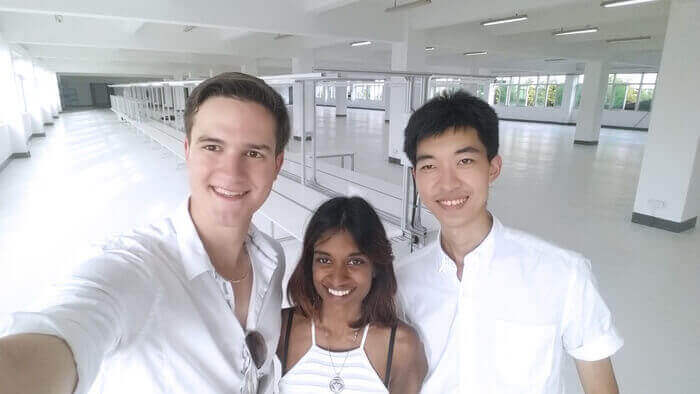 So, when will you get your Tiko 3D printer? According to the Tiko crew, they will start with a smaller batch. "We'll only be able to ship a couple of hundred printers this week, but by next week it will be closer to 500, and once we move the operation to our factory it'll be in the thousands."
Be prepared for some shipping info in the next weeks. As soon as we get our hands on a Tiko, we'll let you know.
Tiko 3D Printer Update #31: May 11th, 2016
TL;DR
The first batch of 100 Tiko 3D printers has undergone intensive testing. According to Team Tiko, all critical issues were solved, but there are still minor corrections to be made.
Currently, the staff plans to ship the first Tiko 3D printers in the beginning of July 2016.
The Tiko Wall: Searching For Every Potential Problem
Since the last update, The Tiko 3D printer has undergone a serious amount of testing and fine-tuning. For this, the Tiko staff built the "TikoWall" (see video above), consisting of with 100 printers. The printers were accessed through Wi-Fi and ran tests in batches.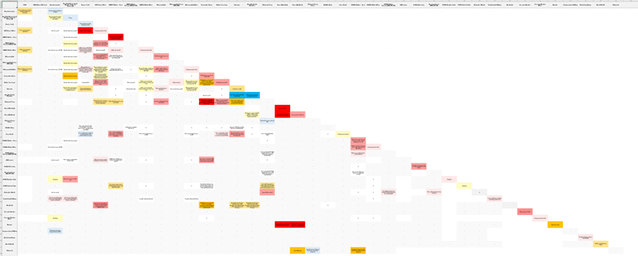 Starting from why the Tiko could theoretically fail (see matrix above), the staff systematically created tests for each potential problem. The tests ranged from mechanical problems (screws shaking loose) to electrical difficulties (EMI interference between heater and board) and material problems (choosing the right material mix for the build plate).
The problems encountered ranged from blocked carriage ball joint neck, some wires shaking loose, Bowden tube fittings and insufficient torque on the extruder motors. According to Tiko 3D's recent Kickstarter update, all the major problems encountered are solved now. Only minor flaws have to be addressed in the next weeks.
Team Tiko also states: "So, no, Tiko is not yet ready for shelves, however, the great news is that all of the old – much more serious – problems are gone. We haven't seen a liquefier jam in over a month, a carriage has not gotten stuck, the accelerometers have proven bulletproof, and the improved extruder inlet receives filament with ease."
After that, regulatory testing will begin, which will take also some additional time.
Shipping Should Start July 1rst 2016
After that, the Team Tiko – which has now grown to 18 people including interns – plan to start shipping the first batches starting early July 2016.
If your delivery address has changed, you should head over to shipping.tiko3d.com and update your address.
Tiko 3D Printer Update #30: February 7th
This weekend, the makers of the Tiko 3D printer published an official update. All3DP cites the relevants statement concerning the timeline plus importants statements regarding maintenance, nozzles, filaments and shipping cost from the Kickstarter forum (emphasis in the quotations by All3DP).
First 100 Tikos are being assembled and tested
"Today is Friday, February the 5th. Over 100 (unassembled) Tiko's are sitting in Shanghai right now, all packed up and ready to go, and will be on a plane to Canada by Sunday afternoon. (…)
The Tiko's will arrive here by the end of next week, and we'll spend the next ~2 weeks assembling them and preparing the test rig. It sounds like a piece of cake at first, but when combined, this many Tiko's will consume enough power that we may have to alter the building's electrical system, and no one yet knows what will happen when we try to connect 100 WiFi devices to a single router. Plus, we have to develop a rigorous and scientific test plan / procedure. It's bound to be enlightening and super cool."
Timelines for testing and production
"So there are two timelines at play here. First is the test rig. By the end of the month it should be up and running, and test results will start streaming in. Concrete results are expected by mid-March.
The other timeline is the production schedule. Although we have received full batches of many of Tiko's components, many others are still in production. For some, we've only received a small pilot batch. The Chinese New Year holiday has started, so many items won't resume production until the end of February, but by mid-March we should have all the components in the warehouse.
With both timelines converging on mid-March, it's likely that if the tests go well – which isn't guaranteed, but we're optimistic – then we can start assembly and shipping just before the end of March. Here's what that looks like as a simplified Gantt chart:"

Next Steps
"We wouldn't be making 100 printers if we weren't confident that we're close. So with that cautious optimism in mind, we'll release the shipping survey next week, that way everyone has ample time to fill out their information before we ship.
You may also be wondering at what rate we'll assemble and ship your Tiko's. The truth is that there is no magic number just yet. The assembly process itself is a relatively straightforward operation, but between training the staff and balancing the workload to avoid bottlenecks, it takes time to scale up an operation like this. Therefore, we'll be starting slow and accelerating quickly."
Update on nozzles and maintenance
Before the official February update, they replied to a number of user questions on the Kickstarter forum. On February 2nd, they stated:
"Tiko requires zero maintenance aside from periodic replacement of the nozzle. A nozzle will be included with every roll of Tiko filament (or can be purchases seperately), so if you replace it after each 1kg of printed filament, you'll be just fine."
This sparked a number of questions, to which they responded on February 3rd:
"Apologies for the ambigous explanation regarding the filament. You do not need to replace your nozzle with every 1kg of filament used. We simply include them with our filaments as a thank you to Tiko owners, in order to keep their Tiko running at peak performance. Over the lifetime of any 3D printer nozzle, there will be a build up of charred plastic on the inner walls of the melting zone and metering zone sections of the liquefier. This is inevitable as there is always a slow moving boundary layer of melted plastic, which is "cooked" over time (especially PLA, as it has poor thermal stability). This changes the thermal behavior of the liquefier. For example, after some period of use, the nozzle temperature will have to be increased to print a given plastic the same way, as the charred matter insulates the molten filament from the heater. To prevent this, and other inconveniences that other (non-Tiko) 3D printers experience with time, we include a nozzle with each roll of filament. Just to keep things running like new. If you stick to conventional 3rd party filaments, you should be able to print quite well for numerous rolls without changing your nozzle. It's hard to say for sure, all plastics are different and some will naturally foul a nozzle faster than others."
On February 6th, another clarification concerning the spare nozzle included with every filament roll:
"It's actuallly cheaper for us to include a nozzle in every roll of filament than to occasionally send them seperately, because then we'd have more inventory to track, store and ship. The manufacturing cost is lowered as well, as it eliminated the need for seperate packaging for the nozzle, etc."
Update on filaments
On February 6th, they answered some questions regarding the filaments and a possible lock-in to Tiko filaments:
"Regarding the filament, we're not disclosing an exact price just yet, but let's just say that when you're tens of thousands of kilograms of plastic, you get some amazing bang for your buck. Quality, and savings. Both of which we pass on to you. You're not locked into our plastic – but we know you'll want it! 🙂 It's really not a trap."
Update on shipment cost
On January 25th, they stated:
"We're not announcing the official shipping cost just yet, but we can tell you that for simplicity's sake it will be same regardless of your location (the variance was surprisingly low) and that it's not too far from the $65 cap, but that's because we opted to pre-pay the duties & taxes, so you won't get hit with a C.O.D. and brokerage charges upon delivery. It took a fair bit of work to prepare it all, but it's sort of our way of saying thanks."
They received a lot of – well, somewhat irritated and irritating – comments on the Kickstarter forum to which they replied on January 26th:
"Yikes, sorry if we hit a nerve with the shipping. Sales tax alone on a $179 printer can vary between $20-$30 depending on local tax rate. The remainder goes towards shipping a box that's the size of a microwave. There's no particularly cheap or easy way to move something like this. We're not sure what rate you were expecting, but we saw some pretty scary numbers along the way and did our best to keep it low. Also shipping won't be the full $65USD, but it's definitely more than halfway there. We're holding out an official number because these things can fluctuate throughout the year, and the last thing we want is to tell you a number now and change it later. Gnerally speaking, we don't control worldwide shipping rates, or the Canadian Dollar (or any other currency). Sure we could ship it from Canada, but who would pay the shipping to get the units here? Or we could manufacture the printers here in North America, but then the printer would cost more. And the shipping would be insanely high to the rest of the world to boot. Any way you slice it, there's no cheap way to move a 3D printer around."
Another clarification on February 2nd:
"Regarding shipping, it includes all taxes and really will be identical for everyone, no exceptions. We knew that not everyone would be a fan of this, but given the type of shipping (hub & spoke) that we're using we don't even get rates by country – we get them by region. When you're shipping to 100+ countries, even the logistics people start averaging things out. And again, the variance wasn't all that great. So, we opted to take the path of least resistance on shipping so we can focus on the printer itself. Also, because we don't have to do things on a country-by-country basis, we were able to develop a lean yet robust payment system (Stripe based) of our own so we don't need to use a service like Backerkit, saving literally tens of thousands of dollars on payment fees that would otherwise have to be factored into the shipping cost. Economies of scale, baby! Regarding the declared value, many countries require the shipper to specify the value of the goods, not the price paid for them. It's to prevent people from undercutting customs by splitting payments. So, we have to specify the value of the printer as $179, regardless of what was actually paid. Also, with the exception of very minor fluctuations in regional tax rates, nobody is paying anyone's tax. Every country has taxes. Including China. You guys know that as a business, we have to pay a 17% VAT to the Chinese government for domestic sales, right? That tax is factored into the shipping cost. There's no free lunch."
Tiko 3D Printer Update #29: January 5th
The makers of the Tiko 3D printer just released an interim update to their backers. Here are the most important parts of their message (emphasis added by All3DP):
"Basically, the holidays really slowed us down. We managed to squeeze something like 2 weeks of production-related progress out of December, after which shipments started getting delayed, employees had holidays, suppliers were overloaded with last-minute holiday orders from other customers, etc. These roablocks happened in China just as much as it did in North America, so in terms of the key milestone – liquefier finalization- we got stuck in the mud.
Just before the holidays, we had some great early test results (we even posted a video on our Vimeo page), but it wasn't 100% ready to go either. However, through testing we found that we just needed to make a simple modification to the latest prototypes, after which it ran like a charm. So, we decided to play it safe and order some more samples that matched the modification – just in case. We're eager to see how it performs straight from the factory – no gambling here.
The order was placed around Dec 20th, but because of the aforementioned delays, we're expecting to (finally) receive it this week, in both Canada and China.
So, we're glad that the liquefier issue appears to have been resolved, but we know what you're looking for – the words "everything has been RTMed", and until we can say those words, any update we post won't be that useful to you. So we've decided it's better to not post a formal update, than post a "filler" update.
That said, there are some great things happening in China. Many of Tiko's parts have already been manufactured in full (16,000+) batches, others will be arriving over the next few weeks. There is an entire manufacturing operation happening as we speak, but it didn't seem right to post about that without giving you the everything-RTMed news. So stick around, we'll be on here until we can say the magic words.
Regarding timelines, if the liquefier is RTMed upon testing, then within about 2-3 weeks we'll be starting a small pilot run, and we'll see where it goes from there."
Tiko 3D Printer Update #28: January 5th –

Comment by All3DP
It is great news that the liquefier problem – the number 1 problem keeping Tiko 3D printer from being released to manufacturing (RTM) – seems to have been solved now. Whether that is really the case: We'll see next week.
After so many delays and a lot of open communications over the last months (which we really appreciate – the open communications, not the delays, that is), the makers at TIKO3D are getting more vague in their communications.

Finally, when we add up the figures ("others will be arriving over the next few weeks", "if the liquefier ist RTMed … within about 2-3 weeks"), we do not expect shipment to start before the end of February.
Tiko 3D Printer Update #27: December 8th
On December 8th, the makers of the Tiko 3D printer released a lengthy update to their backers. We quote the most important parts of their message:
"Last month we told you about the two challenges holding us back: The bearing tolerances and the liquefier nozzle. So, let's cut to the chase and answer the big question… have we solved them?
Well, after a good deal of testing, we nailed the bearing tolerances and the whole sub-assembly has since been RTMed. Woohoo!
The nozzle, however, has proven more complicated and is not yet ready. Which sucks, because it's holding up a half-dozen other components that are otherwise good-to-go. So, what are we going to do about it?"
What Does All of This Mean for Ship Dates?
"Technically speaking, from the day we RTM the last liquefier-related component, it should take 40-60 days until we start shipping out Tikos. So we need to get moving quick, or we'll run into Chinese New Year come mid-February. If you don't already know, pretty much everything in China shuts down for the majority of February.
It's hard to say for sure how quickly we can resolve the liquefier problem. It could be a week or a month, or more. We can't predict the future on this one, however, with the way things have been going, we're cautiously optimistic that we'll be shipping before the Chinese New Year.
Some of you have asked us if we're increasing our production rate to compensate for the delay, and the short answer is yes. We've been doing some pretty clever things to work around the liquefier. However, we'll cover these in detail in the next update, because you're going to want to see pictures of this stuff and we just don't have them yet.
In the meantime, Matt and Sharon will be working closely with suppliers to move everything along as quickly as possible, while doing it at the quality level that you've come to expect of us.
Back to Work
That's all for this update. Although the majority of Tiko's components have been RTMed, there's still plenty of work left to do on the liquefier, assembly process, and QC program – all necessary for these Tiko's to end up in your homes. Sure, we don't have a 100% locked in date for when they'll ship, but we just want you to know that we're here doing everything in our power, and we're on top of our game."
To sum it up: Do not expect shipment of your Tiko 3D printer before February 2016. (That's All3DP speaking, not the makers of Tiko)
Tiko 3D Printer Update #26: November 10th – Tiko won't come in time for Christmas

Frantic days at TIKO3D.org: After disclosing on November 7th that shipping would not start in November, last night (November 10th) they pushed the date even more:
"Regarding shipping dates, just to clear up any misconceptions, we're not expecting to ship out before the end of 2015, however it won't be much beyond that either. We know that sounds like a huge delay, but (and we should have clarified this ages ago) our goal was always to ship out before the end of November, which is why in our timeline (on the campaign page) November's goals were production, assembly, and start of shipping. So, it's not as bad as it seems. But indeed, it won't happen in time for Christmas. Sorry! :("
Tiko 3D Printer Update #25: November 7th
Last weekend, the makers of the Tiko 3D printer published a major update to their backers. We find it so important that we reprint it completely (with permission). One day later, they added a two things (reprinted right after the major update).
"Hi Everyone!
Well, here we are – it's November. As you may have predicted from the last few updates, we've run into some turbulence and won't be able to ship just yet.
We know, it sucks, and although we did everything we could to stay ahead of the game, it just wasn't enough. There were just too many surprises and things outside of our control. That said, let's not get hung up on deadlines. It's not all doom and gloom, just a big inconvenience.
Moving On
So, how about we start this update on a high note instead! What better way to start than to share a video of a Tiko printing something: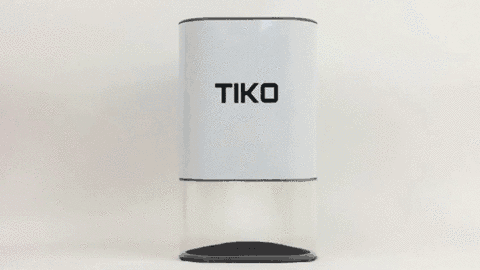 Okay, cool, a video of Tiko printing. What's the big deal, right? After all, you saw Tiko printing during the campaign didn't you?
Well, keep one thing in mind. The Tiko you saw back then was only a prototype. A hand-built one-off. Everything inside and out was either 3D printed or machined. Nothing was injection molded. Nothing was extruded. Nothing was die-cast. Only a few off-the-shelf parts were used.
My my, how things have changed. Over the last six months we've been ordering, receiving, and testing more and more pre-production components. Even the off-the-shelf parts have been upgraded to custom specs. With every component produced using a different manufacturing process and/or material than the prototype, today's Tiko is hardly the same printer you saw back then. The only real connection between past and present is the design.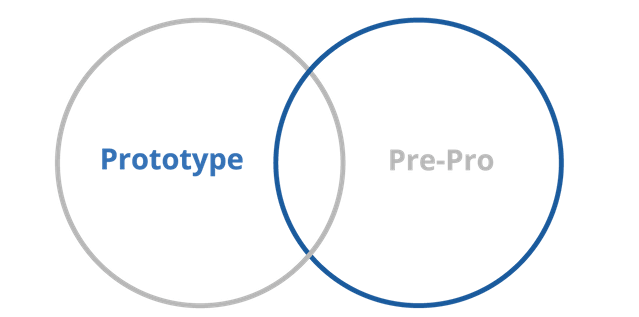 So it's basically a whole new Tiko, but as mentioned in last month's update, the new parts didn't always look or play nicely together. In testing we often used prototype parts to help things along, or modified pre-pro parts while waiting for new ones. However, over the past month (and especially the last few weeks) we've received many of the latest – and hopefully final – pre-production parts, and suddenly almost everything is behaving.
This means that for the first time ever, Tiko has been built and run entirely from parts that we can RTM right now. Like, all 16,000+. We could do it today. We could start full scale production on Monday, and start shipping units as early as the end of November.
But We Won't
The pre-pro Tiko's we are testing now are great in a lot ways. Certainly a hundred times better than the prototypes in the campaign. However, Tiko just isn't quite ready yet. Why not, you ask?
Well, it really boils down to two remaining technical challenges. Once we crack through these, we're golden.
Rail & Bearing Tolerances
Last month, a sizeable share of Tiko's components were close to finalized, but aspects such as fit, finish, color, tolerances, etc. just weren't quite right. Many have since been fixed, however one particular group remains untamed. Namely, Tiko's linear rails and the bearings that ride on them.
These parts are loosely based on a rollercoaster track and wheel assembly. But simpler, of course. Now, as cool as that is, when it comes to Tiko we prefer "smooth and precise" over "wild and violent".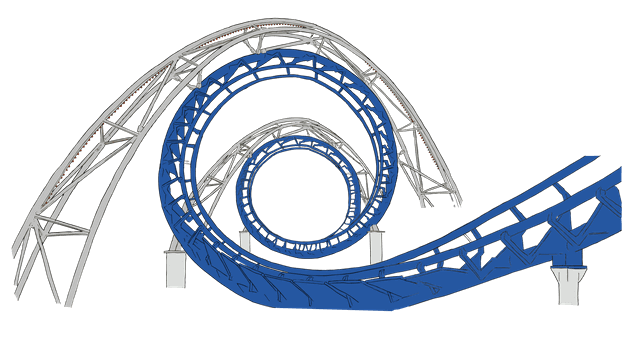 There are a number of components in this sub-assembly, and if any of their dimensions change (which can happen for a variety of reasons) it affects the others as well. While the tolerances of these parts are tight – as wide as a single white blood cell – they do add up, so we need to be careful about how we mix-and-match them.
Too tight, and the printer will jam. Too loose and print quality will suffer. Striking the exact right balance takes time, patience, and lots of testing. It can be frustrating, but we're getting close!
Liquefier
While Tiko's passive cooled liquefier is a jewel of engineering, it's also proving to be a tricky little bugger to make. Almost every part is ready for manufacture, however the Titanium nozzle itself isn't so easy. Turns out that some things we could do in prototyping don't carry over so well into production.
Sculpted from an alloy developed exclusively for turbine engines, machined to tolerances comparable to a wristwatch, and surface treated to specs matching a race engine, Tiko's liquefier nozzle really is an example of engineering perfection.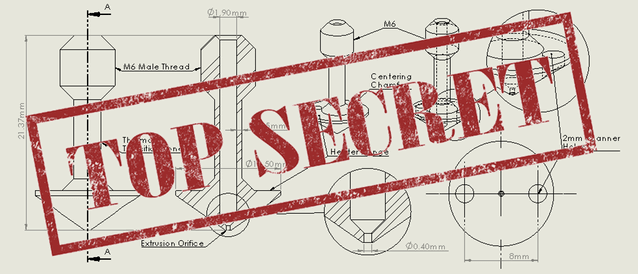 But with all of that densely-packed awesomeness, it requires attention to detail to make properly – which isn't so easy at high volume. Not to say it's impossible, it's just taking a little more creativity than we expected.
To be thorough we have tried alternatives. We've tested more machineable alloys, relaxed the tolerances, and tried easier-to-apply surface treatments. But no luck. The thermal properties get compromised and PLA starts jamming. That's just not something we're prepared to accept – it has to be done right.
Luckily, when things do jam up, the filament can be retracted back out. This alone makes Tiko far superior to other 3D printers we've used, where jammed filament could only be fixed by taking apart the liquefier. Or sending it back to the factory. Yikes.
So, again, nothing alarming. We just need some more time to smooth things out and get it right. Ah, so close!
How do things look now?
Good, all things considered. We believe we're just a few weeks away from tying up these loose ends, thereby RTMing the remaining components and getting production underway. That said, we don't have an official back-up date just yet. For the time being our attention is on getting everything done right. We'll keep you posted once we've hit the right milestones.
What have we learned?
The lesson here is that manufacturing is hard :). We all know that many Kickstarter projects suffer delays, and even though sometimes the team does mess up, we believe that every well-meaning Kickstarter project – and product in general – deserves a great deal of respect.
Bringing something to market is full of pitfalls. So many unpredictable traps, it's quite daunting. Nowadays, when we walk into a department store and see all the products up on the shelves, we can't help but be amazed that they got there at all. That the people who made them somehow jumped through all of the design, manufacturing, logistical, legal, and regulatory hurdles, to put that product on that shelf.
So, take your toaster, your office chair, shoot, even your coffee mug, and just take a second to appreciate it. It's been through a rich and unimaginably complex journey to end up in your hands. A journey that Tiko is still very much on. One that has made the world around us. Literally.
And as always, thank you for backing us, thank you for supporting us, and thank you for making this happen!
All the best,
Team Tiko"
Tiko 3D Printer Update #24: November 8th
One day after their big announcement, they added (highlighting by All3DP):
"That said, right off the bat, here's a closeup of the bolt we printed: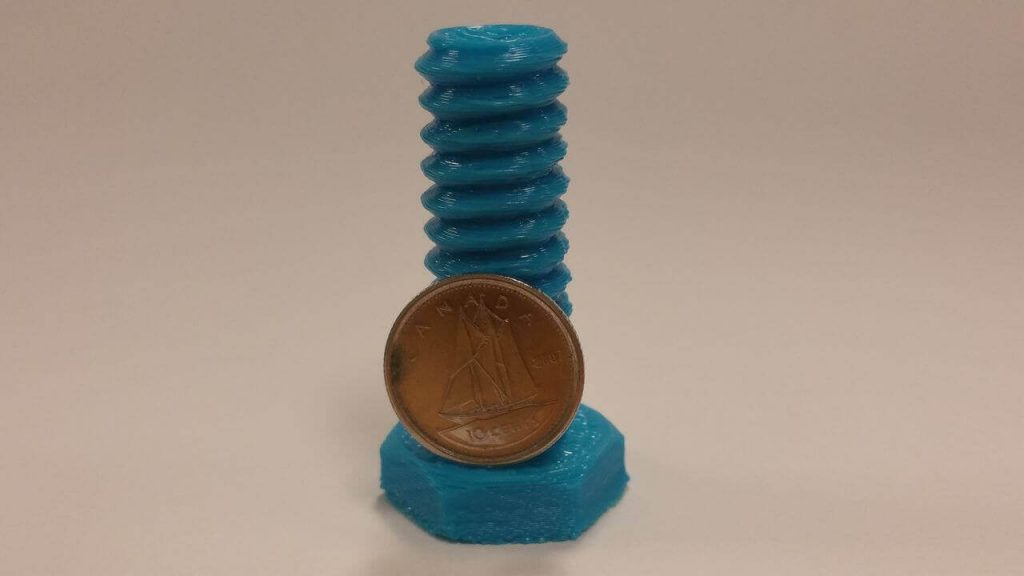 Print quality was set to 0.2mm to make this a quick print (Tiko's lowest setting right now is 0.25mm). Please bear in mind that we are still well within settings-optimization phase now that we finally have all pre-pro parts, and it's possible that once the liquefier is finalized these settings may require further adjustment.
Regarding timelines, the parts we're wrapping up now have roughly a 3-4 week lead time for production, so even though we may have RTMed other components, these will hold us back. Once we have them, assembly can begin and that is also a 3-4 week process. Between that and shipping, December is rather optimistic for delivery."
Tiko 3D Printer Update #23: November 3rd – N

o shipment in November
This morning, the Tiko makers posted a short update in the Kickstarter comments section (highlighting by All3DP):
"We're expecting some important pre-pro components (already got some today) during the first half of this week and we'd like to test them out, that way we can give you the most concrete possible status update.
Overall, we know we won't be shipping out in November. Sorry guys. it's not even that something terrible happened, it's simply that we have very high standards and it takes time to reach them. That, and everything seems to take a bit longer than expected, and it adds up.
That aside, the silver lining, is that a sizeable portion of the BOM is already RTMed with a big chunk expected to be RTMed this week, so we have a reasonably accurate estimate for when we will indeed ship, but we're keeping it to ourselves until it's for sure. Ah, we feel your pain, we too can't wait to "unleash" Tiko. We're located among a number of other innovators, and startups, many of whom also backed us and even see us here day and night, so we get these question all the time. We feel the pressure, but at the end of the day we're just glad that you're all so enthusiastic about what we've created here. It reminds us how important Tiko is and why we started this project in the first place. So, stay strong dear friends & backers, you'll get a more detailed update quite soon!"
BOM = bill of materials
RTM = release to manufacturing
Tiko 3D Printer Update #22: October 22th – It's getting complex
If you've been following our updates (the last was the one from October 6th), simply jump to these two updates:
If you've missed out on the last updates, simply read on:
Tiko 3D Printer Update #21: October 6th – Official status update
In a lengthy update to their Kickstarter backers, the Tiko makers unveiled some good news and some not so good ones.
To sum things up: "All in all, while most of Tiko's components are in good shape, there are a few problematic ones which are causing trouble. We're not yet sure if this will delay production but we're doing everything we can to stay on track." (quoted from the Tiko 3D printer forum on Kickstarter)
In detail (quoted from the official October update):
"You may remember from our last update that October marks the beginning of our RTM (Released To Manufacture) schedule. Our goal for September was to test every component/system of Tiko to confirm they are ready for production. Upon passing, October would be spent RTMing each component – in other words ordering the full batches –in time to receive the parts on November 1st, leaving the rest of the November for assembly and QC.
So, what's the final verdict from testing? Well, it's mixed. Looking at the status of each of Tiko's 30-something unique components, we can show the current distribution of things: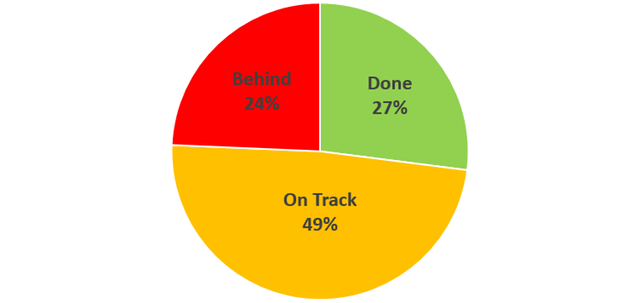 Good news
"We've already released some 27% of Tiko's components for manufacture – some even back in September. So not only are some parts done early, we've even got sneak peeks of the full scale manufacturing operation."
According to the Tiko makers, these parts are already done:
SD cards for data storage
Bowden tubes as part of the filament extrusion system
drive motors
drive gears
ceramic heaters
power jacks and more
Why SD cards? Shortly after the official update, future Tiko owners wondered what the SD cards will be used for. The Tiko makers responded on the Kickstarter forum:
"Why does Tiko use SD cards? It's simply because for the amount of memory that Tiko requires to run smoothly (even with huge prints) it's less expensive than an on-board flash chip. Flash chips are great for storing small amounts of data, but once you go above ~256Mb you start to pay more than you would for a 2/4 GB SD card. So, it's a pretty obvious choice. That said, Tiko does not store its OS on an SD card like a Raspberry Pi would, it's more for storing print files (only one at a time) and performance data. We likely won't even use a fraction of it, but it's good to have anyway, especially if it doesn't cost more. That said, the SD is not accessible, and the way Tiko operates it wouldn't make sense to put STL/G-code files on it anyway."
Bad news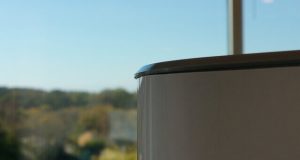 "While we've come an incredibly long way since the campaign, it's not all roses and peaches. We have strict standards for quality and some parts just aren't up to our standard. In many cases, it's something trivial. The color/finish is off, the fit isn't quite right, etc. It's the little things that add up to make a great printer, and we want your Tiko to look and feel like a refined product – not a beta unit.
To give one example, while our chassis did initially appear to be made to spec (and the rails came out beautifully) it turns out the corners actually shrink a little more than expected, and so the filament tray corners overhang the chassis.
This has both cosmetic and functional implications, and it needs to be addressed. It's not a big deal, but it's just one of a handful of little tweaks that need to be made before we can consider Tiko to be "ready". These changes aren't particularly difficult, but the trouble with mass-manufacturing is that even simple fixes can take weeks to implement."
Later on, the Tiko makers explained (after several questions on the Kickstarter forum):
"Are these adjustments purely cosmetic? No. Well, some are, but some are not. The idea is that if we're going to spend a few weeks making functional adjustments, why not do the cosmetic ones as well. We're perfectionists but we're practical as well, and know where to draw the line. In the case of the chassis / filament tray, the problem was that in something like 10% of our test prototypes the motors/carriages were too close to the filament tray wall and the two would interfere during homing. That's just not cool, so we really did have to fix it."
And worse (highlighting by All3DP):
"Some parts are giving us a bit of a headache. While DFM (Design for Manufacture) was always a core element of Tiko's design philosophy, there are a few things that nobody could predict – even the manufacturers.
September's testing revealed two previously unknown manufacturing-related problems that require more than just a little adjustment. One has already been solved but is taking time to implement, and we're working hard to solve the other.
It's a bittersweet feeling. We're super glad we caught these issues before Tiko went into full production, but they are now our biggest liabilities and need immediate solving and re-testing. Point is, we're on it!"
Tiko 3D Printer Update #20: October 22th –

Good news in the October
"So, things are moving forward as quickly as possible, but it's more steady than speedy. Two weeks ago (during the update) you'll remember we were RTMing some components, and finalizing adjustments for others that weren't quite right. Many of those adjustments are now being wrapped up and new pre-pro's shipped out to us to receive throughout this and next week. It's unfortunate that it can take 3-4 weeks for modifications, but it's just the reality of volume manufacturing – even the smallest changes just take time.
That said, we're confident that many of the parts are now truly finalized, and so things should continue to move smoothly from here. The more difficult fix is being worked on quite heavily, and early testing is promising. We'll need a bit more time to tell before we're confident enough to actually start full production. The last thing we want are any more surprises!"
…
"Regarding production rates, we should be A-okay, especially because most parts are being manufactured in batches greater than 3000, so it's just a question of how quickly we can assemble Tiko at volume while sticking to a rigorous QC program. Only time will tell!"
Tiko 3D Printer: Here is what went wrong (also October 22th)
"In this case, the problem was primarily due to the way the chassis cools. Tiko's unibody is somewhat unusual in that it is an enclosed extrusion with both straight and round edges. It was difficult to design the tool for this, it turned out that the straight edges were shrinking and pulling the corners in too close. The solution is to ever so slightly arc the straight edges so that when they cool, they straighten themselves out without affecting the corners. There were also some internal modifications made to the tool that affect the way the plastic flows into the die. Tiko's chassis is a pretty big and unusual shape even for our (quite experienced) extursion company, so it required some iteration. Three tries, to be precise. The last iteration was almost right, so the one they're testing now should be perfect. We'll know early next week, if so, then woo-hoo we can release it for manufacturing. 16,000+ unibodies, how awesome will that shipment be!?"
Tiko 3D Printer: Delivery timelines
"So, what does all of this mean for delivery? Well if everything goes very smoothly we'll deliver on time. But this is the real world, and there are always hiccups. While the possibility of shipping out in late November is still there, we would recommend bracing for a delay. Nothing too crazy, but we just won't know for sure until everything is cleared up.
But hey, let's not get all gloomy! The majority of Tiko is ready to go (and in some ways better than we ever expected) freeing up our time to perfect the little kinks/flaws that would typically be overlooked in a brand new product."
Tiko 3D Printer: Shipping Survey
"Ah yes, you may remember we planned to release the shipping survey shortly after last month's update. Considering the issues that crept up, we're going to hold off on that until we have a clear delivery window. So, stay tuned there too!"
Tiko 3D Printer: Filament survey
"Regarding the filament survey, the truth is we haven't really dived into it. We expected to get a few dozen responses, but in the end we got several hundred. Given the impending start of production, we're ordering as many as we can, but it's going to be quite a challenge to go through the list completely, so we might just stick to the top materials/resellers per geographic area."
Tiko 3D Printer Update #19: October 6th –

Comment by All3DP
For the first time, the makers of the Tiko 3D printer hint at the possibility that delivery could be delayed. They did reveal that there were "two manufacturing-related problems that require more than just an little adjustment"; one of them has already been solved, the other hasn't. What these problems are, is not revealed. Which is a pity but no deal-breaker.
Apart from that, communication by the company behind the Tiko 3D printer is encouragingly open. When comparing that to how other companies on crowdsourcing platforms communicate (or fail to communicate), the makers of Tiko are very outspoken about the state of their project. I have the impression they are working hard to get the printers out to their customers.
And, again comparing Tiko to other Kickstarter projects: There is hardly a bigger project that is not delayed by a few days, weeks or even months.
Even if delivery of the Tiko 3D printers is delayed by a month, this would not be the end of the world for me. And yes: I did shell out $179 plus shipping for a Tiko 3D printer.
Tiko 3D Printer Update #18: September 29th – all looks well
Short update in the Kickstarter forum (highlighting by All3DP):
"Things are moving along here, as you know October marks the start of our RTM dates and it's just about here. In some ways we're ahead of schedule, in others we're behind. It's an interesting mix, and it's still too soon to tell what this means for the final deadline. But boy, are ever pushing! The team as a whole has been simply incredible these last few weeks, it's just amazing how much we've been able to accomplish. Even when it's 3 am and we're still at the office, we're still giddy with excitement and super glad you took a chance on us. 🙂
That said, there isn't much else to report over here, and indeed with the update inching closer there's no sense getting too detailed, but rest assured that things are moving at lightning speed.
Oh and by the way, the shipping survey is actually "really" ready now. Turns out the super terrifying tax-problem is no problem at all, so we're just going to wait until after the update (so it doesn't get buried in all of the other text) to post it up."
Tiko 3D Printer Update #17: September 15th – More news on testing and shipping

Last night, TIKO3D issued a short update on the state of their project:
Update on testing, September 15th



"Testing is going well, a couple of parts didn't end up making the cut but we're on top of it. Often times it's just a minor change that needs to happen, but it eats up time. Here at Tiko we're shameless perfectionists, and it's pretty remarkable how many things must be perfect for something to be released for manufacture. The exact grade of material, tolerances, color, texture, etc. It's pretty difficult to get the perfect combination and it doesn't help that most of these are inter-related, so if you change one it affects the others. And often times it can affect the mold itself.
Just as an example, we spent over two months getting the chassis to the perfect shade of white. The prototype was painted so it was easy, but when you're adding pigments to an extruded material – while perfecting the material grade and fine-tuning extrusion paramters (pressure, temperature, etc) – it's actually quite a challenge! Also taking into consideration that Tiko has other white components (made from different materials) and they all have to match, you can see it's quite an undertaking! And that's just a simple thing like color.
Manufacturing is certainly not for the faint of heart, but hey, if we didn't love a challenge then we wouldn't be here. 🙂
That said, some parts have already been released for manufacture and we're in the process of ordering full batches. Oh yeah, it's getting real. No turning back now!"
Shipping survey delayed
Originally, TIKO3D had planned to send out shipping details to the Tiko backers in the second week in September. However:
"First off, the shipping survey was ready to go out last week, however during our final triple-checking session someone raised a very important tax-related question, which turned out to be a pretty big deal. International taxes can get rather complicated so we have to make sure we don't get stuck with a huge bill when the tax-man comes knocking. We'll have that sorted out soon and will get that survey out to you."
Tiko 3D Printer Update #16: September 7th -What's going on behind the scenes at TIKO3D
Extensive components testing
Over the last weeks, pre-production components were coming to the TIKO3D office. They had to undergo heavy testing: drop tests, rigidity tests, thermal tests and more. And all components fared well.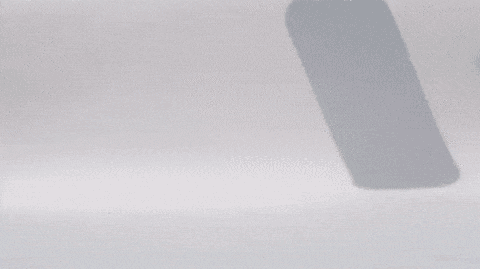 * Drop testing: The unibody case was dropped dozens of times from 6 feet height, first only the casing, later on with a components mounted inside. Not a single component broke.
Answering a question in the Kickstarter forum (accessible only to Tiko backers), TIKO3D team stated:
"Tiko's unibody chassis is made of a carefully chosen polymer, not aluminum. When something as large as Tiko's chassis is dropped from six feet, one of three things happen: It flexes, it bends (permanently), or it breaks. The latter two are of course unacceptable, so we chose a material that would flex just enough to survive such a drop. That said, during normal operation Tiko's chassis is plenty stiff, especially with the internal components installed!"
* Rigidity testing: Tiko's delta arm assembly managed to hold a 5lb weight disk. In the words of the TIKO3D team: "it's all thanks to the awesome physics behind parallel arm mechanisms. In a delta robot the arms only experience axial loads (as tension or compression) instead of bending moments – much like the trusses of a bridge or a crane. This makes Tiko's delta mechanism super strong and rigid, yet lightweight and nimble."
* Thermal testing: Tiko's liquefier has a max. rated operating temperature of 250ºC (with a safety margin). Nevertheless, the TIKO3D team tested what happens, when the liquefier starts heating uncontrollably. In the tests, the liquefier could be pushed past 1,000ºC – of course, the thermoplastics parts of the Tiko 3D printer would have molten way sooner.
Tiko 3D Printer Update #15: September 5th – Shipping updates
That's what TIKO3D officially told their backers on September 5th:
"Well, honestly, November still looks good, but it's too soon to say for sure. Only the test results will determine if we're good to go. Could we put together a half-baked and untested printer in time for November? Well sure, but who really wants that? You backed something more than that – you backed a new standard in 3D printing, and we want to ship just that!
We're here day-in and day-out, running tests and getting those last few parts home so we can test those as well. At this stage in the game, a problem with the hardware could pose a threat to the timeline, but we're optimistic."
"Release to Manufacture
It's a race to the finish line – next month we'll see the beginning of our target RTM (release to manufacture) dates. These dates mark when we will commit to the production of the full batch of each component. Some are RTM-ready now, some are still being tested, and others are on the way to us. As we check-off these items, we'll have a more accurate estimate of our timeline."
Filaments
Again from the September 5th statement:
"In the midst of all this testing we are ready to begin compatibility testing with third party filaments/materials.
We are of course developing our own, and they're going to be awesome, but we're staying true to our promise of non-proprietary filament. Unfortunately, finding and reaching out to all of the 3D printer filament providers around the world is a big undertaking, so here's where we need your help.
If you have a vendor of 3D printer filament that you're interested in buying from, add them to our Filament Survey at www.tiko3d.com/filament_survey. If they meet our criteria we'll reach out to them, request and test some samples, and then report back with results!"
Tiko 3D Printer Update #14: August 22th
Update to the timeline – re. the Tianjin explosion
From the Kickstarter Tiko forum:
"Things are moving along steadily here, we've received a few little parts (non injection molded) this week and they look pretty good. Unfortunately, the tragic explosion in Tianjin led China to perform a nationwide inspection of companies that work with hazardous materials, which includes a number of our own suppliers. This has set back some of our sample-making timelines by a few days. It shouldn't be too big of a problem in the grand scheme of things, but it means that some of our pre-pro parts are now set to arrive close to our next KS update date – a bit too close if you ask us. So, we're keeping our fingers crossed that we'll have something worth showing."
Tiko 3D Printer Update #13: August 20th
Important statement on the timeline
From the Kickstarter Tiko forum:
"Regarding how our timeline is looking, it's a pretty exciting/terifying time right now. The bulk of our components are in the late stages of tooling, so they're basically out of our hands right now. Over the next few weeks we're going to be getting all of our pre-production samples. If they work well, then it's game on and everything should go smoothly. If not, then it will almost certainly result in a delay. It may seem a little odd to say that in August when we're delivering in November, but there is a considerably long RTM (release to manufacture) process during which we transition from pre-production to rapid scale-up, and if there are mistakes now there may not be quick fixes for them. The whole manufacturing process depends on everything being done correctly up front.

So, right now the team is working day and night, pouring over all of our files, testing parts, etc and following up with our manufacturers to ensure that absolutely nothing is overlooked. Even with all of that, we won't know for sure until everything gets here. Fingers crossed!
Meanwhile software is well underway and ahead of schedule. With every passing week there are simply amazing things happening on their end, so we're feeling great about that side of Tiko, so we're breathing easy there.
Regarding 3rd party filaments, we'll talk about that soon, likely in the next update.
All in all, it looks like we might just be able to pull it off, even if the odds are against us.
You know, month after month we've made awesome progress, but it hasn't come without challenges. We've had to overcome a great number of hurdles to move at this pace. Not to be cheesy, but, guys… we really appreciate you believing in us and backing our creation. You should know that we're here 15-20 hours a day, and we're here for you. Thanks for making all of this possible. :)"
Tiko 3D Printer Update #12: August 13th
In the last few days, the makers of Tiko reacted to a number of returning questions. We added the "official" answers to our inofficial FAQ:
* 2 questions regarding the connecting arms
* Fear of ustomer lock-in through filament cartridges and cloud slizing
Just click the link to jump to the relevant section in the FAQ.
Tiko 3D Printer Update #11: July 7th
Is Tiko on schedule? Will I get mine as advertised in the Kickstarter campaign? That's the questions Tiko backers keep asking us. So we talked to Matt Gajkowski, TIKO 3D co-founder, to find out more about the current status of the project. Read more in our July interview with Matt.
There are also some technical updates to this FAQ (just follow the links to the relevant section in this FAQ).
* More robust and faster stepper motor
* Improved accelerometer
* Improved slicing engine
Tiko 3D Printer Update #10: April 25th
* Info regarding construction
* Filament feed
* WiFi clarification
Just click the link to jump to the relevant section in the FAQ.
Tiko 3D Printer Update #9: April 19th – What was new

We added a new section called "Technical questions" for the new questions and answers (click the link to immediately jump to the section).
* Unibody construction
* Nozzle and temperature
* Slicing
* G-code
* More technical questions: Cooling and filaments – see the interview with Matt Gajkowski
* Shipping and VAT – updated
Please note: In the Kickstarter comments, there are a not only questions and suggestions to the Tiko creators but also a wealth of very useful technical explanations and answers to other commenters. Nevertheless, we decided to include only answers of the Tiko creators in our FAQ, and no answers from Tiko backers.
*************
At the end of March, TIKO 3D started a Kickstarter campaign to finance their low-cost unibody 3D printer. Their goal was to collect $100,000 – at the end of the campaign, the company brought in almost $3 million right now, their backers pledged over $2.5 $2.1 $1.5 million. And there are still 5 12 18 days to go.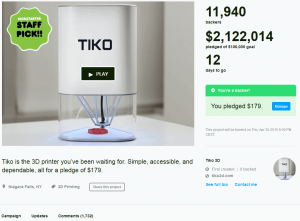 A fully functional 3D printer for $179? That sounds too good to be true. And yet, over 14,100 almost 12,000 9,000 enthusiasts already pledged to put their money on the shelf for the Tiko.
Here at All3DP.com, we are in two minds about the Tiko project. Some of us expect that it will go down the drain just like so many 3D printer crowdfunding campaigns in 2014. Some of us don't.
We sent the Tiko team an interview request a few days ago but haven't received an answer yet. They must have been flooded with questions.
In the meantime, we managed to interview Matt Gajkowski of TIKO 3D printer. In case, you haven't seen it: Here is the interview on Tiko and 3D printing.
On Kickstarter, a lengthy discussion has developed. Right now, there are almost 2,200 over 1,100 comments. There is a huge number of questions to the Tiko creators who struggle to answer the most pressing queries. Many questions keep coming again and again – after all, who takes time out to read through the entire comment thread on Kickstarter?
Well, we did. And we compiled the most important questions and the answers from the Tiko creators in our unofficial FAQ.
Price: How come Tiko can be offered at the fraction of the price of other 3D printers?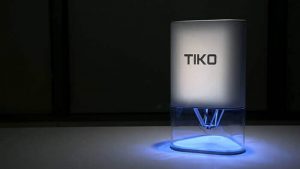 The Tiko crew states on the Kickstarter project page:
"Most 3D printers have a multipart frame. These are bulky, difficult to assemble, and easily damaged. This is where Tiko is fundamentally different. Tiko is unibody. That means the whole frame is one piece, introducing an amazing array of benefits. Easy to manufacture. Virtually impossible to misalign. That's how you get a quality 3D printer for $179."
And: "In most 3D printers, the most expensive (by far) item is the frame. That's because most 3D printers have a frame built from multiple beams that are fastened together. In delta printers, this frame is often made from three vertical extruded-aluminum beams. We had a simple thought… what if we extruded all three rails together?
Just like that, we had it. A unibody chassis. Strong, lightweight, virtually impossible to misalign, but also one we could extrude by the mile at a very low cost. Being made of one piece means no assembly is needed—no fasteners, no alignments, none of that.
…
Tiko's electronics employ carefully chosen surface-mount components that are optimized for mass manufacture. These make Tiko faster and smarter, while costing less.
…
Furthermore, Tiko's high-efficiency liquefier and motors use only a fraction of the energy required by most 3D printers. This allowed us to use smaller and less expensive electronic components and a standard "brick" power adapter instead of a bulky PSU, which further reduced costs."
"Low-cost 3D Printers and Crowdfunding Suicide"
Several backers referred to an article on Inside3DP.com titled "Low-cost 3D Printers and Crowdfunding Suicide" criticizing 3D printer projects on Kickstarter and Indigogo. The article was written by 3D design and engineering consultant Daniel Brown. His point was that most of these projects were doomed to fail for financial reasons and that some of them even had "fraudulent financing models". He did not refer to Tiko – because he published his article on August 12th 2014, long before the Tiko project.
In his article he presented calculations on how cheaply a 3D printer can be built. He stated that the raw materials for a printer would cost $180 (just the materials, cost for development, manufacturing, etc. excluded). But: His calculations were based on the assumption that 10 printers were manufactured per week over 6 months. That is, less than 300 printers. For manufacturers in China that is piece production. Compare that to the almost 9,000 Tikos already "sold". Of course, calculations for Tiko will be quite different.
In the meantime, the Tiko crew responded to the references to Daniel Brown's article:
"Also, we actually spoke with Daniel Brown (original author) about his article just before launch. We had a very in-depth exchange about Tiko's cost structure, and you'll notice his article now has a few clauses in front of it. He's a very smart guy, he wouldn't endorse a startup that came out of nowhere, but he did come to realize that some of the assumptions in that article are no longer valid."
Logicstics and delivery: How will you make sure you can deliver several thousand printers on time?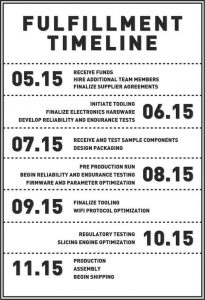 From the Kickstarter comment thread:
"The majority of our work lays in preperation (tooling, regulatory testing, etc). The volume of production is not a problem, as we have partnered with sizeable manufacturers who can do much more than 3000 units/month, so we are already being conservative in our group size."
In the FAQ section on the Kickstarter page:
"Q: You've received a lot of orders, will this cause delays?
A: Not at all! Our suppliers are accustomed to large orders. The majority of our timeline is the preparation that comes before production."
Where will the Tiko be manufactured?
Several backers asked where the Tiko will be manufactured. The answer in the Kickstarter comment thread:
"Tiko is indeed being manufactured in China. That's not to say we're doing it to be cheap, because we're certainly not working with low-quality 'bargain' companies. There's a great deal of infrastructure there, and a number of the highly-specialized components in Tiko can only be made by a handful of companies, most of which are in China."
What will I pay for shipping and VAT? (UPDATED, April 19th)
According to the FAQ section on the Kickstarter page, shipping rates will be capped at $65 per Tiko.
In the Kickstarter thread:
"Tiko's shipping weight, with filament, will be approximately 3kg. However, we've noticed that our shipping rates tend to be volume driven, as Tiko is quite lightweight for a package its size. We are shipping in a box that is approximately 9″x 10″ x 16″."
And regarding taxes and duty:
"We don't collect taxes/duty, that will happen when your printer reaches customs. Unfortunately, that is something out of our hands, all we can do is (as Martin explained so well) ensure the customs declaration is correct. We encourage everyone to educate themselves on their local tax/duty rates."
UPDATED:
Please note that the $179 you pledged is not what you will end up paying when you get your Tiko: Add the shipping (max. $65) plus VAT (on the "price" plus shipping cost). If most European countries, VAT is about 20%. That means: $179 + $65 + $48.80 = $292.80.
In some countries, customs dues will be added on top.
Tiko 3D Printer Update #8: August 13th – Technical questions
The connecting arms: What if one of them breaks? (updated: August 13th)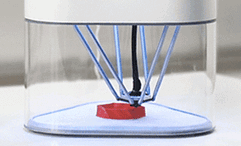 There have been a number of questions re. the connecting arms that control the movement of the print head. In particular: What if the arms break? One example:
"The arms, especially near the joints seems very fragile – unless the undisclosed material is an expensive high-performance polymer. Do you plan to include some spares with the printer?"
The answer by Tiko:
"Have no fear, there is no reason why the arms should break at any time in transit (even if dropped) or during normal operation. They are even designed to take a reasonable amount of abuse.
They are, however, designed to fail in case of an abnormally violent event (ie, a child reaching into the printer and grabbing the mechanism). This is a classic exercise in failure isolation, as it is very much preferable to break a super-inexpensive and easy-to-replace connecting arm than to have the end effector / carriages fail. We can send you new arms and you can pop them back on, but a failure of the other two may render the unit difficult to fix, possibly even irreparable.
You should know that Tiko is arguably the best thought-out 3D printer the world has ever seen. We've left no engineering stone unturned. :)"
The connecting arms: What are they made from? (updated: August 13th)
Question: "Just curious, what material and grade are the single-piece connecting arms made from?"
The answer: "Unfortunately that's not something we're divulging. It wasn't easy to choose the right material – the arms have to be stiff to maximize precision, but simultaneously flexible enough for the ball joints to pop on and off without cracking. There were a few other criteria as well such as abrasion resistance, minimum swelling to due moisture absorption, and low thermal expansion, among a few others. So, we're keeping this one to ourselves.
Speaking of connecting arm material, we should mention that we didn't ignore the requests to make the arms out of aluminum (or any metal in general). Unfortunately, we quickly found that the ball joints simply would not work (the metal would yield instead of flexing), so we had to drop it. Not to say it couldn't ever be done, it just needs a lot more R&D attention than we can give it right now. Sorry guys, we tried! That said, the current material is more than adequate for the job."
Proprietary lock-in through filament cartridges and cloud slicing (updated: August 13th)
Question: "This is my second 3D Printer. My first one was also bought in KS (Zim by Zeepro). Zeepro had a vision that included proprietary cartridges to load filament and Internal slicing that was then replaced by cloud slicing. Now 2 months ago they stopped responding and apparently they are down for good. That left backers with a giant paper weight. I write this lines (second comment here) to give you a heads up. Dont close your printer. It wont work. Dont do the same mistakes and learn from their mistakes." (typos in the original post)
The answer: "Proprietary cartridges and cloud slicing are typically a tool used to lock customers into a manufacturer's ecosystem and business model, which indeed sucks if a company goes under. We have no such intentions, we simply believe that we can do everything better than the status quo, so we encourage people to use our filament/slicer because it empowers them, not because it limits them. Regardless of what happens to us, Tiko will continue to work with 3rd party filaments and G-code."
Tiko 3D Printer Update #7: July 7th –

More robust and faster stepper motor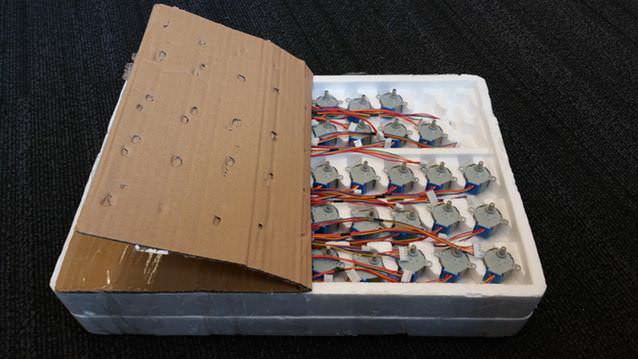 "During the campaign a number of backers expressed concerns about the small stepper motors we're using inside Tiko. Let's face it, we saw it coming. We used motors that – although more suitable for a compact, lightweight, and energy efficient 3D printer like Tiko – would be compared directly against the beast-like and painfully expensive Nema-series motors used in old-school 3D printers.
The concerns were always about two factors: Speed, and motor lifespan – both of which are directly dependent on the gears inside the motor housing. So… we pounced on it!
For a little extra cost and the time it took for tooling, we worked with our motor supplier to improve these little motors just for Tiko. We came up with a customized gear ratio that significantly improves speed without affecting resolution, and we use higher quality gears with a hardened material that improves lifespan."
Tiko 3D Printer Update #6: July 7th –

Improved accelerometer
"Remember the photo on our campaign page of our end-effector accelerometer? Well, for a long time we yearned to put that sucker onto a flexible PCB, but we weren't sure we could justify the added cost. But, with larger orders come lower production costs, and we used that in numerous ways to subtly improve Tiko beyond even what we had created in the prototyping phase.
In the case of the accelerometer, this new configuration brings with it a number of advantages including better signal integrity, one less connection that could fail, and a reduction in stiffness of the end-effector wiring harness."
Tiko 3D Printer Update #5: July 7th – Improved slicing engine
"When we think of an engine, we think of a 200lb, 19,000 RPM 2.4L V8. And it is in that image that we've been building Tiko's one-of-a-kind STL file slicing engine.
It's come a long way since its inception, with some pretty clever and efficient algorithms used to make it run like nothing we've seen before.
We've been testing a variety of edge cases, but it's proving to be a lean, mean, slicing machine! Thus far our benchmarks indicate it could -even in it's final production form- be an order of magnitude faster than any other slicer we've come across."
Tiko 3D Printer Update #4: April 25th – Clarification regarding construction
"So far we've found that the build plate and it's coating doesn't experience significant wear, but it's something we can indeed make replaceable. For the time being our slicer only supports a crosshatch pattern. The print chamber is not heated. The initial layer thickness will indeed differ from others to optimize adhesion, but this will not be adjustable."
Tiko 3D Printer Update #3: April 25th – Filament feed
"Regarding filament, the spool is not supported by anything special, it simply sits on the bottom of the filament tray with only a few mm gap to the outside wall. The inside of the filament tray is manufactured using a low-friction plastic that makes it easy for the spool to unwind in place."
Tiko 3D Printer Update #2: April 19th
Unibody construction
"Regarding the unibody, it is indeed a polymer (the exact material undisclosed). We considered aluminum, but it brings with it certain complications that we are not prepared to deal with just yet. Rest assured, though, that the plastic construction is plenty stiff and durable enough for this purpose."
"The unibody isn't something we consider replaceable, as it's built to last. Unfortunately compromises had to be made during prototyping which resulted in some unwanted motion/vibration, but we don't expect any of these to translate into production."
Nozzle size
"The nozzle tip is 0.4mm, which has demonstrated a good mix of precision and flow rate / longevity before clogging."
Temperature
"Tiko's enclosed build chamber means that parts can maintain an even temperature regardless of external conditions, and our proprietary bed coating sticks well to a variety of plastics. We're not claiming to have 100% eliminated warp for all materials and objects, but we've reduced it substantially."
Slicing
"A whole lot of discussion regarding slicing. It's done on board Tiko. Some of you have suggested this will result in slow slicing times, but that is speculative and incorrect. The way we designed Tiko's systems and workflow makes for a quick and straightforward user experience, whether printing directly or remotely."
"Tiko's slicer will handle multiple objects, but not sequentially. Also, we're considering extra nozzles, but then we need a clever place to put them (ie somewhere inside Tiko), otherwise too many will be lost. So we're still undecided. And indeed, the problem is clogging."
G-code
"Tiko's hardware has its own unique printing characteristics, and while designing a good slicer is certainly no walk in the park, it's far easier to make a slicer that's awesome for one printer than for many. And in general, not all G-code is created equal, and we're working on more efficient G-code."
"We have not developed a G-code viewer, and do not intend to. We expect this will make some existing 3D printer owners cringe, but File -> Print is the path we have chosen."
Tiko 3D Printer: What about warranty and repairs?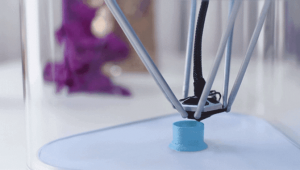 There have been a lot of inquiries regarding repairs and warranty. Obviously that is the part in the Tiko project its creators had not cleared before starting the Kickstarter campaign.
What is still unclear to date (April 11th) is the question of local warranty regulations, e.g. how will the Tiko creators deal with European warranty regulations (2 years warranty). On April 8th, Tiko representatives stated in the Kickstarter thread (after several backers had pointed out European regulations):
"Regarding warranty, indeed the EU directive has caught us off-guard, and we're looking into it.
Please know, we stand behind our printer and we will support you if you have a problem, but implementing a full warranty program could sink our business before it even starts. Not because we expect a high percentage of returns, but because of the costs and complexities involved.
Due to import regulations it will not be possible to sent damaged/defective units back to the manufacturer, which means we would need to open a facility dedicated to repair. For international cases, we would either have to open a local 'hub' facility or bear the cost of international shipping. As you can imagine, that is more overhead than a small company can handle.
That said, if you receive your Tiko and it is not working, we will replace it, simple as that. If your Tiko malfunctions during use, however, we will have to evaluate it on a case-by-case basis. The reasoning is as follows:
If something breaks and the repair is trivial, we will offer to send a replacement part. If the problem is irreparable, we may have to replace the whole unit. And, if something significant but replaceable fails, we may ask you to ship it to us for repair, however this again will depend on your location. As you can see, there are many factors involved.
Please understand that we care deeply about you, our backers, as none of this would be possible without you. However, we have to be realistic and accept that we are limited in resources, and cannot provide the same one-size-fits-all warranty program you would expect from a large corporation."
On another occasion, the Tiko creators said:
"Regarding repairs, if you ever encounter problems with your Tiko, we will deal with it on a case by case basis, but Tiko was not generally designed with user-repair in mind. Some components are easily replaced, others are not. Either way, please know that we have absolute dedication to our backers and we will ensure you get the most of your Tiko."
"Most parts of Tiko weren't design for manual replacement, however the nozzle is and replacements will be available."
"If something breaks and the repair is trivial, we will offer to send a replacement part. If the problem is irreparable, we may have to replace the whole unit. And, if something significant but replaceable fails, we may ask you to ship it to us for repair, however this again will depend on your location."
A backer from Brasil rephrased that: "What you are really saying is that, if anything needs repair or replacement you may not send it because of the location?"
The direkt answer from the Tiko crew:
"Sending replacement parts is one thing, sending a whole print back and forth for repair is another. If something goes wrong, we won't leave you hanging. We know it's vague, but we have to be very careful about promising a one-size-fits-all policy, as we might quickly bite off more than we can chew."
Tiko 3D Printer: CE, RoHS, UL, ESA certificates
Backers, in particular from Europe, requested certificates such as CE marking as they fear "there will be a lot of problems during delivery because customs will either send the Tiko back to the factory or simply destroy it."
The answer: "Don't you worry, we have every intention of meeting and exceeding all relevant safety standards, including CE, UL, RoHS, CSA, etc. We take safety very seriously, and have high expectations for Tiko. Our primary manufacturing partner has a great deal of experience with the certification process, so we expect that to go smoothly."
Tiko 3D Printer: Output quality and printer evaluation tests

Several backers requested a 3D printer evaluation test or had questions regarding output quality.
The Tiko creators replied in the Kickstarter thread:
"We've proven numerous times that Tiko works, and we feel that's enough. Tiko's firmware and software still have plenty of development left before delivery, and we don't believe that test prints on our prototype accurately reflect those of the production model. Therefore, to prevent confusion, we're not releasing any such test results."
Someone even stated: "You won't show us the results of the stress testing? This makes me think that the prints came out bad and you feel showing us would scare us off."
The answer: "That's precisely why. Tiko has excellent mechanical repeatability, so we know it has the potential for very accurate prints, but we're not happy with how bridges, overhangs, etc are coming out, especially with the older liquifier (the one we show in public demos / videos). We still have over 6 months to refine our firmware and slicing algorithms, and these are the things we'll be working on alongside manufacturing. If we publicly release a torture-test from our prototype with early stage firmware and hand-built prototype parts, people will miss that point entirely and assume that the final product won't be up to par with other printers. So, we're not going to release torture test prints, simple as that. We understand that makes some people uncomfortable, and for those people we recommend waiting until after Kickstarter."
Tiko 3D Printer: Can I hack or modify the Tiko printer?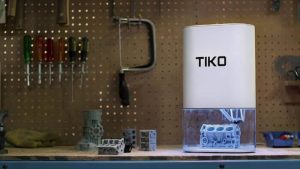 The answer to a few questions in the Kickstarter thread:
"Unfortunately, Tiko is not designed to be modified or hacked. There are numerous open-source kit-based 3D printers out there perfect for that application, but Tiko is not one of them. You're welcome to modify your Tiko once you receive it, but it will be at your own risk."
And: "Likewise, we believe that software/firmware development is the core of Tiko, not an accessory. Our goal is to develop a printer (including its software) so advanced that no tinkering is required. In order to do this, however, the two must be made for one another.
We understand this is a difficult transition for users who have become accustomed to controlling a dozen parameters on their DIY 3D printers, but, Tiko is not a DIY 3D printer."
Tiko 3D Printer Update #1: April, 25th – WiFi vs. USB/Ethernet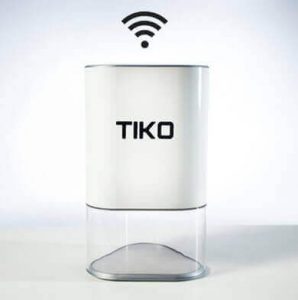 "Tiko supports the 802.11 b/g/n standards."
Tiko has no USB or Ethernet ports. Feeding 3D models and controlling the printer is done via WiFi. When there is no wireless LAN, Tiko creates its own wireless access point. Some people were concerned what happens when during printing the connection is interrupted.
The answer in the Kickstarter thread: "Tiko stores the prints in onboard memory, so once you start printing there's no need to maintain a connection."
And regarding security concerns: "Tiko only emits a hotspot if it is unable to connect to an existing WiFi network."
Future plans: Will there be bigger Tikos?
"Regarding size, we are not currently exploring a larger Tiko. Tiko's exterior size is ideal in numerous respects, and changing it would only compromise the design."
License: The text of "Tiko 3D Printer: Frequently Asked Questions" by All3DP is licensed under a Creative Commons Attribution 4.0 International License.
Subscribe to updates from All3DP
You are subscribed to updates from All3DP
Subscribe
You can't subscribe to updates from All3DP. Learn more…