With desktop 3D printing and empty plastic bottles, TrussFab software can design large structures sturdy enough to carry human weight.
Don't Miss: Metamaterial Mechanisms: 3D Printed Door Handle & No Moving Parts
Recycling empty plastic bottles is a simple but important act that's good for the environment. But with the application of some software and a desktop 3D printer, you can also use them to build weight-bearing structures like chairs, bridges, and boats.
How exactly? With a piece of software called TrussFab, developed by scientists from the Hasso Plattner Institute in Germany. It does one very clever thing; it takes a 3D model and auto-magically converts it into a structure optimized for plastic bottles.
In addition to calculating how many empty plastic bottles you'll need to build something, TrussFab can also calculate the stresses and loads your structure will be subjected to. The result is a design with intelligent reinforcement, so that a chair made from bottles (for example) will actually support the weight of a human being.
But wait, it gets better. When it comes to actually building these structures, glue or bits of tape are not required. The software also generates custom plastic connectors that are simple enough to be fabricated on a desktop 3D printer.
TrussFab Software Takes Plastic and Makes it Fantastic
When it comes to assembly, each connector features a unique identifying number, so that it's easy to know what goes where.
Moreover, you attach the bottles to their respective connector using either a threaded or snap-fit thingamabob. In those instances where two bottles have to be connected by the bottom, a conventional bolt is used to hold them together.
To prove their concept, the team has built tables and chairs; a 2.5 m bridge strong enough to carry a human; a 5 m diameter dome consisting of 512 bottles; and a functional boat that seats two.
Interested to learn more? Read the full paper here.
There's no indication yet when the TrussFab software will be made available to the public. But based on the demo given in the video above, the most challenging part of designing and building your emergency shelter will be collecting all the bottles you'll need to put it together. Better start rummaging in those trash cans now…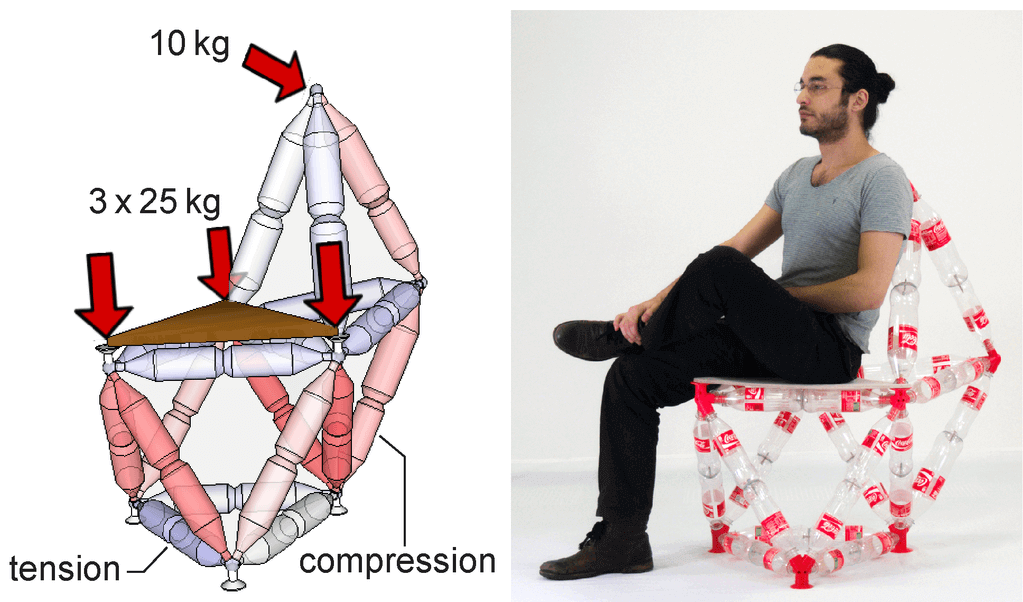 License: The text of "TrussFab: Structures Made with Plastic Bottles and 3D Printing" by All3DP is licensed under a Creative Commons Attribution 4.0 International License.
Subscribe to updates from All3DP
You are subscribed to updates from All3DP
Subscribe
You can't subscribe to updates from All3DP. Learn more…