Looking for information on 3D printing company Stratasys? We've accumulated the most important facts in this company profile.
11 Facts on Stratasys
1. Full Name
Stratasys Ltd.
2. Company Information
In many ways leading the future of 3D printing through its strong industry heritage, Stratasys is a manufacturer of 3D printers and 3D production systems for office-based rapid prototyping and direct digital manufacturing solutions. The company's products and sector contributions include a huge variety of solutions, many of which are cutting edge / latest innovation concepts within the 3D printing industry and beyond.
Also, they aquired Makerbot Industries in 2013 and Grabcad in 2014.
3. History
The company was established in 1989 through the founder's simple ambition to automate the making process of a toy frog. The layer by layer concept – however simple it may have stood initially – laid the foundation for a now global corporation with extensive stock, share, merge and acquisition history across the worldwide 3D printing industry.
Engineers use Stratasys systems to model complex geometries in a wide range of FDM thermoplastic and Polyjet photopolymers. With an extensive reach across a wide range of industry sectors (Aerospace, Defense, Architecture, Dental, Automotive, Creative, Medical and more), Stratasys' implementation of 3D printing technology is changing the future of the technology and how it is perceived across contemporary culture. From delivering projects and collaborations to the company's wide-ranging product offering of professional level 3D printers, there is no doubt that the company is one of the most major players at work to change the world via 3D printing technology.
4. Products
As an extremely established company within the 3D printing industry, the company benefits from offering a huge portfolio of services in addition to the 3D printers that it actually manufactures and sells. Aside from the very first product (the 3D Modeler, created in 1992), their printers are marketed in five categories – three of which are particularly important:
Design Series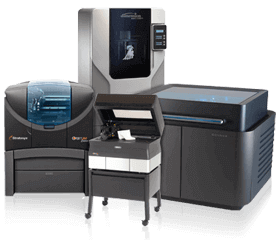 For precision and performance, the company currently offers ten industrial 3D printers for professionals. As a result of the company's 2012 merge with Israeli company Objet, this line of printers are perhaps the most commonly used / well-known Stratasys machine – targeted towards customers looking to prototype.
The design series is mainly targetted at professional 3D prototypers.
Production Series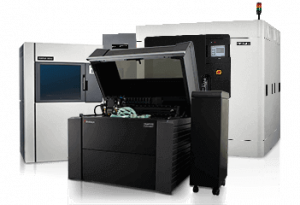 In an attempt to maximise production without the cost or time of tooling, this line of printers looks to make products as easily as possible.
These machines are used in a professional context to produce unique items.
Look out for the Fortus 250mc which looks to be a popular option for 2016.
Dental Series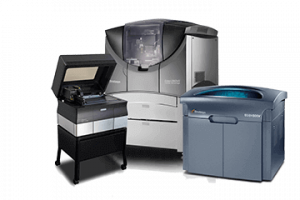 Aimed at a specific sector (in either a large or privately managed practice capacity), this selection of machines promises faster turnaround and smoother workflow for Dental professionals.
These machines are used to accurately 3D print surgical guides, veneer try-ins, stone models and a range of orthodontic appliances using 3D data from oral scans and CAD designs.
5. Founder
Scott Crump, 1989
6. Current CEO
7. Employees
1900
8. Address & Headquarters
Stratasys Ltd. USA
7665 Commerce Way
Eden Prairie, MN 55344
USA
Stratasys Ltd. Israel
2 Holtzman St.
Science Park, P.O. Box 2496
Rehovot 76124019. 
9. Email & Telephone
Email: http://www.stratasys.com/contact-us/
Telephone: +1 952-937-3000 (US)
Telephone: +972-74-745-4000 (Israel)
10. Website
11. Facebook & Social links
License: The text of "Stratasys: Company Profile in 11 Facts" by All3DP is licensed under a Creative Commons Attribution 4.0 International License.
Subscribe to updates from All3DP
You are subscribed to updates from All3DP
Subscribe
You can't subscribe to updates from All3DP. Learn more…