Inspired by hyperactivity, spring heel shoes by Neta Soreq have a unique "energetic pass" design only made possible through 3D printing.
Israeli designer Neta Soreq has created a set of 3D printed spring heel shoes with a unique structure to provide the wearer with an entirely new walking experience.
The name of the concept is "energetic pass" footwear. One pair has a bouncy platform directly beneath the center of the foot. The other features springs located at the front and back.
What both have in common is that they wrap around the feet with sinewy strips of material resembling muscle fibres. These are intended to function as shock absorbers while also complementing the natural movements of the body.
As Soreq explains:
"My shoe design came from studying hyperactive people while focusing on different therapy treatments that direct the energy in the body like Kinesiologia, Centering and more. I was inspired by the structure of the muscles and the natural movement of the foot in different positions."
Check out the spring heel shoes in motion in the video below:
How to Make Your Own Spring Heel Shoes
To make the shoes, Soreq began with a 3D scan of an anatomically correct shoe tree. This is a wooden insert for shoe to help maintain its shape. Using Solidworks 3D software, she modelled the designs and built up the forms line by line.
For fabrication, the shoes are made with the selective laser sintering (SLS) process. "Actually, the only way to make this structure is by 3D printing," says Soreq.
Elsewhere, fabric dyes provide the color and the soles are made from a light-sensitive photopolymer material to provide grip.
Lusting after the spring heel shoes and wanting to make your own pair? Then you're in luck; Soreq has made a complete guide available on Instructables. With step-by-step blueprints, she's encouraging others to follow her process and develop radical designs of their own.
"I recommend you take a personal subject that you are passionate about and want to delve into," she says. "Any project you will make that comes from a personal place will have more significance for you."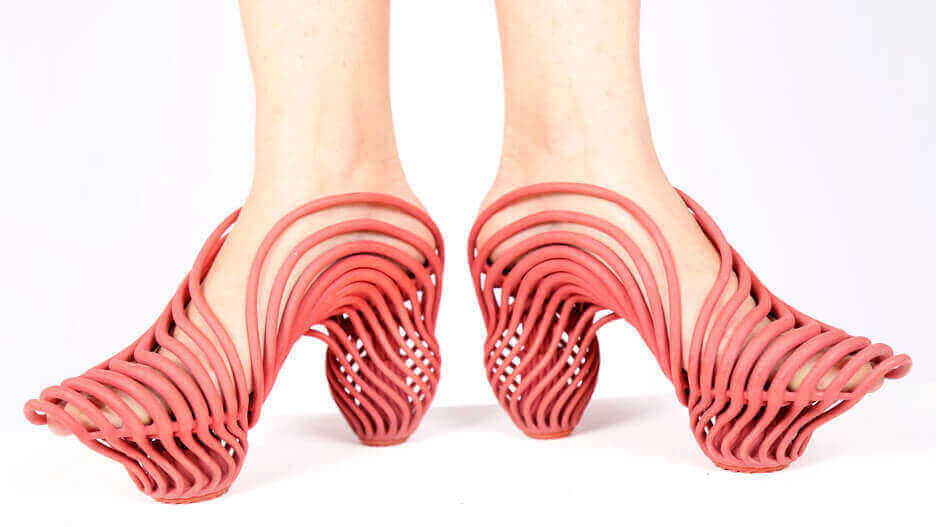 License: The text of "These Spring Heel Shoes Can Only Be Made with 3D Printing" by All3DP is licensed under a Creative Commons Attribution 4.0 International License.
Subscribe to updates from All3DP
You are subscribed to updates from All3DP
Subscribe
You can't subscribe to updates from All3DP. Learn more…