Everybody loves IKEA. Using a 3D printer, IKEA Hacks will instantly upgrade the furniture in your home.
Somewhere on the magical electronic interwebs, there is a website called IkeaHackers.net.
It's a one-stop shop for instructions on modifying and repurposing IKEA products. Commonly known as IKEA hacks, the alterations can be as basic as a little embellishment here and there, or as complicated as a breaking out the power tools and safety goggles.
Naturally, the Swedish furniture giant doesn't officially endorse or condone these modifications. But that hasn't stopped them becoming very popular among devotees of their products.
And wouldn't you know it, 3D printing has played an essential role in some of the best and the brightest IKEA hacks in the world today. Here's a summary of best we could find, together with links for further instructions.
Don't have access to a 3D printer? Have no fear. Simply upload the files to our 3D price comparison engine, and choose the best price from several leading 3D printing service providers.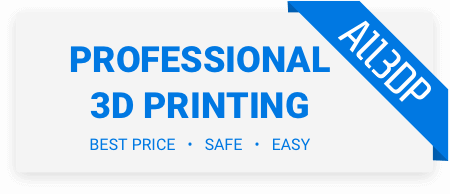 Let's say you want to shorten the table legs of a LACK table. If that's the case, you'll definitely need these 3D printed end-caps, because the leg is hollow and needs something to plug the hole and stabilize the leg.
Where to get it? GitHub
Make a fancy little storage net to go under your MARIUS stools. These multifunctional hooks can be attached to anything, and are strong enough to hold a book or two. You'll have to make the rope netting yourself, though!
Where to get it? Thingiverse.
Who made it? lauren
Got yourself a LAMPAN lampshade? then choose from 29 different covers to 3D print, turning a rather ordinary lamp into something more unique. Between the choice of colors, filaments and shapes, you'll have a 1001 customization options.
Where to get it? Thingiverse.
Who made it? Van Alles Wat Ontwerp
There comes a time when we have to put our drinking days behind us. Gone are the wild nights, replaced with civilized dinner parties. Upcycle your POKAL shot glasses into handy spice and herb containers, perfect for the kitchen or dinner table.
Where to get it? Thingiverse
Who made it? Riku Rusanen
The GRUNDTAL spotlights may be bright and beautiful, but they're also fixed in position. These swivel mounts will enhance them into industrial spotlights that are rotatable 180 degrees.
Where to get it? Thingiverse.
Who made it? Jeff
The secret to a happy home is storage, storage, and more storage. These little clips will keep the lid from falling off the smaller SAMLA boxes. This clip works with the 5L, the 11L and the 22L boxes and their lids.
Where to get it? Thingiverse.
Who made it? Thomas Flummer
The ORDNING is the ubiquitous cutlery caddy that every modern kitchen has. How about freeing up some surface space in your kitchen and wall mounting that sucker? With this custom 3D printed doohicky you can do exactly that.
Where to get it? Thingiverse.
Who made it? Pierros Papadeas
This is one of our favorite IKEA hacks on the list. Combine a pint glass, a DIODER LED light, and this 3D printed base unit, and you have a simple vase with elegant underlighting to showcase your flowers.
Who made it? Thingiverse.
Who made it? Wayne Trattles
Some folks are of the opinion that the LEIRVIK bed is sturdy and indestructible, but the upper framework is a little too… fancy? With a minimum of effort, you can simplify the bedframe using 3D printed adapters.
Where to get it? Thingiverse.
Who made it? 3dlyx
Another popular product, the JANSJO lights are a versatile and cheap source of lighting, but that clamping unit is not always ideal for your workspace. This 3D printed mounting bracket makes it suitable for smaller desks and workbenches.
Where to get it? Thingiverse.
Who made it? David LeBer
Got yourself a PERFEKT shelving unit going spare? Fill up the gap with this 3D printed knife block. Ugly shade of brown totally optional.
Where to get it? Thingiverse.
Who made it? Bkubicek
Apparently, the EXPEDIT range is being phased out, but if you have a table with glass inserts, this IKEA hack converts into a sophisticated 3 legged side-table.
Where to get it? Thingiverse.
Who made it? adampaterson

Ah, typical. You've got yourself a nice fancy bottle of Ouzo from that summer holiday in the Greek Islands, and it doesn't fit on your HUTTEN wine rack. But don't despair, simply print off a bracket to span the gap.
Where to get it? Thingiverse.
Who made it? Kristoffer Johnson
Another product that's increasingly rare is the STAM kitchen timer, since they're transitioning from analog to digital models. But if you have a GoPro action camera, they're worth seeking out. This hack is a mount that enables you to take time-lapse panorama shots.
Where to get it? Thingiverse.
Who made it? Sebastian
Okay, so you've shortened your LACK table. What if you change your mind and want to raise it even higher? These 3D printed feet should do the trick.
Where to get it? Thingiverse.
Who made it? Juan Gonzalez
3D Printer IKEA Hacks #16: IKEA Spare Parts
For a more general purpose hack, you'll want to keep these STL files handy for your 3D printer. This is a set of dowels, arresters, brackets and rail mounts that should help you with any shortfall or replacement parts when assembling furniture. Sweet!
Where to get them? Thingiverse
Who made them? MakerBot Europe
Calling the "Draisienne" an IKEA hack would be doing it an injustice. It's a freakin' work of art. Simply supplement a pair of FROSTA stools with some 3D printed bits and pieces, and you have an amazing little chopper for your kids to run around on.
Where to get it? Cults3D.
Who made it? leFabShop
Using the same base materials as the Draisienne bike, you can also create a DIY Luge! This hack is more for the winter months and you need a nice project to keep the little ones preoccupied. What could be more fun than building your own sled?
Where to get it? Cults3D.
Who made it? leFabShop
A bog standard HEMMA table lamp is transformed into an ethereal work of wonder, with this lampshade in the style of a jellyfish. The files can be downloaded from Thingiverse, but if you're daunted by the prospect of printing this object yourself, the designer is also selling it as a 3D printed item from her Shapeways storefront.
Who made it? unellenu
Give your 3D printer some love with an airtight filament storage solution made from a repurposed SAMLA storage box. Incorrectly stored filament can easy spoil and gum up the works in your printer, so this hack is vital for long-term quality printing.
Where to get it? Thingiverse.
Who made it? Werner Stein
Gaming fans can also benefit using this hack for the BILLY bookcase. Simply stash your Xbox 360, Xbox One and Steam controllers on the lip of the shelf (when they're not in use).
Where to get it? Thingiverse.
Who made it? Javier
Here's another smart modification for the POKAL glassware family; you can fabricate the lower half of a piggy bank and slot it over the glass. Now you can keep a closer eye on your savings… quite literally.
Where to get it? MyMiniFactory.
Who made it? Cemal Cetinkaya
This is a more complex hack, which roughly broken into two parts requires you to create both the lithophane artwork that adorns the lampshade and also the frame used to support it. The results are worth it, however, with a unique, custom design of your own invention.
Where to get it? Thingiverse.
Who made it? Chris Lynas
If you're an aspiring YouTube superstar, then you'll need yourself a little home studio setup for filming videos for your channel. This hack is a Webcam Arm Lamp Truss, WALT for short, where you can modify a TERTIAL work lamp to mount and position your webcam.
Where to get it? Thingiverse.
Who made it? Chris Krueger
This hack is the winner of an Ultimaker community challenge, where a husband designed custom handles for IKEA Dragon cutlery so that his wife — who has problems with her joints — could better hold a fork and spoon at the dining table. How's that for a definition of love?
Where to get it? Ultimake.
Who made it? Dbrgn
Disclaimer:
All3DP GmbH makes 3D printing available to everyone.
If you choose to buy an item through one of All3DP's articles, we do not charge any fee or additional price on top of our partners fulfillment price. We are paid on a commission, which means that we receive a small percentage from our partners.
Also, we are not selling the models. By comparing the prices of our 3D printing services, we simply are pointing you to the lowest 3D printing price available. If you would like to know more, please visit our Terms of Service.
Also, the editorial team of All3DP only conveys models that are under Creative Commons 4.0 Licence. All3DP will never convey STL files which are marked with the non-commercial use licence (CC NC). Also, according to CC BY, we give attribution where needed. If you are the designer of a model and want to be removed from All3DP's price comparison service, please send a mail to contact@all3dp.com.