It's squeaky bum time. The top 20 shortlist for the James Dyson Award 2017 has been announced, including several 3D printing projects.
Excitement abounds in the final round of the James Dyson Award 2017. Over 1,000 entries from 23 countries have been boiled down to a shortlist of 20, from which James Dyson himself will pick the international winner. The prize at stake is $40,000, plus $6,000 for the winner's university.
The competition looks pretty tough this year. Projects range from expandable children's clothing inspired by Origami, to a blood sampling device to aid hospital staff, to smart motorcycle helmets that contact the emergency services in the event of a crash. And of course, some of these projects involve 3D printing and modeling.
The top 20 projects were selected from among the national winners and runners up from 23 countries by a panel of experienced Dyson engineers. You can review the full shortlist over at the James Dyson Foundation.
"Judging the top 20 projects in the James Dyson Award is an intense and exciting experience."
"Judging the top 20 projects in the James Dyson Award is an intense and exciting experience," says George Oram, senior design engineer.
"Discussing the innovative ideas, concepts and products that individuals and teams from around the world have created with my fellow judges leads to fascinating debates about the feasibility of the idea or technology, its practicality and the problem it is trying to solve. It was great to see such a diverse set of entries this year – judging was extremely difficult!"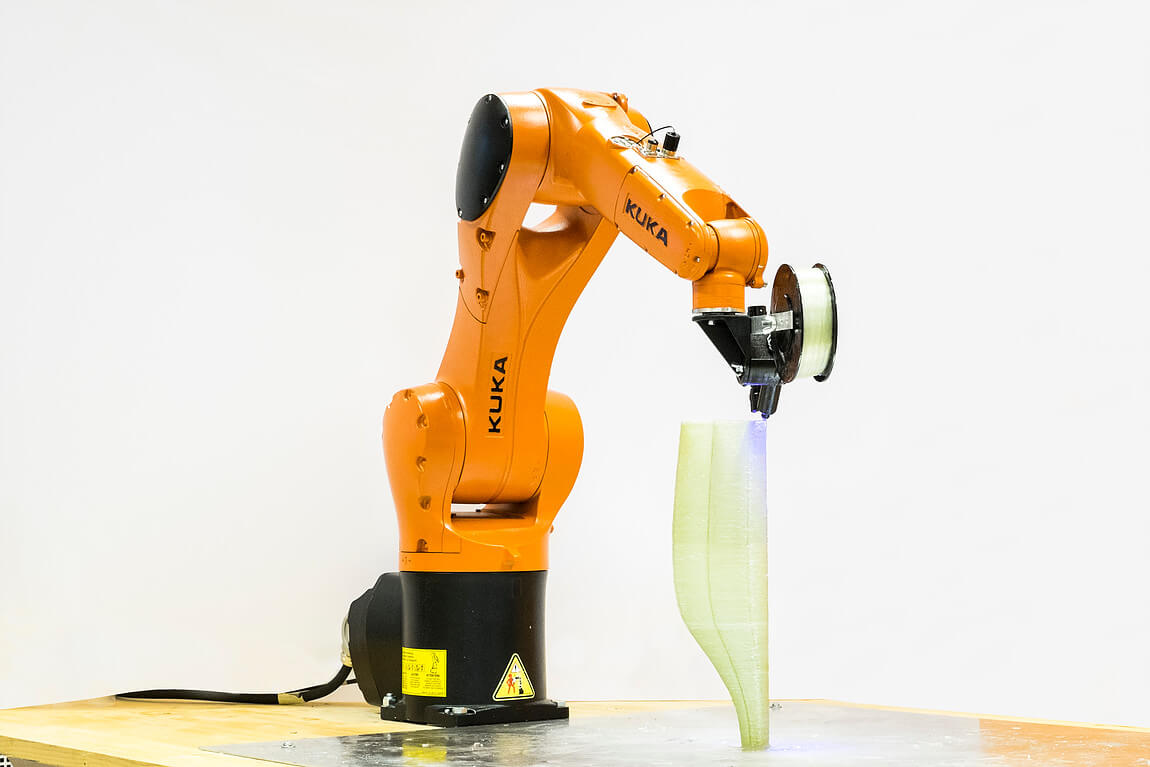 3D Printing Also Features in the Dyson Award 2017
So which are the 3D printing projects to get shortlisted for the Dyson Awards this year?
First up is Atropos, by Gabriele Natale from Politecnico Milano. This is a 6-axis robotic arm able to print 3D objects by starting from a CAD file. The problem that Atropos is designed to address is that current high-performance 3D printing tools waste large amounts of material.
Atropos uses continuous fiber composites material, to produce high-performance objects. Fibers are saturated, while a numerically-controlled machine is able to deposit them in a precise and repeatable way.
Elsewhere on the shortlist is an Auxilary driving aid for drivers with limited lower mobility by Chun Yeen Chu from University of Nottingham, Malaysian campus.
Current driving aids for those with lower limb disabilities are extremely limited. Driving is a convenience, particularly to carry out errands. And in developing countries, most public transportation options are yet to offer disabled-friendly facilities.
The solution is portable driving aid, which can be used across any vehicle intended through a plug-and-play solution. The auxiliary driving aid is wireless, therefore no wires are needed, it is 3D printed and therefore lightweight, and uses pressure sensors on the steering levers so that the harder you squeeze, the more pressure the floor pedals place on the accelerators/brake pedals.
Good luck to all the short-listed finalists. The international winner and runners up, as chosen by James Dyson, will be announced on 26 October 2017.
Source: Press Release
https://youtu.be/Hz7kdGAo3aQ
License: The text of "Top 20 Shortlist Announced for James Dyson Award 2017" by All3DP is licensed under a Creative Commons Attribution 4.0 International License.
Subscribe to updates from All3DP
You are subscribed to updates from All3DP
Subscribe
You can't subscribe to updates from All3DP. Learn more…