Coming soon to Kickstarter is a technological rarity in the world of desktop fused deposition modelling, the Sculpto Plus Polar 3D printer.
Don't Miss: 14 Kickstarter 3D Printer Projects Live Right Now
Way back in the misty ruins of time — 2015 to be precise — Danish entrepreneurs Simon Breum Fisker and Jacob Lindeberg successfully crowdfunded a compact desktop 3D printer called the Sculpto.
Sculpto is a fused desposition modeling printer, but it has a very special design — it's a Polar 3D printer. Instead of the Cartesian or Delta frame 3D printers we typically see, the Sculpto uses a rotating build platform. Think of it as a 21st century update of the potter's wheel; it's a real treat to see them in action.
Thanks to their success on Kickstarter, the Sculpto is perhaps the most popular 3D printer in Denmark today. For their next trick, the pair are returning to the crowdfunding well to launch their newest addition to the product line, the Sculpto Plus.
Check out the video teaser below:
Sculpto Plus Prints Really Big & Really Quiet
The features of the new Sculpto Plus are being drip-fed via their offical YouTube channel. For starters, the build volume has grown to a whopping five liters. It also has a new BuildTak platform optimized for the 3D printing process.
Elsewhere, the Sculpto Plus has a new smart acceleration feature to decrease the waiting time while maintaining print quality. And the Sculpto app used to control the printer will feature a new "model engine" that spotlights the best content from Thingiverse.
But perhaps the most impressive feature of the new machine will be its noise level, which measures around 46 dB. That's an impressive reduction from conventional 3D printers, which is in part thanks to its Polar design. Requiring fewer motors to function, that in turn means less noise and greater power efficiency.
The campaign for the new Sculpto Plus is launching on Kickstarter on Tuesday 5 September 2017. Naturally, there will be Early Bird Specials with substantial discounts off the official retail price (which hasn't been disclosed yet).
Meanwhile, if you can't wait for the campaign to run its course, the original Sculpto is still available to buy for €399.
Via: SolidSmack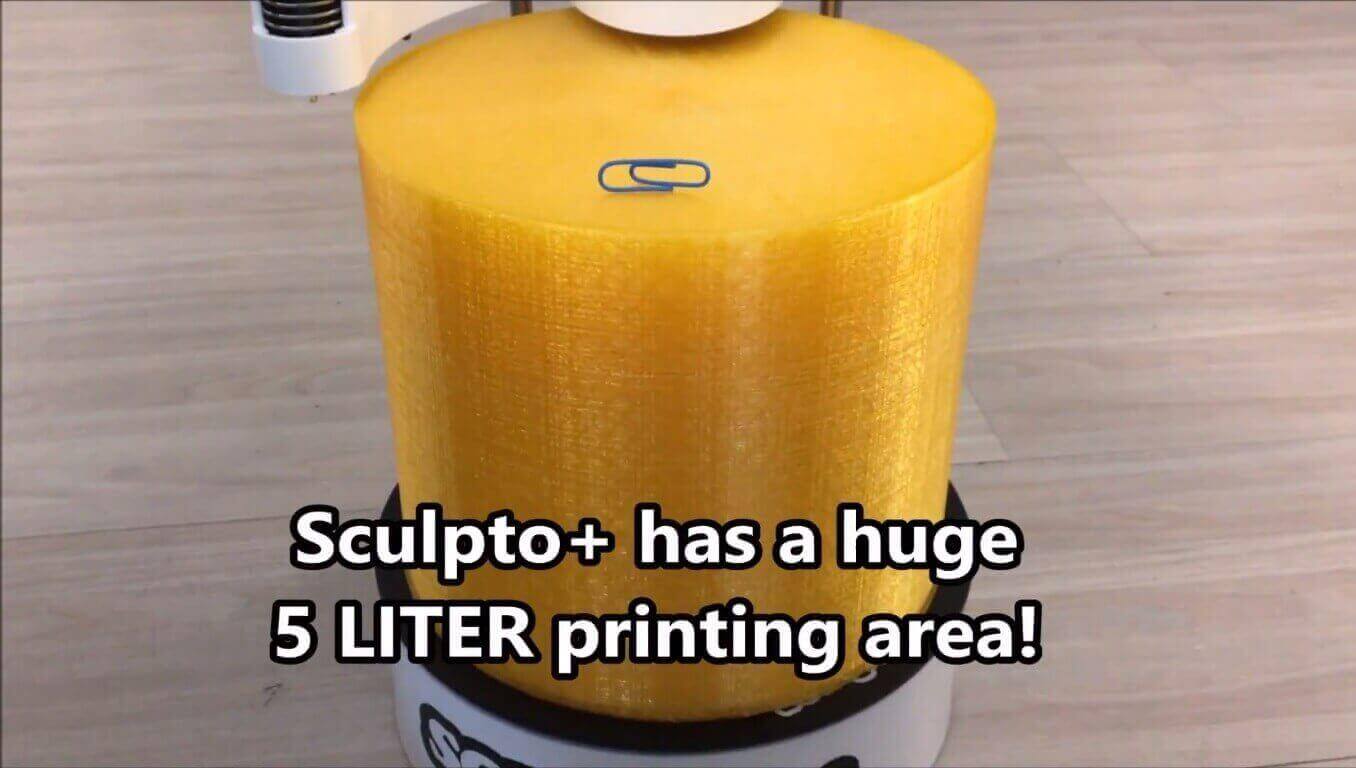 License: The text of "Sculpto Plus is a New, Improved Polar 3D Printer from Denmark" by All3DP is licensed under a Creative Commons Attribution 4.0 International License.
Subscribe to updates from All3DP
You are subscribed to updates from All3DP
Subscribe
You can't subscribe to updates from All3DP. Learn more…