Submarine manufacturer saves major time and cost by 3D Printing a titanium Variable Ballast tank with EBM technology from Sciaky.

The production of an Arctic Explorer submarine was nearly scuppered after the supplier of a component went out of business. To find a solution, however, International Submarine Engineering (ISE) didn't have to dive too deep. They turned instead to additive manufacturing.
ISE had originally planned to produce the titanium Variable Ballast (VB) tank with traditional manufacturing methods. Their key supplier was an overseas titanium forging facility that previously produced propellant tanks for the Russian space program. But then the supplier went bankrupt.
To avoid a delay in the production of their Arctic Explorer Autonomous Underwater Vehicle, the company approached Sciaky to fabricate the tank using Electron Beam Manufacturing (EBM) technology. Sciaky had prior experience in 3D printing titanium propellant tanks for Lockheed Martin Space Systems in 2015.
A traditional process would have required four months to make the tank; Sciaky was able to halve the production time to two months. The VB tank will now be installed onboard a new AUV that will be delivered to the University of Tasmania in the spring. After routine trials and training operations, it'll be sent to Antarctica.
Sciaky Approved for Land, Sea, Air, and Space
ISE is so pleased with the result, they're now planning to 3D print other critical titanium parts with Sciaky. And Sciaky is very pleased to have them as a customer. According to Bob Phillips, vice president of marketing for Sciaky:
"Sciaky is proud to help ISE cut production time by 50 percent and reduce costs by 3D printing their titanium VB tank with our one-of-a-kind EBAM process. Our industry-leading EBAM technology is the world's only industrial-scale metal 3D printing solutions with approved parts for land, sea, air, and space applications."
The titanium VB tank is a sub-system of ISE's Arctic Explorer AUV class of vehicles. The Arctic Explorer measures nearly 23 feet in length and weighs 4,409 pounds. It's rated to 5,000 meters (about 3.11 miles) depth. It can be launched from a ship or through an ice hole, and the modular sections can be separated for transport.
The VB system is vital because it allows the AUV to "park" on the sea floor, or cling to the underside of the ice during its research missions. It's charged and serviced by a Remotely Operated Vehicle after the AUV is attached to a docking head.
ISE previously built two Arctic Explorers for Natural Resources Canada/Defence Research and Development Canada. This was to map the sea floor beneath the Arctic ice shelf to support Canada's claim under Article 76 of the United Nations Convention of the Law of the Sea.
Source: Press Release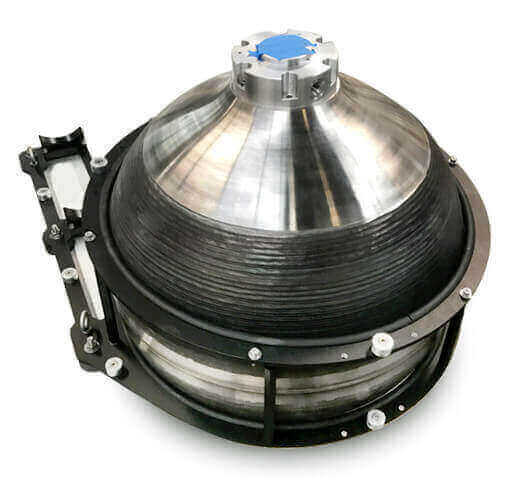 License: The text of "Sciaky 3D Prints Metal Tank For Arctic Submarine" by All3DP is licensed under a Creative Commons Attribution 4.0 International License.
Subscribe to updates from All3DP
You are subscribed to updates from All3DP
Subscribe
You can't subscribe to updates from All3DP. Learn more…