Not a hoax, not an imaginary story. The EU is funding an underground robot called BADGER which can drill and 3D print curving tunnels.
The European Union is sponsoring an underground robotics project that can drill underground and 3D print tunnels in its wake.
In full, it's described as a "robotic system that will be able to drill, maneuver, localize, map and navigate in the underground space, and which will be equipped with tools for constructing horizontal and vertical networks of stable bores and pipelines."
But the best part is the name. The robot goes by the name BADGER, a selective acronym for roBot for Autonomous nDerGround trenchless opERations, mapping and navigation.
So what are the problems that BADGER is trying to solve? Currently, construction companies already use digging machinery to excavate underground, and install pipes and cables. But this equipment has limitations; it's not able to detect and navigate around rocks, pipes, roots, and other obstacles on its own. It depends on humans to determine exactly where to dig.
Another problem is that these machines are designed to travel in mostly straight lines. They can't build a winding network of tunnels. And they're expensive to operate. It's actually easier (but massively disruptive) for construction companies to dig a trench, install the pipes into the hole, and then cover it all up again.
By comparison, BADGER will be able to autonomously burrow under the ground to create channels for the pipes, and navigate around existing infrastructure. It's even able to 3D print walls for the path it creates as it goes.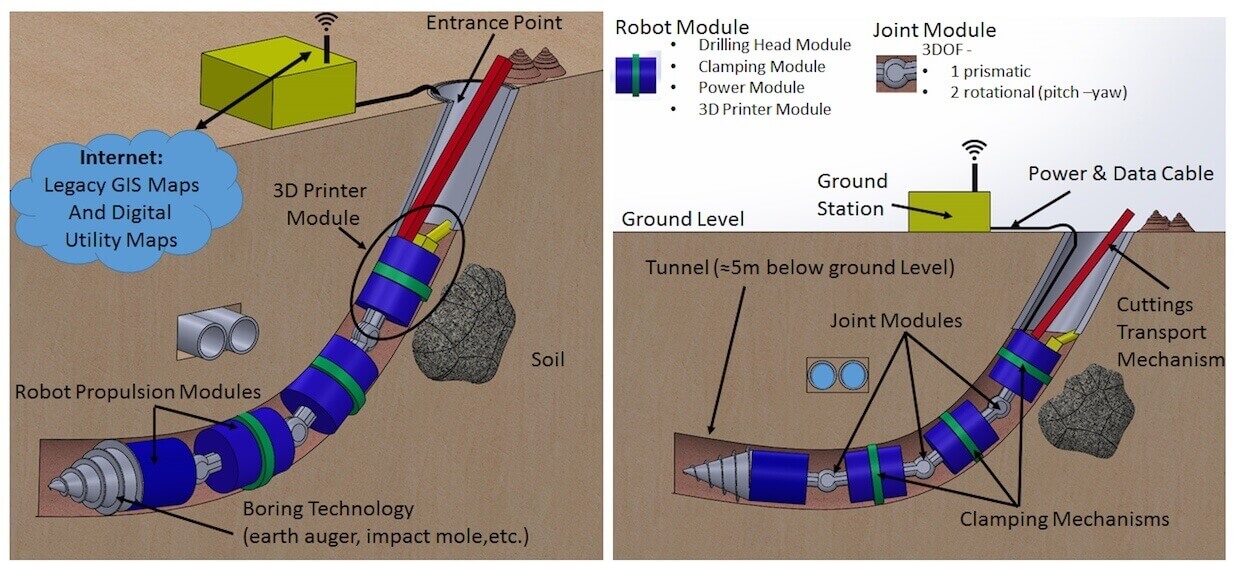 Is BADGER the Future of Underground Engineering?
BADGER is designed initially for small diameter tunnels, digging conduits for cables and pipes. The initial plan, according to project co-ordinator Carlos Balaguer of Carlos III University (no relation) in Madrid, is for the machine to burrow at depths of up to four metres at speeds of around two metres an hour. If successful, it should be possible to increase in speed and scale.
The "face" of BADGER combines a conventional rotary cutting head with an ultrasonic drill; this will pulverise rock with high-frequency sound waves. Just like existing machines, the spoil will be sent to the surface. Unlike existing machines, however, BADGER will move forward like an undulating worm.
The rear section will clamp itself to the wall of the newly cut tunnel and push the front section forward. The forward section will then clamp itself and pull up the rear. As it progresses, BADGER will line the conduit it has created with a 3D printer. One possibility is to print the wall with plastic, so the finished tunnel functions like a conventional pipe.
BADGER will navigate using various sensors including, crucially, ground-penetrating radar. This will enable it to operate autonomously and detect potential obstacles before it reaches them, so that it can steer around them. The great benefit of BADGER is being able to excavate tunnels below busy cities without closing roads to dig trenches.
The project began in January this year, and is funded for €3.7 million over the next three years. Prototype hardware is not yet available, but with the prospect of loopy 3D printed tunnels beneath our streets, the future looks anything but boring.
Via: IEEE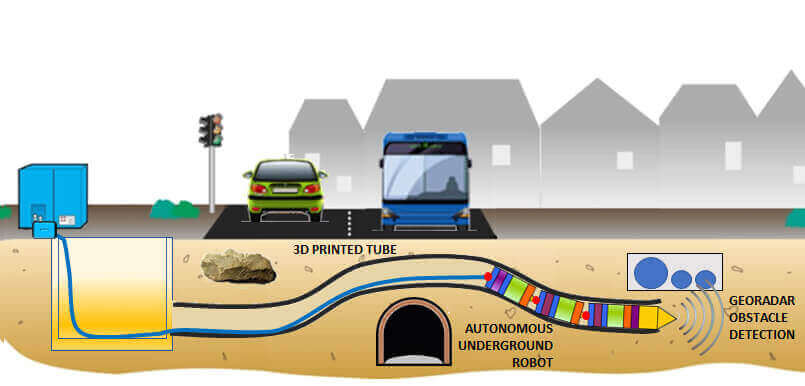 License: The text of "Robot BADGER Can Drill Underground and 3D Print Tunnels" by All3DP is licensed under a Creative Commons Attribution 4.0 International License.
Subscribe to updates from All3DP
You are subscribed to updates from All3DP
Subscribe
You can't subscribe to updates from All3DP. Learn more…