A trio of surgeons at a trauma hospital in the Netherlands, the ETZ, are demonstrating how 3D printing can help improve surgical diagnosis, operation time, and overall patient care.
The Elisabeth-TweeSteden Ziekenhuis (ETZ) is a specialized trauma hospital, one of eleven in the Netherlands. It is the only center in the country with trauma surgeons on location 24 hours a day, and it serves as the main location for emergency patients in North Brabant.
This is where a trio of pioneering surgeons are using 3D printing to help treat their trauma patients. Doctors Mike Bemelman, Lars Brouwers and Koen Lansink are conducting research into the benefits and effectiveness of 3D printing compared to conventional technologies.
Their approach is to 3D print a scanned bone fracture which provides both surgeons and patients a clearer understanding of each situation before commencing an operation.
To prepare for an operation, surgeons will often analyze CT scans of the patient. CT scans can be converted into a 3D reconstruction, enabling surgeons to examine it virtually on a computer screen. While useful, this approach has limitations; surgeons sometimes find it difficult to orient the model. Moreoever, because 3D reconstructions are viewed on a 2D screen they lack a realistic sense of depth.
Brouwers began using an Ultimaker 3 to fabricate fractured bone structures, allowing surgeons to analyze a fracture not just looking at it, but also touching and rotating it. And using the water-soluble PVA support material, complex, organic geometries can be accurately reproduced with small cavities and important details included.
Adopting 3D Printing for Use in a Trauma Hospital
Once the patient is in a stable condition, a CT scan is produced so that doctors can make a diagnosis. CT scan information is immediately available to Brouwers in his 3D printing studio, where he can begin fabricating the fractured bone structure of the patient.
One challenge of adopting 3D printing was finding a simple and efficient way to convert DICOM files — the proprietary file format of CT scans — into 3D printable STL files.
Using Philips IntelliSpace Portal, Brouwers is able to directly export a 3D model of the scan. Next, he slices the model in Ultimaker Cura, and sends it to the Ultimaker 3.
The 3D printed object will be ready within a day, and is used by surgeons to plan the operation and explain the process to the patient before it happens.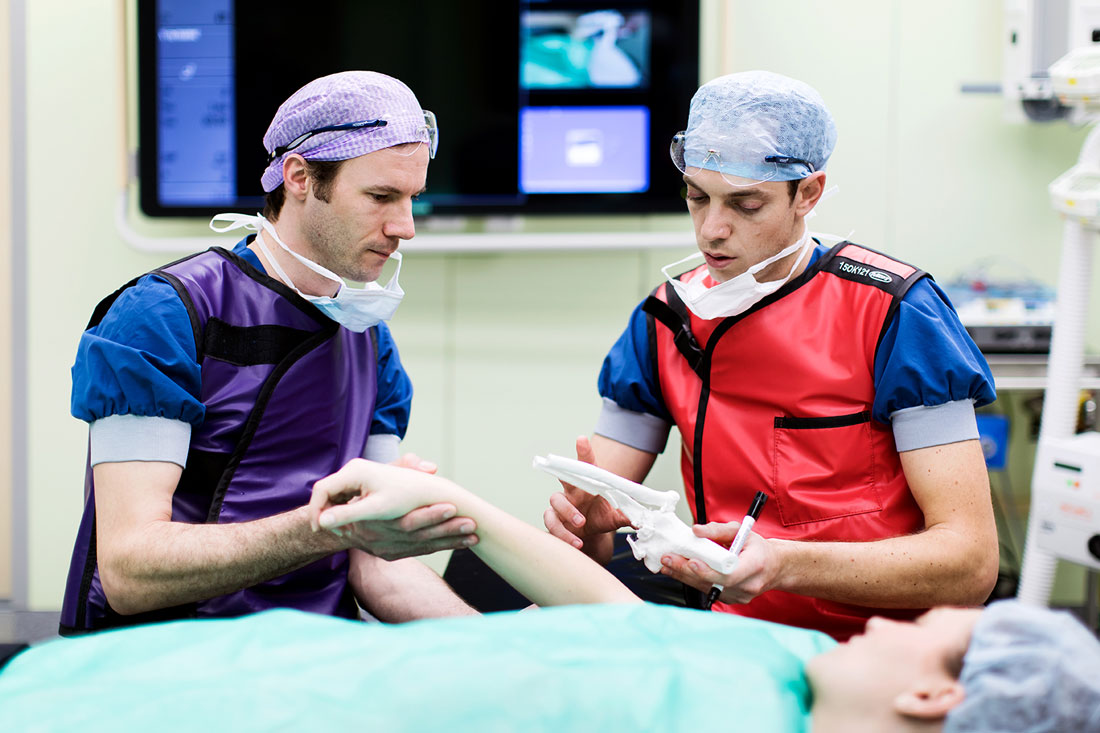 Higher Kappa Score Among Surgeons, Thanks to 3D Printing
Another positive impact from adopting 3D printing in the trauma hospital is on the kappa score.
When a patient has a fracture, doctors will analyze the x-rays or 2DCT scans and decide on an appropriate treatment. The better the understanding of the situation, the more accurately the right procedure can be determined. Surgeons will arrive at a solution using an agreement scoring system, known as the kappa score.
On average, surgeons with little experience have a kappa score around 0.2, using traditional 2DCT images. Surgeons with more years of experience have a kappa score around 0.4.
Brouwers researched the agreement score when surgeons used other techniques such as 3DCT, 3D printing and VR visualization. Using a 3D printed model, both new and experienced surgeons scored a kappa of between 0.6 up to 0.7, which is the highest score of all methods.
The increased kappa score demonstrates the added value of 3D printing to the decision-making process. Through his research, Brouwers seeks to prove that 3D printing can be of added value to patient satisfaction, surgical satisfaction, operation time, and health-related quality of life for the patient.
Source: Ultimaker
License: The text of "New Research on Benefits of 3D printing in a Trauma Hospital" by All3DP is licensed under a Creative Commons Attribution 4.0 International License.
Subscribe to updates from All3DP
You are subscribed to updates from All3DP
Subscribe
You can't subscribe to updates from All3DP. Learn more…