Fascinated by holographic displays? Then Prophelix — made using Arduino, 3D printing, and thinkness — is going to blow your socks off.
Pop quiz, anybody out there ever heard of thing called "Persistence of Vision"? Nope, sorry, it's not a New Wave post-rock band. Neither is it an obscure school of philosophy. POV is actually the name of an cool optical illusion.
Persistence of vision occurs when the visual perception of an object continues even after the rays of light emanating from it no longer reach the eye. And it's a popular project for the maker community; devices which move though the air at such speed they can trick your eyes into thinking that a sequence of flashing lights is actually a solid image.
Typically, these POV displays work in two dimensions. But LED aficionado Gelstronic has gone the extra mile and added more depth to his display. His Prophelix is a stack of 12 LED-enabled circuit boards in a helical pattern, made with Arduino and 3D printing.
See it in action in the video below:
Prophelix is an Amazing Optical Illusion
The LED pattern on Prophelix is controlled with a propeller board (which is also spinning). It's powered by a wireless charging setup normally used with mobile phones.
An Arduino Pro Mini in the base of the assembly takes care of making things spin at the correct speed, while an encoder handles feedback.
As Gelstronic explains:
There are a total of 144 LEDs that can displays 17280 voxels with 16 colors. The voxels are arranged circularly in 12 levels. The LEDs are controlled by only one microcontroller. Because I have used the APA102 LEDs I need no additional drivers or transistors. So the electronic part is easier to build. Another advantage is the wireless electrical supply. You need no brushes and there is no friction loss.
The end result is pretty impressive, we're sure you'll agree. Wanna learn more? You can find more details on this build over on Instructables.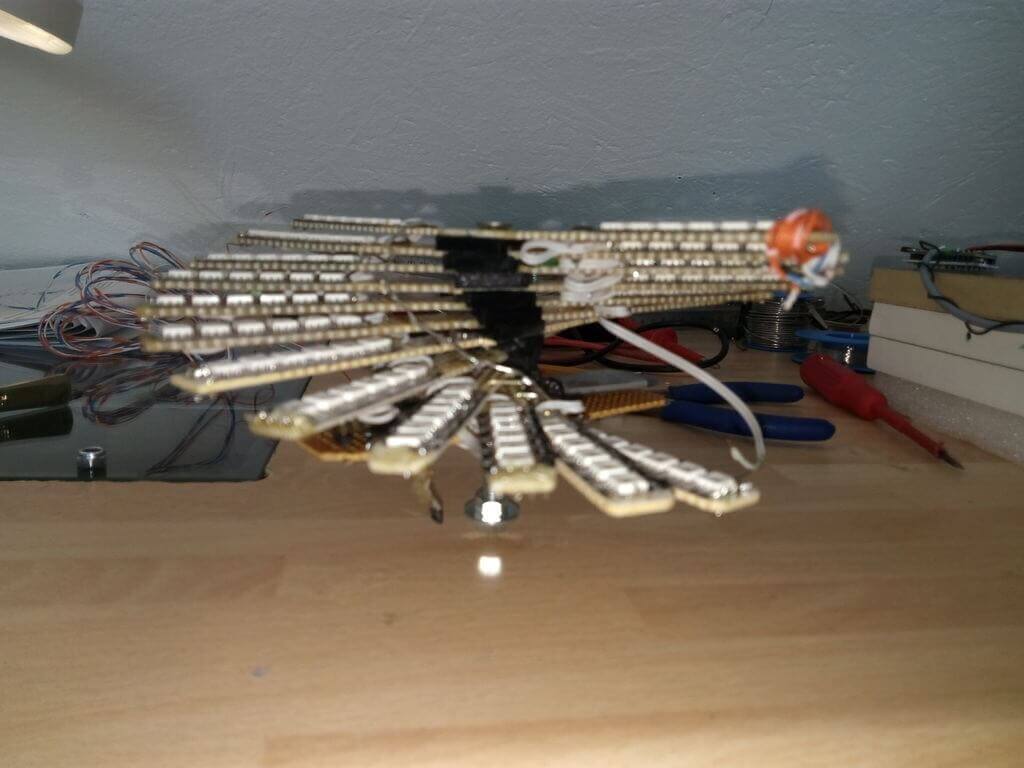 License: The text of "Prophelix is a Holographic Display Made with Arduino and 3D Printing" by All3DP is licensed under a Creative Commons Attribution 4.0 International License.
Subscribe to updates from All3DP
You are subscribed to updates from All3DP
Subscribe
You can't subscribe to updates from All3DP. Learn more…