Using only seeds, soil and water to make fantastic shapes, Print Green is a brilliant synthesis of traditional gardening and 3D printing.
Some ideas are so clever and so simple, it's a wonder they hadn't been thought of sooner. Print Green is a machine that combines 3D printing and landscape architecture to create potted plants and other shapes. In other words, 3D printed objects that can sprout grass, flowers or plants.
And the raw material to create these objects? A simple mixture of mud and seeds.
A standard 3D printer works by building an object, layer by layer, onto a construction platform. The printer is following instructions provided by a "slicing programme", where a 3D digital model of the object has been divided into thousands of flat layers, and the object is then reassembled into a tangible "thing".
When building an object, designers can choose between size, colors, textures and materials, and can produce models as complex as they can imagine. Even working circuits are in the realms of possibility.
Print Green fuses Nature with Technology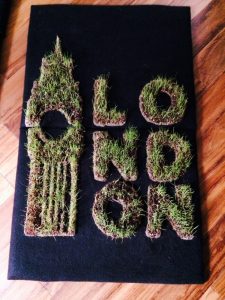 Print Green follows the same basic principle, but instead of plastic filaments, the 3D printer uses soil, seeds and water for their materials. The fundamental technique is to balance the water-to-soil ratio, so the raw material is wet enough to mold into a shape, but dry enough to stay in place.
In addition, the print is paused at specific points so that seeds can be added, so the final result can grow grass and other plants according to the designer's overall vision. There's an element of long-term planning involved too, taking into account the impact that a growing plant will make on the 3D printed shape over the course of time. 4D printing, if you will!
The implications of Project Green are rather positive. Combining technology and natural processes in such a way shows that innovation and sustainability do not have to be mutually exclusive. They can be beautiful, even.
Print Green was designed at the Intermedia Arts course at University of Maribor, under the mentorship of prof. Dušan Zidar as the subject holder. The project team includes students at the Faculty of Education Maribor, Department of Fine Arts, consisting of Maja Petek, Tina Zidanšek, Urška Skaza, Danica Rženičnik, and Simon Tržan. (via Klonblog)
License: The text of "Print Green Revolutionizes Gardening with 3D Printing" by All3DP is licensed under a Creative Commons Attribution 4.0 International License.
Subscribe to updates from All3DP
You are subscribed to updates from All3DP
Subscribe
You can't subscribe to updates from All3DP. Learn more…