It's the first Polaroid moment in several years. Yes, the instant camera brand we know and love is now a Polaroid 3D printer — and they're serious.
Remember Polaroid? The big and boxy instant cameras? They're back, sort of. But instead of making instant photos, with the Polaroid 3D printer users can expect… instant objects.
(Well, not quite, but it sounds a bit snappier than "several hours objects".)
They're not doing it all by themselves. This new machine is the fruits of a collaboration with UK-based EBP (Environmental Business Products), one of Europe's primary "remanufacturers" of inkjet cartridges. EBP entered the 3D printing market in 2014, and this week at CES 2016 they've announced a partnership with one of the most recognizable brands in the world.
The launch product is the Polaroid ModelSmart 250S 3D printer, and as you'd expect, the first official images play heavily on the eighties retro branding of the original cameras.
Based off an initial 3-year contract, EBP will be the sole manufacturer of the Polaroid 3D printer and accessories. They'll have exclusivity in 15 European markets, and the hardware is set to hit the market later this year.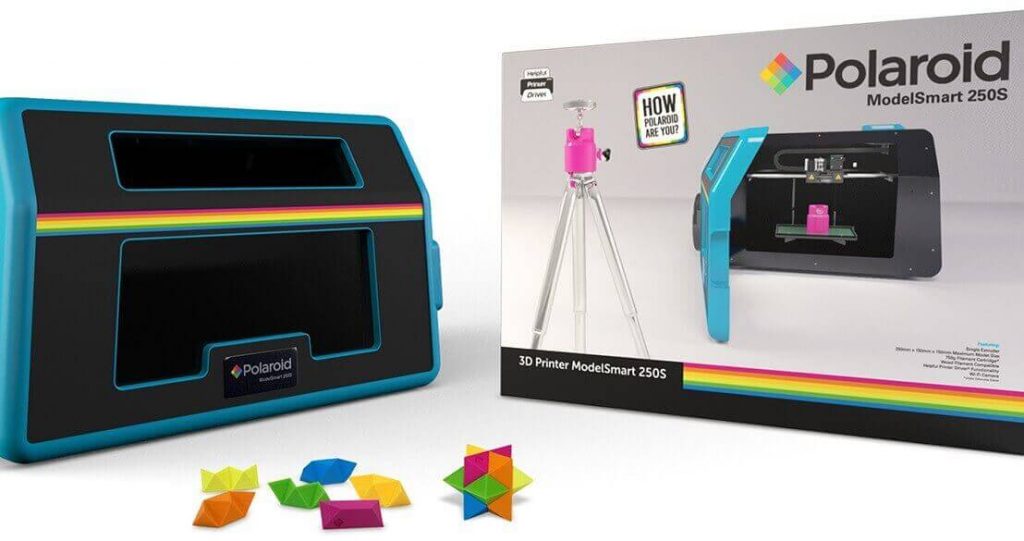 Key Features of the Polaroid 3D Printer
Considering that this announcement comes rather out of the blue, the specs of the Polaroid 3D Printer look rather good.
Topline features include a WiFi enabled camera inside, meaning the print can be observed remotely, and an ever-useful auto calibration feature to avoid wobbly build-plates. The specs in full:

WiFi enabled camera
Maximum model size 250(w) x 150(h) x 150(d) mm
Auto calibration
Vertical resolution (layer height) 50 – 350 micron
Proprietary Helpful Printer Driver software
Nine PLA colors (Pink, Blue, Green, Yellow, Orange, Lime, Black, White, Silver) and Wood
Bi-directional smartchip mechanism on filament cartridge to identify filament levels and ensures correct material is used
Transparent double-sided adhesive Z-Axis sheets applied to the print bed for effortless application, adhesion and model removal
More specs and pretty pictures can be found on their site here. And below is a marketing video where people are playing with plastic trinkets. We're praying that this won't be the full extent of the uses found for the printer…
Our take? It's quite the surprise to see the name "Polaroid" popping up in the 3D printing ecosystem, but there's something strangely comforting about those familiar old Polaroid stripes. Let's see how the machine performs when it hits the market.
License: The text of "Polaroid 3D Printer is Plastic Eighties Retro FANTASTIC" by All3DP is licensed under a Creative Commons Attribution 4.0 International License.
Subscribe to updates from All3DP
You are subscribed to updates from All3DP
Subscribe
You can't subscribe to updates from All3DP. Learn more…