It's time to consign that dusty old cuckoo clock to the attic. The linear Perpetual Clock is a stylish, modern take on timekeeping at home.
Jonathan Odom is a full-time designer whose maker moniker is "JON-A-TRON". Instead of just going to IKEA and buying a cheapie wall clock like anyone else, Odom has designed and built a timekeeping instrument that's truly unique.
The purpose of the Perpetual Clock is to better illustrate the linearity of time — quite literally. It uses a pair of rack and pinion assemblies to move a line of numbers in both directions.
And it's not difficult to read, either. The top line signifies hours, while the bottom signifies minutes in intervals of five. Why not display the precise time in minutes? In his own words, Odom says:
"The five minute intervals feel less neurotic than being precise down to the minute, and each number is magnified, reminding you to focus on the present."
Also likely this is also a design decision; fitting 60 numbers on a single rack may not have been as aesthetically pleasing as the finished result.
Perpetual Clock is Compulsory Clockwatching
Of the details of the build, Odom made use of all the tools available to him at the Autodesk Pier 9 workshop. He says:
"I made this using just about every machine at Pier 9 (waterjet, sand blaster, laser cutter, 3D printer, electronics lab, etc.). It's made of 6061 aluminum, steel hardware (screws, nuts, bearings), 3D printed gears, an Arduino Uno, and the hour and minute panels are laser cut / etched plywood."
The Arduino Uno powers a motor driver, which controls a stepper motor for each… arm? Calling them "hands" would be totally redundant, we suppose.
The hour and minute indicators riding on the rack and pinion are made from plywood, which have been laser cut and engraved. The steppers advance each rack incrementally.
With reference to the magnifying glasses, this is another neat touch; they appear to be monocles, positioned just so to bring the current time into focus.
Perhaps you don't have access to the tools needed to recreate this exact clock. But Odom has provided a complete breakdown of his design and build process over on Instructables (where he also happens to work).
Perhaps this concept will inspire you to do something similar. Dare we say it, but there's no time like the present…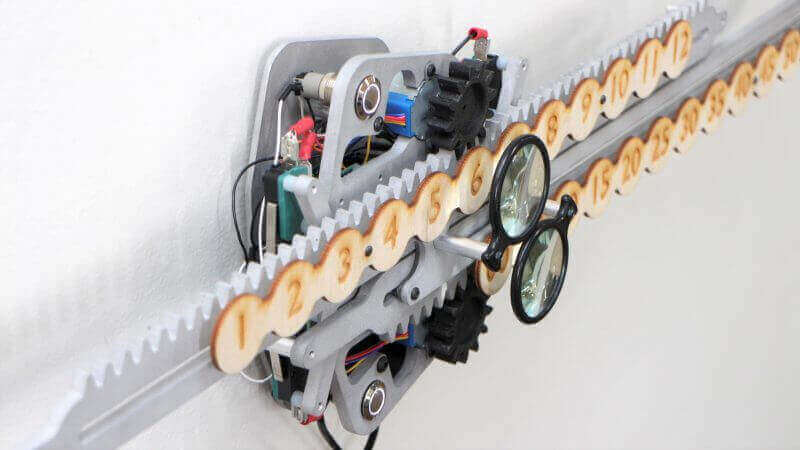 License: The text of "This Perpetual Clock is Made with Arduino & 3D Printing" by All3DP is licensed under a Creative Commons Attribution 4.0 International License.
Subscribe to updates from All3DP
You are subscribed to updates from All3DP
Subscribe
You can't subscribe to updates from All3DP. Learn more…