Parallel Goods is a new store selling 3D models for functional 3D printing. Behind the scenes, the team explains their design process to ALL3DP.
Early this summer, a small but perfectly formed object popped up on Thingiverse. It was a Self-Watering Planter by Parallel Goods, and the community was instantly impressed by the innovative design and visual aesthetic.
The self-watering planter was just a taste of things to come, however. Parallel Goods have now launched an online store selling 3D model files for functional printing. The first offering, "The Desktop Collection", consists of four designs to enhance your office. And each file costs only $1.99.
Don't fret if you don't have access to a 3D printer to make these items yourself; you can still join in the fun by using services like 3D Hubs or the ALL3DP price comparison engine to have them printed on your behalf.
Parallel Goods is a Chicago-based collective of designers, co-founded by Joe Carpita and Craig Stover. We asked them to tell us more about the inspiration for these beautiful — but useful — 3D printed objects. Read their insightful commentary below.
Self-Watering Planter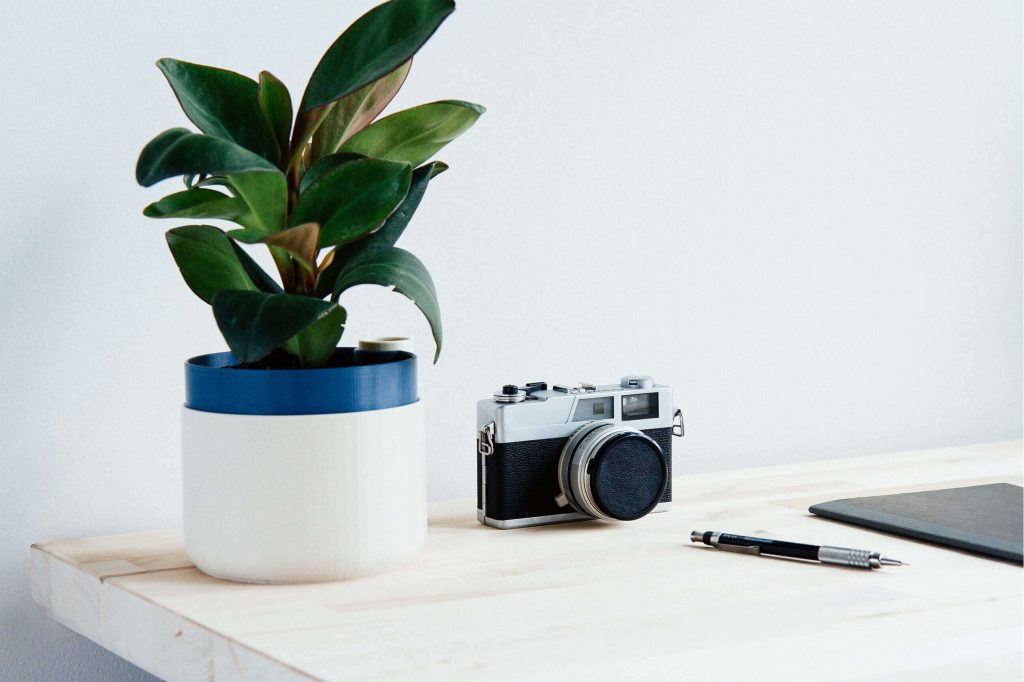 Craig Stover
This product seemed like such a natural one for 3D printing, you have two parts that need to nest, and have a fairly rudimentary function, but they need to be watertight. I always have a hard time keeping up with the basil that we grow at home, so this was especially appealing. It should accommodate your typical herb — basil, oregano, parsley, cilantro — and keep it healthier than typical watering which can be harsh and inconsistent. The plant only takes as much water as it needs, and you're not washing away all the nutrients watering from above. The certainly isn't the the first self watering planter, but I hope it functions well as an affordable, accessible pieces.
Joe Carpita
This planter was a fun challenge that Craig came up with: "Could we do a watertight part?" I said "Sure, it's no problem in ABS!" And then Craig asked "Could we do it in PLA?" We tried lots of experimentation and different settings, but in the end printing with lots of extra top & bottom layers (so there's no infill) and at a very slow speed yielded a watertight reservoir. I especially love the two part design of this planter because it lets you mix colors to customize it to your liking. We've seen a lot of makes of the Small Planter since posting it on Thingiverse, and everyone one of those just makes our day. We *really* love it when people share their prints with us.
Sawhorse Bracket

Craig Stover
Believe it or not this was the first thing we tried to design for 3D printing. It's an experiment in making durable parts with this technology rather than small, flimsy, cutesy things that seem to populate the world or 3d printing online thus far. We went through so many iterations, with different kinds of lumber, cross brackets, feet, and lots of bad ideas that had to be worked through. The resulting part actually gets most of its strength from the print settings. It needs to be strong, but not solid, since that would take ages to print. While it's not recommended for use in shops or under high stress, It should accommodate any of your needs as a desk or studio table.
Joe Carpita
We went through over 30 iterations of this design before landing on the final concept. Different configurations involving different lumber sizes, different hardware, but in the end, we wound up with a design that was highly printable, and very easy to assemble. I've put together many sawhorses now, it goes together as easy as any build-your-own furniture. And perhaps coolest of all, you can make your own desk on a 3D printer! This design is probably my favorite of everything we've done so far.
Push-pin Organizer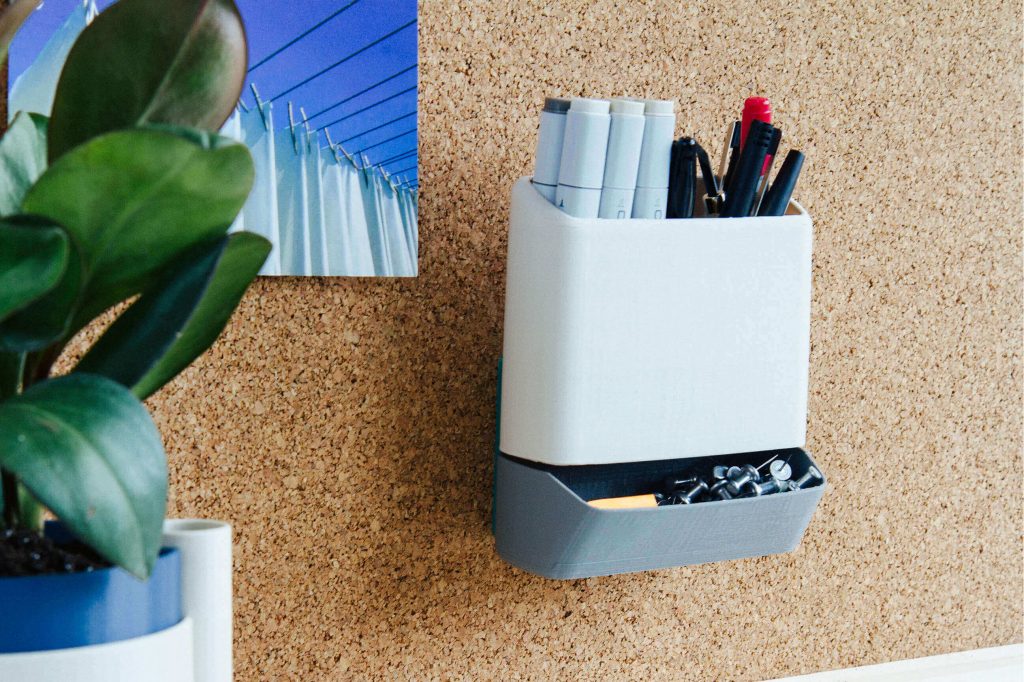 Craig Stover
I have a problem with most pen cups – they just don't work well with a variety of items. Beneath the pens and markers and xacto blades is this underworld of small items that get lost, and you find yourself emptying everything out for one little pad of post-its. It seemed obvious to split this up into two compartments, but unify them somehow. It also made sense to get it off the desk since our homes and workspaces are only getting smaller. Push-pins seemed like a logical choice for hanging the bracket since it will likely end up behind a desk, on a cork board. That really drove the shape of the wall bracket, and created the space necessary for the cleats. It was quite a challenge building off the notion of a French Cleat, while not copying it exactly as it wouldn't print easily.
Joe Carpita
The idea for this came about when working at Craig's when refining a model, and we were talking about what we should do next. I looked over at Craig's desk and he had an early prototype of the Self-Watering Planter Reservoir full of pens and pencils (he's a designer) and kind-of nudged to him and said "I think that's our answer." I think the use of Push-Pins is awesome because it's the kind-of hardware that anyone can use to install on a variety of surfaces. I have two of these in my house, one in the standard configuration by my printer, another with two small bins by my whiteboard.
License: The text of "Parallel Goods: An Insight into the Creative Process" by All3DP is licensed under a Creative Commons Attribution 4.0 International License.
Subscribe to updates from All3DP
You are subscribed to updates from All3DP
Subscribe
You can't subscribe to updates from All3DP. Learn more…