Unveiled at SIHH 2018, the Panerai Lo Scienziato Luminor 1950 Tourbillon GMT Titanio 47mm is an update of a 3D printed titanium timepiece first launched two years ago.
Don't Miss: Personalized 3D Printed Rotors on Schaffen Wristwatches
Initially launched in 2016, Panerai's Lo Scienziato Luminor 1950 Tourbillon GMT Titanio 47mm was a world first; a high-end mechanical watch made with a 3D printing technique called direct metal laser sintering (DMLS).
Two years later, Panerai have given the watch a bit of a facelift for SIHH 2018, the luxury watch fair in Geneva. The transparent tourbillon GMT movement remains the centerpiece. But the blue of the hands is now complemented by a blue flange and blue stitching on the leather strap.
The Panerai Lo Scienziato Luminor 1950 Tourbillon GMT Titanio 47mm remains a unique proposition in the luxury watch world. Additive manufacturing is already in widespread use among high-end watchmakers, certainly. But this is mainly for modeling and prototyping. Creating a finished luxury timepiece is much more unusual.
The size of the case is big, but the weight is low thanks to the use of titanium. It also features an in-house P.2005 movement. But priced at €139,000 EUR (or $170,600 USD), this watch is possibly beyond the reach of the ordinary punter.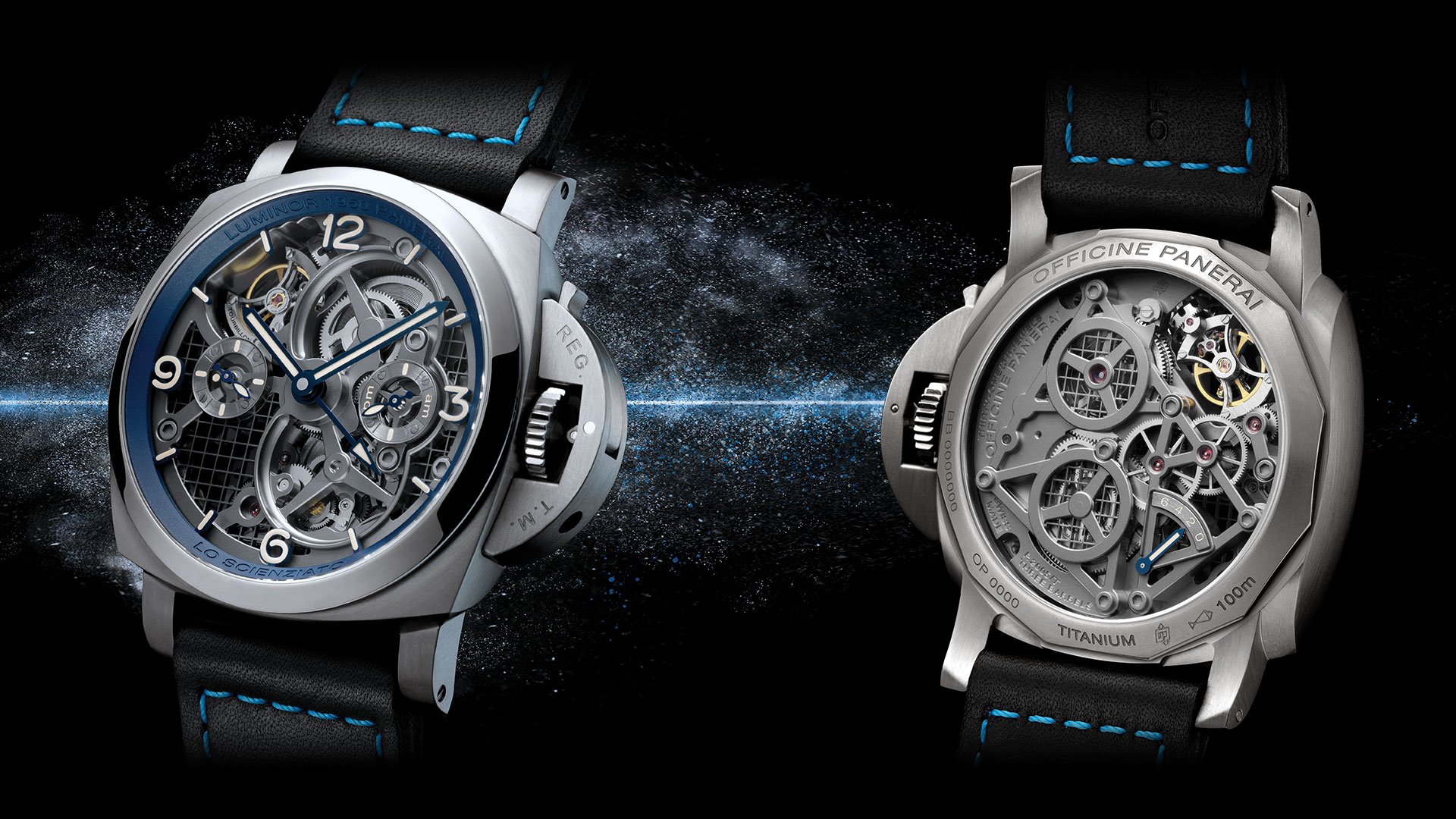 Panerai Pioneering the Use of DMLS in Luxury Timepieces
In addition to being strong and light, titanium is a material known for its hypoallergenic characteristics and corrosion resistance.
To reduce the weight further, the case is made using DMLS to form an extremely precise geometrical cavity. This doesn't compromise water-resistance (100 metres), solidity, or resistance to any tension or torsion to which the case may be subjected.
DMLS builds up the case with a 3D layer-by-layer process using a optic laser and Grade 5 powdered Titanium. Each successive layer — only 0.02 mm thick — merges together to become completely solid.
The platform where printing is done consists of two tanks, each activated by a piston. A first tank is filled with metal powder and the other is empty and located at the level of the platform. The print process then starts by adding a thin layer of powder in the empty tank. The optical fiber laser (200/400 W) will then merge the metal powder.
Once the material is consolidated, a second layer of powder is applied thanks to the piston system and so on until the establishment of the complete part. The layer by layer 3D printing allows very complex internal shapes and in addition, the inside part of Lo Scienziato middle-case can be emptied.
The advantage of DMLS is being able to create forms impossible to achieve using traditional working methods, which are also lower in weight and with a perfectly uniform appearance. All the main components of the P.2005/T calibre, such as the main plates and the bridges, are entirely made from Grade 5 Titanium.
DMLS also allows for highly complex geometries to be created directly from 3D CAD data without any tooling. Afterwards, finishes like shot-peening, polishing, machining, welding, heat treatment and surface treatments can be applied to the object produced.
Via: Watch Advisor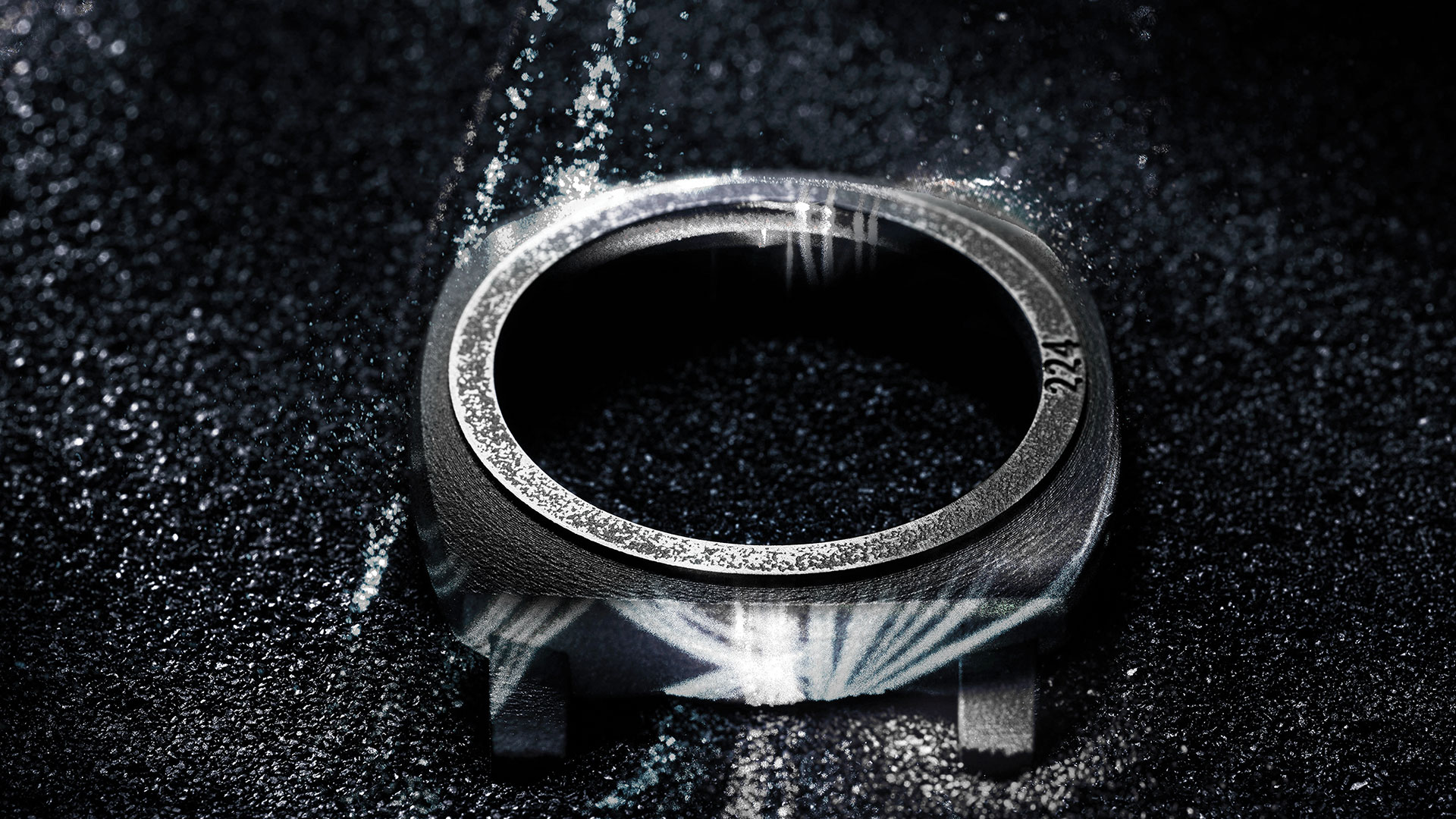 License: The text of "Panerai Presents 3D Printed Tourbillon Watch at SIHH 2018" by All3DP is licensed under a Creative Commons Attribution 4.0 International License.
Subscribe to updates from All3DP
You are subscribed to updates from All3DP
Subscribe
You can't subscribe to updates from All3DP. Learn more…