BCN3D Technologies launch the new BCN3D Sigmax. Review the key facts on this professional open source 3D printer from Barcelona, Spain.
Don't Miss
The ranks of open source 3D printer manufacturers may be small, but they are certainly mighty. Last weekend Prusa Research announced the new Original Prusa i3 MK3. Today BCN3D Technologies drop the curtain on a new 3D printer of their own. The BCN3D Sigmax is here, it's big, and will have a live debut at the TCT Show in Birmingham.
The BCN3D Sigmax is a fused deposition modeling (FDM) desktop 3D printer characterized by two things; firstly, a massive build volume, then secondly, an Independent Dual Extruder (IDEX) system. These two features make the Sigmax a versatile and attractive 3D printer for those folks who either want to print large, complex parts, or simply increase their production capacity.
"From BCN3D Technologies we are proud to announce a new complementary product of the BCN3D Sigma, increasing our current product range and welcoming the new Sigmax to the BCN3D family."
So how big is the build volume? The BCN3D Sigmax is capable of printing objects up to 420 x 297 x 210 mm in size. With size no longer a limitation, users won't have to concern themselves with dividing or scaling down their models.
Specially developed for the Sigmax are a pair of new build modes, Duplication Mode and Mirror Mode. The first allows you to print the same model with both toolheads simultaneously, thereby doubling the print capacity. The second allows you to print the model and its symmetrical part simultaneously — two halves of the same object — which should come in very handy for parts with complex geometry.
But that's not all! On the hardware front there's also a new and improved extruder system featuring Dual Drive Gears by Bondtech. Challenging materials (like flexible filaments) can be printed more reliably and with fewer failures.
And like its smaller sibling, the BCN3D Sigmax is also offers interchangeable toolheads; the Hotend Family is a range of six hotends with nozzles ranging from from 0.3mm to 1.0mm. This makes it possible to print more detailed models, fabricate more resistant parts in much less time, or even use technical and advanced abrasive materials.
BCN3D Sigmax Also Heralded with New Cura Software
With the new hardware also comes another very important component — software. BCN3D has been developing a new version of their BCN3D-Cura software, which is used to manage the fabrication workflow.
Built from a fork of Cura, the popular open source software slicer, BCN3D Cura is an easy-to-use program with an intuitive user interface and an optimized workflow. BCN3D Technologies are confident that the new software will provide customers a flawless and reliable 3D printing experience.
Also present is an industrial-grade materials portfolio. Aspiring to enhance the versatility of 3D printing, BCN3D has developed a portfolio of technical materials under the label "BCN3D Filaments". These filaments are common polymers in several industries (PLA, ABS, Nylon, PET-G, PVA, TPU and CF) and cover the majority of the technical applications. The new materials portfolio is scheduled to launch at the end of the month.
"From BCN3D Technologies we are proud to announce a new complementary product of the BCN3D Sigma, increasing our current product range and welcoming the new Sigmax to the BCN3D family", says Roger Uceda, CEO of BCN3D Technologies.
"This product release will allow our partners and us to easily meet the customer's needs, providing more accurate solutions for each vertical market. Our goal is to defy the current manufacturing status quo and, thanks to the BCN3D Sigmax and its highly productive features, we are convinced we've taken a new step in the right direction."
So that's the new BCN3D Sigmax. But where and when can you buy one? The retail price is €3695, and BCN3D Technologies are now accepting preorders online and via their distribution network. The BCN3D Sigmax is scheduled to start shipping on November 2nd 2017.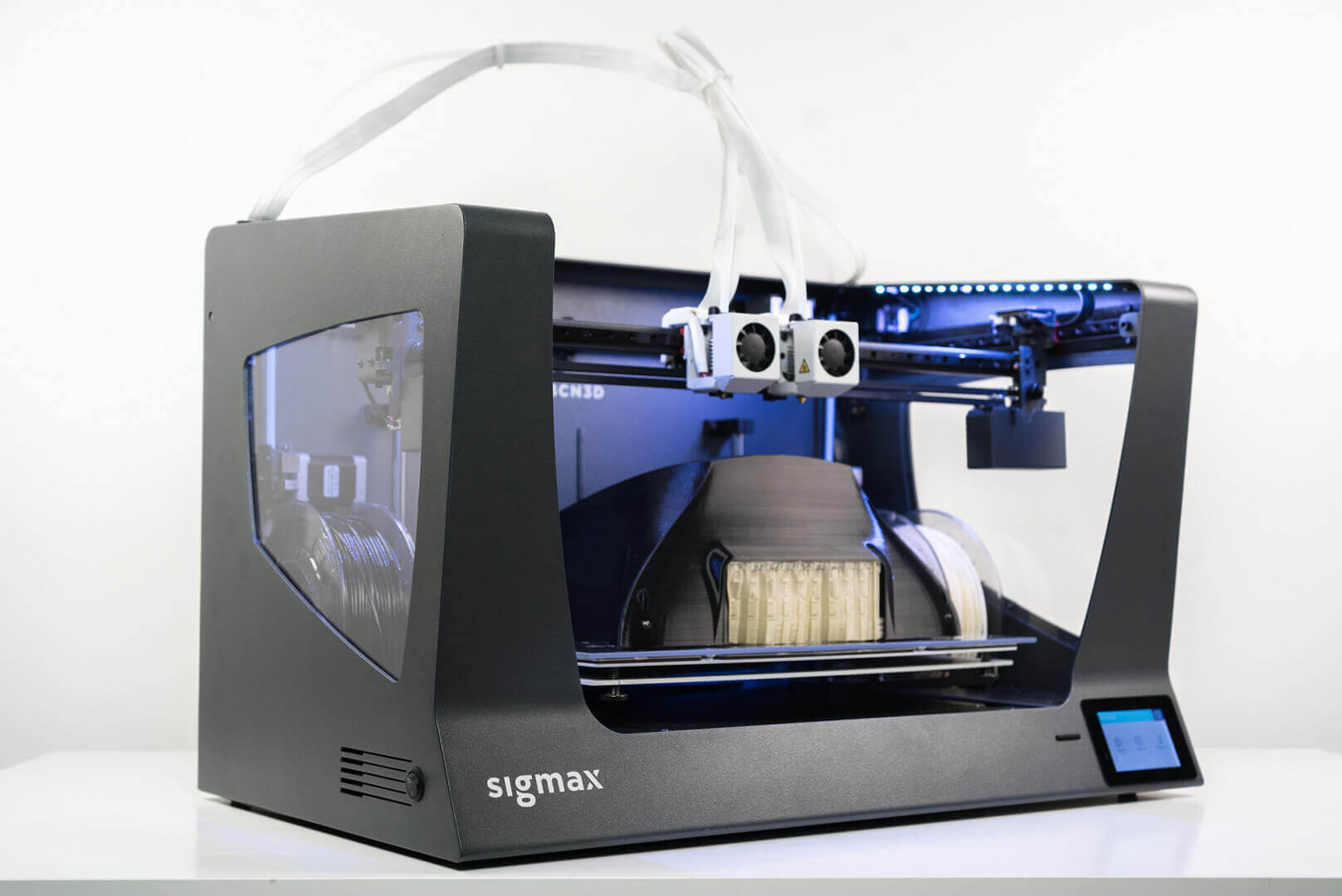 License: The text of "Big Volume with New BCN3D Sigmax: Review the Facts Here!" by All3DP is licensed under a Creative Commons Attribution 4.0 International License.
Subscribe to updates from All3DP
You are subscribed to updates from All3DP
Subscribe
You can't subscribe to updates from All3DP. Learn more…