Engineers at NASA's Marshall Space Flight Center have developed a new additive manufacturing method that enables the quicker production of complex, actively cooled rocket nozzles at a reduction in cost.
Sending stuff into space is a costly endeavor. No one knows that more than NASA, which is beholden to the budget set out for it by the US congress each year.
With such factors in mind, great development expense and can be cut turning to additive manufacturing techniques to produce the complex and costly one-off and low volume parts required for spacecraft. This is precisely what engineers at NASA's Marshall Space Flight Center in Alabama have done, developing their own new additive manufacturing technique for the production of rocket engine nozzles.
Dubbed Laser Wire Direct Closeout (LWDC), the new method (one of three technologies developed for this project) enables the production of actively cooled rocket nozzles in less time and at reduced cost than previously possible. Where previous nozzles would take months to produce, this new method cuts that time to weeks.
Paul Gradl, a Senior Propulsion Engineer at Marshall, explains: "Our motivation behind this technology was to develop a robust process that eliminates several steps in the traditional manufacturing process."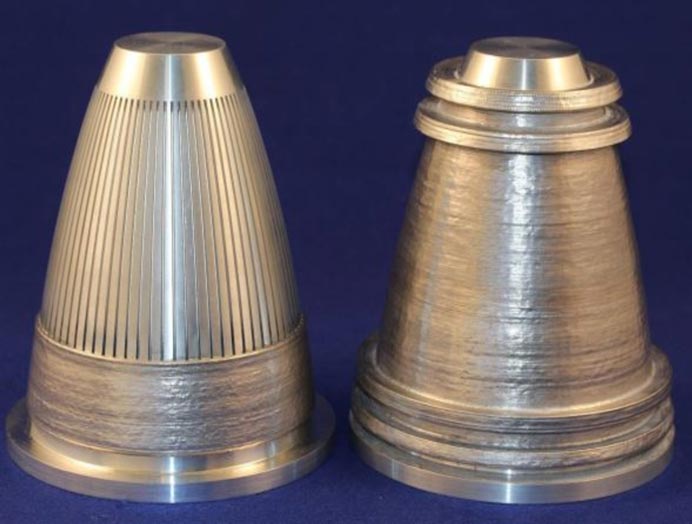 Making Rocket Nozzles with LWDC
The complexities of the nozzles being fabricated by NASA at Marshall go a long way to explaining and justifying the use of AM techniques to develop better production methods.
It is a requirement for there to be sealed (closed out) chambers within the nozzle walls. Coolant — in this instance unburned propellant — flows through these chambers at high pressure to help the nozzle's temperature stay within an accepted range. Therefore it's imperative that these chambers are sealed tight.
NASA draws upon traditional cladding methods used in the oil and gas industries to do this. Serving as an inspiration behind the development of LWDC, the interfacing of metals and alloys cladding offers is key to the new production method.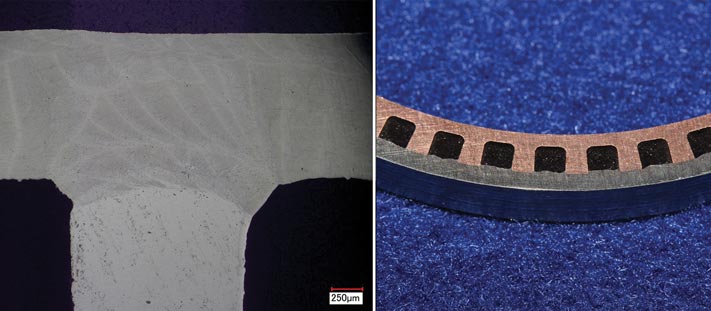 How it Works
The nozzle is formed from two elements: a nozzle lining which is streaked with water jet-milled channels, and the nozzle jacket which is 3D printed using LWDC directly onto the lining.
Unlike the powder based laser cladding from oil and gas, where a laser sinters powder onto the surface of another part, LWDC uses off-axis wire free form deposition to add (or clad, if you will) the nozzle jacket onto the nozzle lining.
This benefits in two ways. Firstly, a localized bond is formed between the two, meaning the channel edges are secured to the sleeve. Secondly, by using a wire deposition for the material, no filler or waste material is left in the chambers as the cladding material bridges the channel gaps and closes them out. The result is perfectly hollow chambers for coolant to flow unhindered.
The engineers have put their new nozzle through its paces with hot fire testing, gathering more than 1,040 seconds run time at high pressures and temperatures.
With the likes of SpaceX starting to eat NASA's lunch when it comes to launches, it's perhaps unlikely we'll see this new additively manufactured nozzle on any of NASA's own for some time. Though with its worth proven (and locked down under patent), NASA's LWDC technique is available for licensing and is under consideration for commercial use across the aerospace industry.
Source: NASA
(Lead image: NASA/MSFC/David Olive)
https://www.youtube.com/watch?v=mHit46BXGkg
License: The text of "NASA Engineers Develop New AM Technique for Cheaper Rocket Nozzles" by All3DP is licensed under a Creative Commons Attribution 4.0 International License.
Subscribe to updates from All3DP
You are subscribed to updates from All3DP
Subscribe
You can't subscribe to updates from All3DP. Learn more…