MyMiniFactory wants to make designers happier by launching their new revenue share program "MyMiniFactory Studios".
3D printable platform MyMiniFactory already has oodles of designers in their ranks. With designs, live streams and contests, there are are already good reasons for designers, makers and the print-curious to join their platform. Now, they're launching MyMiniFactory Studios to help designers help themselves.
The Studios will act largely as a revenue share program. The program is free to use, though there is likely an exclusivity clause, as MyMiniFactory will be sharing resources and actively working to assist Studio participants.
Studios Offers Perks for Designers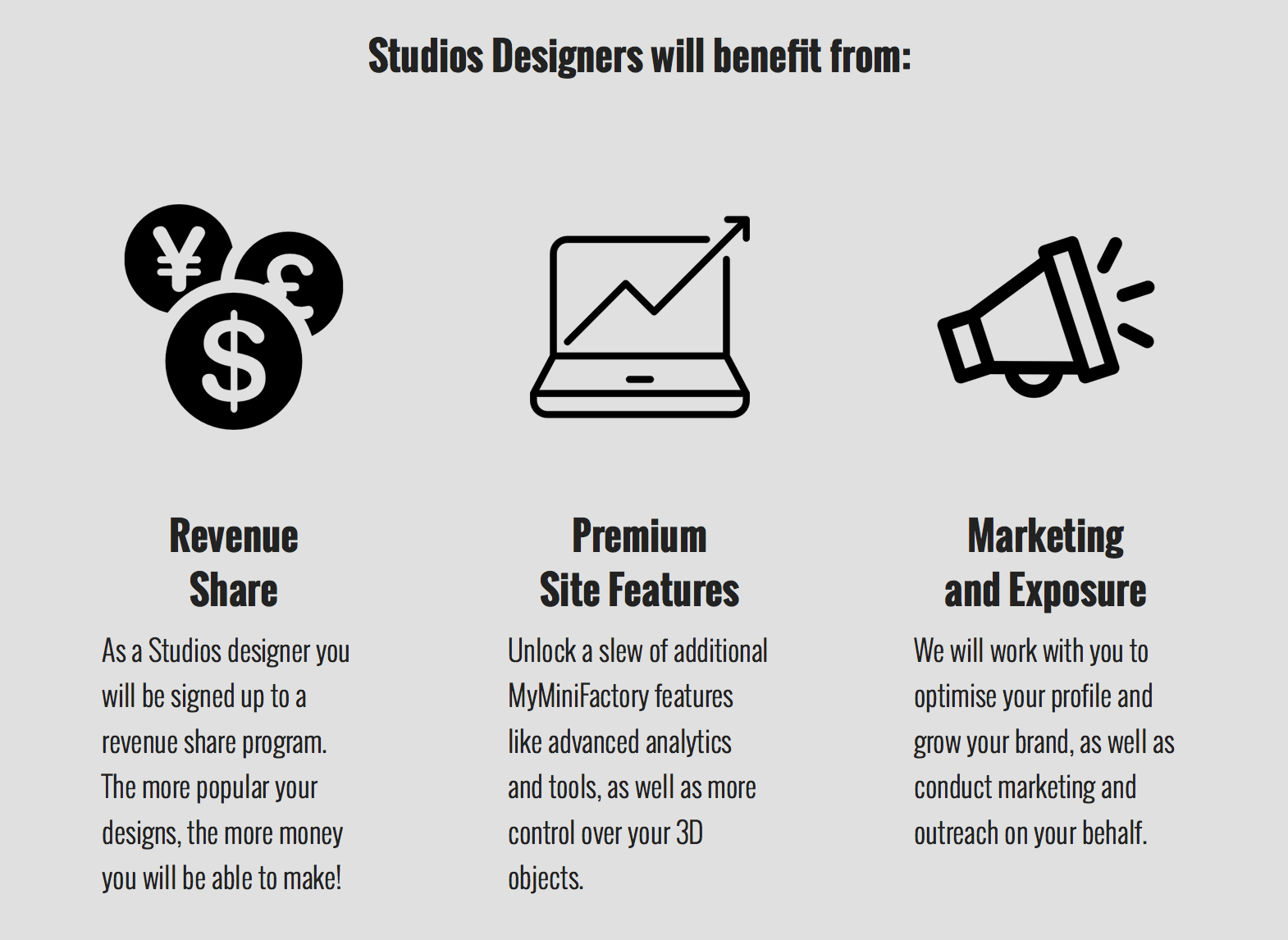 The Studios will offer three opportunities to their designers.
First, the share of revenue. Details are not yet clear on the service but, as they say, "the more popular your designs, the more money you will be able to make."
Second, the Studios will offer premium features to their designers. This includes advanced analytics, tools and more control of your content.
Lastly, they Studios also offer an amount of marketing and exposure normal makers won't get. On top of optimizing users' profile and growing their brands, MyMiniFactory also intend to conduct marketing and outreach on behalf of Studio users.
The MyMiniFactory Studios intends to focus on six particular categories: Home/Garden, Jewelry, Gadgets/Electronics, Toys/Games, and Props/Cosplay. If you make something outside of those categories, don't worry: the Studios are also open to wild cards.
Once the Studios begin to grow, there's no doubt that designers will find themselves with far more reach and opportunity and users will be rewarded with even more designs. Of course, MyMiniFactory will also be building their own brand, and bringing their platform to a higher level. The program is just getting started, so keep an eye out for the exciting changes.
Applications can be made here.
License: The text of "MyMiniFactory Studios Bring Revenue Shares to Designers" by All3DP is licensed under a Creative Commons Attribution 4.0 International License.
Subscribe to updates from All3DP
You are subscribed to updates from All3DP
Subscribe
You can't subscribe to updates from All3DP. Learn more…