Exclusive interview with Amir Mansouri, SprintRay Co-Founder & Engineer, about their success on Kickstarter with the MoonRay 3D printer.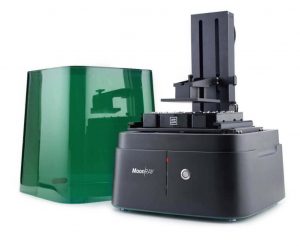 Kickstarter campaigns come and go, but the success of MoonRay was something to behold. This desktop DLP printer, with bold claims of being the "World's Best Desktop 3D Printer", crushed its initial funding goal within 2.5 hours of launch. With a final tally of $422,830 from 270 backers, the MoonRay had surpassed its initial goal four times over.
In the aftermath of their successful campaign, ALL3DP interviewed Amir Mansouri, Co-Founder and Engineer for parent company SprintRay, about the current status of MoonRay and its place in the industry. Can they maintain the positive buzz that's blessed them so far? Read on and find out.
Q: There's going to be quite a long wait until the first backers will receive their MoonRay. Given the pitfalls of backers growing impatient with delays and setbacks, how do you anticipate keeping them positive and on board until December and January?
We hope to keep backers positive and on board by delivering on time. When we began the research for our campaign, we saw countless backers frustrated by long delivery delays by other Kickstarter projects. One of our biggest priorities was setting up a reasonable reward-delivery timeline so we could avoid delays. We'll also be doing our best to keep our backers updated on our progress and the improvements we are making to the MoonRay. We also share photos and smaller updates on our social media channels.
Q: MoonRay is designed and marketed as a desktop printer. Can you tell us something about the noise levels? Any special technology for dampening, etc?
Since we are using our custom-built LED UV projector, most of the heat and noise typical of DLP 3D printers is gone. MoonRay requires no cooling and it runs quietly.
Q: Judging by the Kickstarter page, it appears that MoonRay uses a special resin. Does this mean that users are dependent on SprintRay to provide the resin?
Yes. We have fine tuned and calibrated our resin to give outstanding results and enable parts to be fabricated with real 100-micron XY resolution. Once third-party resins are involved, we won't have control over the properties and process, so the outcome could be compromised. For this reason, the MoonRay doesn't support third-party resins.We've done our best to offer high-quality resins at a competitive price.
Q: What are the supply channels? Do we order directly from SprintRay or from other sources?
In order to be able to provide support to MoonRay users, we are not looking at indirect supply channels. We are in the process of setting up a store on our website where all of our products can be ordered, and will be starting pre-orders for the MoonRay on our website at the end of the summer. We have an email list (on our website, scroll all the way at the bottom) where you can sign up if you'd like to be notified.
Q: In a worst case scenario, what do we do if SprintRay goes out of business? Are there no alternative suppliers of this custom resin?
We consider that extremely unlikely, but in the worst-case scenario we would hope to work with alternative suppliers to make sure a appropriate resin for MoonRay stays on the market.
Q: Do you have plans to develop additional resins for different purposes?
Yes. Our materials team is constantly working on improving the current resins and developing new materials for different purposes.
Q: Any plans for a MoonRay with a larger build platform (larger than 9 x 5 x 3.2 inch)? Or perhaps a smaller one?
We have definitely considered both, but are currently putting our focus on delivering MoonRay for our Kickstarter backers.
Q: Presumably you've heard about DIY makers building SLA printers at home using second hand projectors and blu-ray players. Are these enthusiasts ever going to be a threat to your business model?
We like to use the example of one of our favorite brands, Apple. The iMac and Mac Pro cost more than $2,000 and $3,000, respectively, while you can put together the components by yourself for much less. The combination of design, software, synchronization of hardware, customer service, support, and quality and is what make people buy an iMac or Mac Pro. We hope to provide a similar experience for MoonRay owners.
Q: Have you had any dialogue with Formlabs about SLA? Do you see yourselves as partners or rivals in the 3D printing industry? Why?
We have had some great conversations with different individuals from Formlabs at various 3D printing events. We are open to working with Formlabs to continue moving the 3D printing industry forward.
License: The text of "MoonRay 3D Printer: Interview with Amir Mansouri" by All3DP is licensed under a Creative Commons Attribution 4.0 International License.
Subscribe to updates from All3DP
You are subscribed to updates from All3DP
Subscribe
You can't subscribe to updates from All3DP. Learn more…