All3DP speaks to Monoprice about the latest addition to their affordable 3D printing line, now live on Indiegogo.
There's a wide range of desktop 3D printers on the market, but when it comes to affordability, few manufacturers can match the efforts of Monoprice.
The California-based company found immense success with their $200 MP Select Mini 3D printer. Now, they are expanding their 3D printing line to new boundaries, unveiling their first-ever Delta-style printer.
While the desktop printer community is overrun with Cartesian printers, the MP Mini Delta aims to bring a printing style usually found within makerspaces into the home of consumers.
The new printer will offer a heated build plate that maintains a temperature of 50-100°C, allowing compatibility with a vast array of 3D printing materials, from ABS to PET. It comes with a removable build plate and auto-calibration. According to Monoprice, the layer resolution is up to 50 microns, and it will come with Wifi connectivity.
Monoprice is launching a crowdfunding campaign on Indiegogo. It's a unique strategy for a company that is already succeeding with other printers. But the ultimate goal seems to gauging overall interest and bringing attention to their latest product.
The Mini Delta will be priced at just $169, but early bird funders can get it for $159. The first line of shipments are set for August, while the regularly priced models will go out around September and October.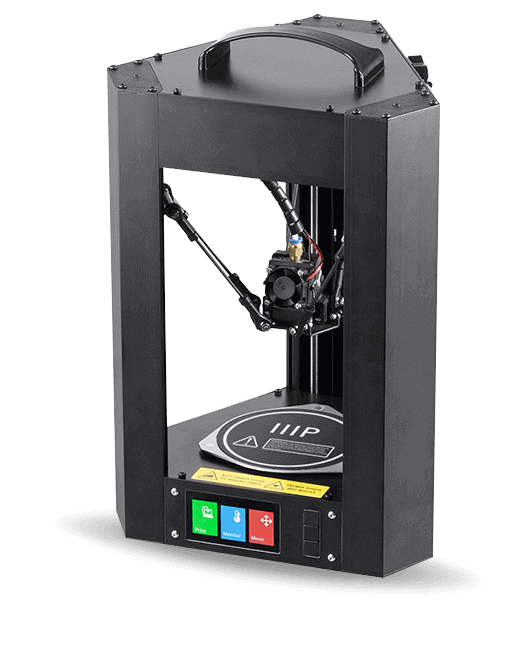 Exclusive Interview: Monoprice's 3D Printing Product Manager Discusses the Delta Printer
To get a better idea about what Monoprice's latest Delta printer is all about, and also why they're heading to Indiegogo, we recently spoke with 3D printing product manager Chris Apland.
Q: After releasing a string of Cartesian 3D printer models onto the market, why did you ultimately decide to create this Delta model?
It came down to print quality and materials. I have a nice large pile of "failed" designs, all variants of a cartesian 3D printer. Some made miniature, a few saw reductions in functionality, some saw complete changes in material. In the end, the best value capabilities came in the form of the Mini Delta design.
Q: With such a wide range of affordable printers, what sets the Monoprice Delta Mini apart from the rest of your product line?
Ease of use, hands down. Simply unbox, load filament, insert SD card, press the LED button and your printer is already hard at work creating the calibration/sample model we've provided. With an all-metal and rugged design, this printer is perfect for your desktop or workbench.
Q: What advantages will this Delta printer offer that Cartesian models can't?
Speed is one of the biggest differences. This printer allows our customers to print up to 150mm/sec. However, we find the best results sit in the 80 to 125mm/sec range. Auto-leveling as well. Although that's not specific to Delta printers, we were able to jam that feature in at a price that is still lower than $200 bucks.
Q: What is the reason you are launching an IndieGogo campaign for this product?
Awareness and interest gauge. On one hand, we want to spread the word that affordable and reliable 3D printing is really here. Also, we want to make sure we are making enough! We think giving folks an opportunity to sign up will help us get this to market quicker.
Q: In your opinion, why is it so important to build trust with the 3D printing community through crowdfunding campaigns?
Crowdfunding has seen both great success and failure. With 3D printing, it seems to be a lot more of the latter. I personally want to continue to see the growth and innovation in the space. There are not many hobbies or spaces in general that have seen such a huge leap in capabilities and ease of use as 3D printers in the past few years. I want this to continue being the focus…not vaporware and fly by night crowdfunding campaigns that leave investors high and dry.
Q: What advantages will you offer those who decide to back your crowdfunding campaign?
A guaranteed delivery date and fast delivery! We anticipate fulfilling early backer orders this summer, and if demand is really nuts we expect to be able to fulfill any remaining orders shortly after the first batches.
https://www.youtube.com/watch?v=_0tYSgT8c9U
License: The text of "Monoprice Launches Indiegogo for Mini Delta Printer" by All3DP is licensed under a Creative Commons Attribution 4.0 International License.
Subscribe to updates from All3DP
You are subscribed to updates from All3DP
Subscribe
You can't subscribe to updates from All3DP. Learn more…