With less than a week left to run on its Kickstarter campaign, the Milkshake3D top-down DLP 3D printer has blown through its target. We talked to Orbi Labs to learn more about its origins and capabilities.
High detail prints within a large build volume, and none of the dangers of bottom up SLA printing: that's the aim set out by the collective of Hong Kong-based visual effects experts and other creatives behind the Milkshake3D.
A desktop/sub-industrial printer with a larger than usual build volume, the Milkshake3D uses DLP technology. It claims the ability to print models up to 11-inches high at a Z-axis resolution of 0.02mm.
Its a tempting prospect, and one that conveys confidence from the wealth of demo videos and imagery flooding the project's Kickstarter page.
As the time of writing, the project sits at HK$985,420 of its HK$365,300 goal. With just under a week remaining, it'll be interesting to see if they can break through the magical 1-million mark.
ALL3DP interviewed the folks behind the printer, to learn a little more on what it's all about.
Q: Who is behind the Milkshake3D?
The team come from a CG studio background, with VFX artists and computer graphics programmers, plus other diverse fields such as jewelry casting, mechanical and electronic engineering all contributing. Our art team requires the highest print quality, which guided the development of the Milkshake to achieve high standards.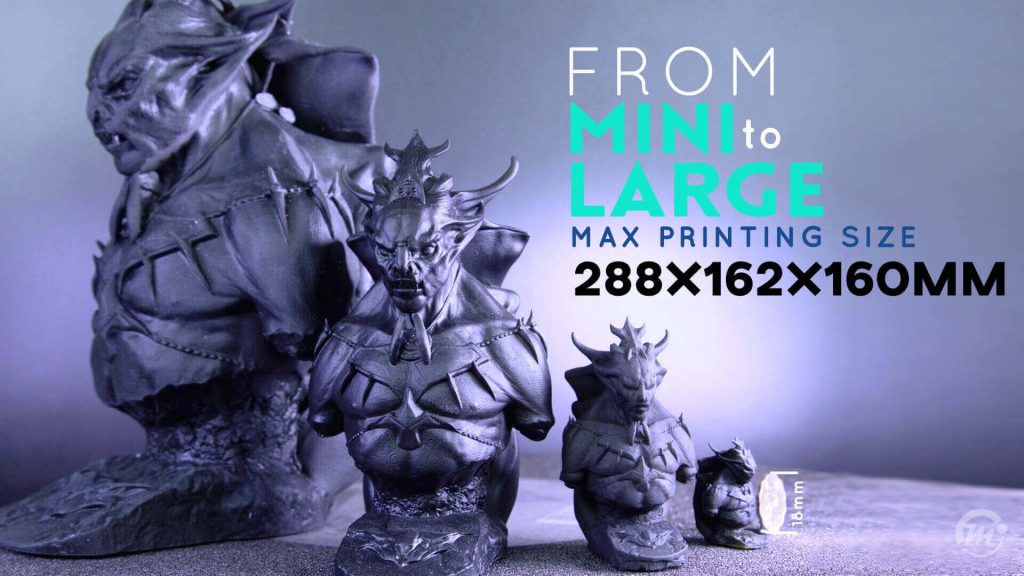 Q: What inspired you to create the Milkshake3D?
We wanted to be able to print the characters and models we create in large sizes, in high quality and at a price point that a studio could afford. We couldn't find a printer in the market that fit this requirement, and so we decided to build our own and make it available for others with the same needs.
Q: Where do you see the Milkshake3D standing in the SLA/DLP printer marketplace?
We see the Milkshake3D as the beginner level of industrial 3d printing. Between desktop for home users and top down industrial machines that costs at least US$ 40k. For a small studio using 3D printing in production, in terms of the huge investment required for a single industrial machine, the Milkshake could be developed as a printer farm to speed up production and lower costs.
Q: Formlabs is the big name in desktop SLA printing — they famously got their big break on Kickstarter. What differentiates the Milkshake3D?
As we know Formlabs is a really good product, printing reliably at high resolution. On the other hand, a desktop printer with such a small panel size and printing bottom up may have a hard time with large objects — they tend to fall down easily due to the print's weight and gravity. With this in mind we chose a top down design, to handle large prints better.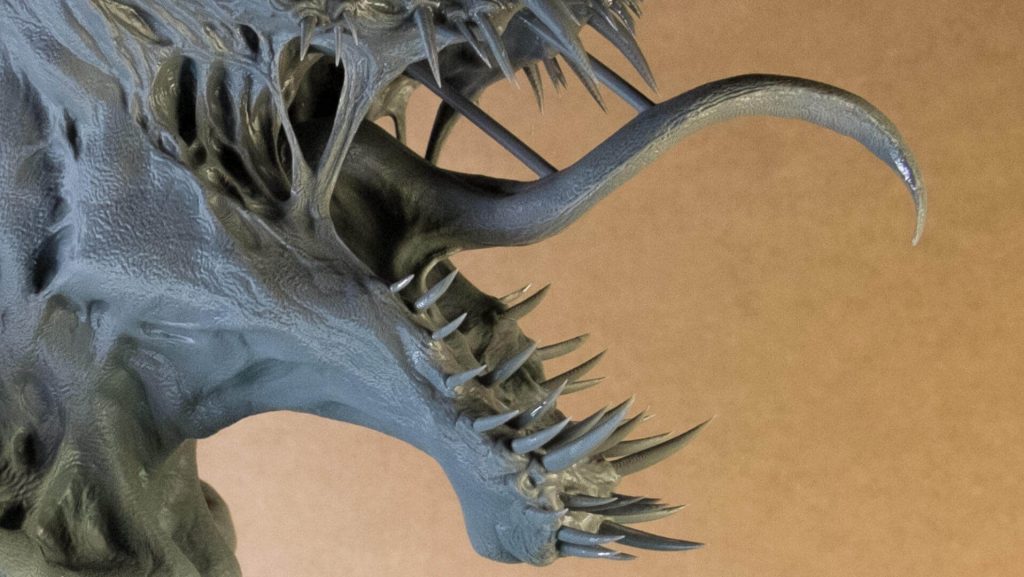 Q: With big successes and catastrophic failures part of the risk and reward of nature of Kickstarter, are there any particular past campaigns that you look to for lessons, or inspiration?
We understand the common risk of delay for successful Kickstarter campaign can be underestimating the production timeline or anticipating issues that may come up. To avoid this, we haven't launched at a conceptual stage. We already have sufficient quantities of the core hardware and electronic parts in stock for our early bird backers — this is to allow for better quality control and to deliver on time.
Q: Your Kickstarter page gives the impression that the machine is fully developed already. What stage is it at?
We have fully developed Milkshake's hardware and have produced a few machines which are out for testing. One of our beta testers is Level 52 studios in Seattle, US. They produce lots of high quality collectibles and have years of 3D printing experience. They have been giving lots of suggestions and feedback from test prints of their own models.
Our slicing software is still under development. We expect to release a beta version in July. We are also going through some small upgrades and refinements, hopefully to bring the whole project to an even higher level before delivery.
Q: What will the money you raise go towards?
We have set up production lines already, which are preparing for mass production, so the fund will be used to develop future hardware and software upgrades of Milkshake.
Q: You offer many of your own resins for use with the printer. Are they proprietary, or could a user of the Milkshake3d print with any 3rd party resin?
The resins are from different suppliers. During the early development stage we used FunToDo's resin for testing and printing. We are also communicating with different suppliers to produce resins targeted at different specialist purposes. Milkshake is compatible with other UV-sensitive resin — though we advise that due to each resin's unique properties, some will only work effectively for particular size prints. You can adjust your own settings in the print presets.
The printer features a larger print bed than most desktop DLP machines. Are there plans to diversify the lineup and offer smaller printers at different price points?
Building a large printer is our primitive goal, but we do have plans to develop another printer.
Q: You are developing your own slicer application for the Milkshake3D. Could you tell us a little more about that?
We have tried other slicer applications, but none of them perfectly fit our needs, nor were they compatible with the Milkshake3D's print size. Our goal is to provide a slicer app supporting high-res models — at around 8 million poly faces, meaning you could keep all the minute details and skin texturing from your original design. During our printer's development, we found different types of models (character/mechanic/ring) printed best with differing types of support structure, so we will also implement this into our app too. We also plan to later add the ability to manage a printer farm.
Q: Will this be open source?
We don't have plans to open source the app at the moment. We hope that the Milkshake3D and the app function with a unity that is easy to use, requiring little technical input from the user to start with.
But the printer itself operates via a web browser based hub?
The Milkshake3D is a wireless web-based control standalone printer. It can be accessed by multiple users at a time on different devices (PC/mobile/tablet), so everyone in the studio can easily upload a print file from their own workstation.
Could people use a different slicing engine to export files to the web-based hub?
As the print size and settings vary between models, we encode specific settings into the print files so you don't need to manually set up before print. Currently we do not support other slicing engine's file formats.
What is the future of the Milkshake3D? What can we expect to see after the successful launch of the printer?
We have a few upcoming plans for Milkshake. We would like to expand our beta test program, inviting more artists to try the printer and give their feedback and experiences. The more data we receive, the better the support we can provide to our users.
In addition we plan to create an online platform for users to share their print files and experiences — to build a community among our users.
And finally, we are also now looking for re-sellers and distributors in different regions to provide instant local technical support.
You can check out the project over on Kickstarter.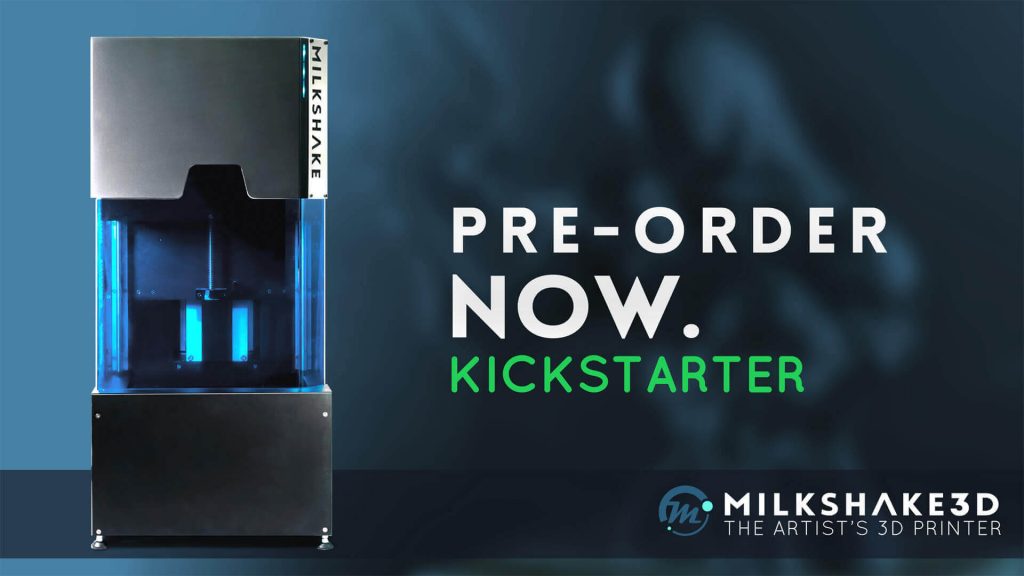 License: The text of "Milkshake3D 3D Printer: Interview with Creators Orbi Labs" by All3DP is licensed under a Creative Commons Attribution 4.0 International License.
Subscribe to updates from All3DP
You are subscribed to updates from All3DP
Subscribe
You can't subscribe to updates from All3DP. Learn more…