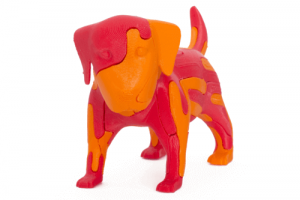 Lock Nester: Otis, the dog (source: 3D Hubs)[/caption]
I love puzzles! So when I heard about the release of 3D printed design puzzles called Lock Nesters, I was thrilled. Unlike the usual puzzles that form a symmetric or flat shape, the Lock Nesters supersedes this concept by going threedimensional. With pieces that wind in every direction, the Lock Nesters provokes us to contemplate about assemblage in a new manner.
My first Lock Nester was Albert, the bear, one of the three Lock Nesters that is available in various sizes. To me, Albert is the Lock Nester 3D puzzle that is the simplest to assemble. Apart from Albert, there are other variations of Lock Nester puzzles which include Monica, Suima, Heiner, Otis and George. All these puzzles – except for Heiner, Otis and George – are available in normal size and a mini-version. Without a doubt, Monica is the cutest Lock Nester puzzle.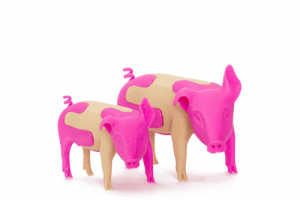 Each of the Lock Nesters has their degree of difficulty ranging from 5 to 185 parts, but one thing is for sure: You'll have fun assembling the pieces. After solving the Lock Nester puzzles, you can add them as decoration to your living space or undo and redo it again, if you are the type who never gets bored with solving puzzles.
The brain behind Lock Nesters is Fleet Hower. He designed Lock Nesters with the intent of re-modeling the way we think and fabricate products that mould our lives. The Lock Nesters price range from $15 to $40 depending on the type of puzzle. You can order them directly from Fleet Hower or have it 3D printed locally through the 3D Hubs network.
License: The text of "Lock Nesters – Cute 3D Puzzles" by All3DP is licensed under a Creative Commons Attribution 4.0 International License.
Subscribe to updates from All3DP
You are subscribed to updates from All3DP
Subscribe
You can't subscribe to updates from All3DP. Learn more…