Levi's has demonstrated its commitment to combating fast and disposable fashion with a 3D printed mock-up of its iconic Trucker jacket. With all of the looks but using less material, the company hopes it will change the narrative of fashion for the future.
As a brand, Levi's is pretty iconic. It added the rivet to jeans so that miners' pairs wouldn't tear so easily. And while such past innovations lie int he past, the company is strictly looking ahead, and the challenges of sustainability.
Paul Dillinger, head of global product innovation at Levi Strauss & Co wants to change this by creating clothes people love and treat well.
Back in February, Fast Company spoke to Paul Dillinger, head of global product innovation at Levi Strauss & Co, about this very issue. He explained that his aim is to change the way we think about clothes. By doing this, he hopes we'll take into account the impact we're responsible for in the whole fashion system.
In fact, when asked whether Dillinger is deliberately changing the narrative about consumption, he answers:
"In my wildest dreams, we'd be helping to cultivate a Levi's consumer who values durability and demonstrates a real attachment to an object. We'd be nurturing the person who doesn't purchase because of immediate seasonal change, but who purchases for lasting value. "
Six months later, the company is using 3D printing to highlight this. By "pioneering a new approach in denim design", the company hopes to digitally capture the essence of its iconic clothing.
Levi's Digitizes & 3D Prints Denim Jacket
To go about preserving its design — and critiquing the fashion industry's material usage in the process — Levi's first took topological scans of its classic denim jacket. Using the technological know how and machinery on offer at Autodesk's Pier 9, in San Francisco, the company used high-spec FDM 3D printers to render these scans into seven separate panels.
With physical relief including of the jacket's fine details, including pockets, buttons and stitching, these 3D printed panels are then covered in fresh sheets of denim material. With the light use of sandpaper on the denim, details emerge. Despite lacking physical features like pockets, the assembled jacket from these panels gives the full appearance of the classic Trucker.
Dillinger hopes that the eventual outcome of such an exercise will remove a reliance on centralized manufacturing sites. Such a move would reduce the complexity of the manufacturing process. In fact, the same can be said for money. A design that captures the Levi's look without the traditionally required amount of denim would cut material costs.
Unlike Danit Peleg's $1,500 offering, this denim jacket won't be hitting the rails anytime soon. Dillinger explains that it exists purely as a thinking exercise.
"It challenges us, and our design team, to think about design differently, and to think about design strategies to accommodate an uncertain future."
Slightly ominous end note there, but at least we know we'll look fabulous in that uncertain future.
Source: Levi Strauss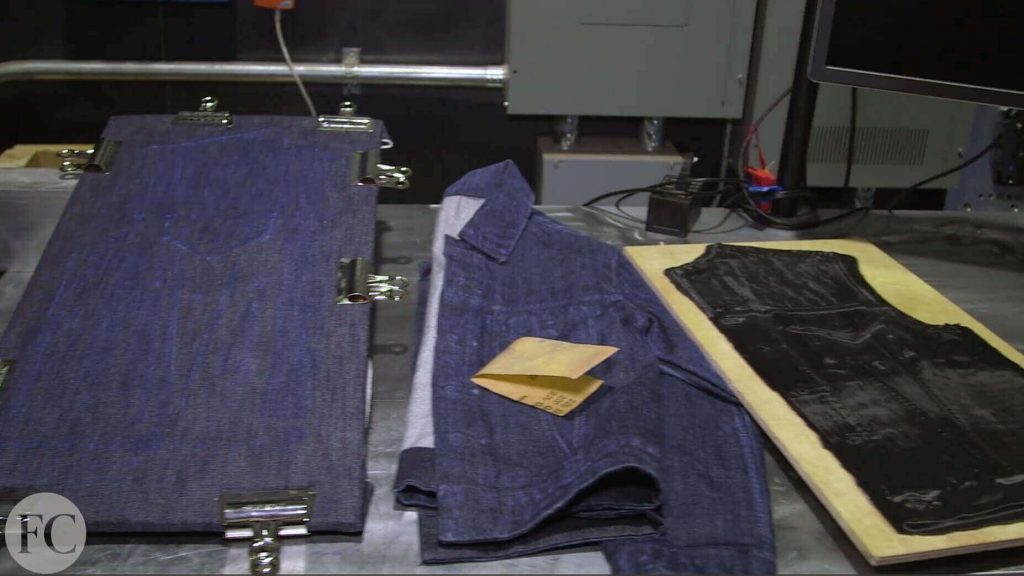 License: The text of "Stitch, Scan, Print: Levi's Shoots For Sustainable Fashion" by All3DP is licensed under a Creative Commons Attribution 4.0 International License.
Subscribe to updates from All3DP
You are subscribed to updates from All3DP
Subscribe
You can't subscribe to updates from All3DP. Learn more…