3D printing filament innovator Kai Parthy is back with his LAY-AWAY series, four new 3D printing soluble filaments.
Many makers are slowly expanding the scope of 3D printing possibilities, and Kai Parthy is a driving force behind it. The German filament guru has given printers plenty of creative solutions in the past, ranging from wood pl to spongey, reflective, and even shoe sole-mimicking filaments. Apart from the cool factor, Parthy's filaments are also innovate and incredibly useful.
That's why Parthy is back with the LAY-AWAY series, four soluble filaments designed to be easily removed from prints. Many prints fundamentally require supports, and if those supports aren't carefully designed and removed, the print's surface can end up completely damaged. Who wants to wait hours for a print just to have it end up damaged and ugly?
Support Your Supports With Soluble Filaments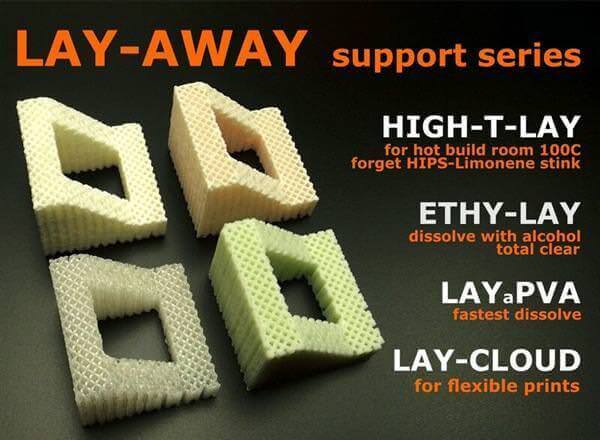 How do we fix it? Water. Parthy suggests that water is just the solvent for the job. It's inexpensive, safe, and odorless. Three of his new filaments are water-soluble, and the last one—well, it's a little more fun.
LAY-CLOUD is designed specifically for flexible prints and prints around 240 degrees C. It boasts the best polyurethane adhesion of the filaments.
LAYaPVA has high printing viscosity and prints around 230 degrees. It has high thermal stability and dissolves quickly.
HIGH-T-LAY, on the other hand, is intended for hot build rooms – those with temperatures around 100 degrees. It prints around 240 degrees.
ETHY-LAY, however, is not water-soluble. Instead, it's the solution for those prints that shouldn't even come into contact with water. ETHY-LAY can only be dissolved in alcohol and prints at 165 degrees, making it ideal for bio-prints.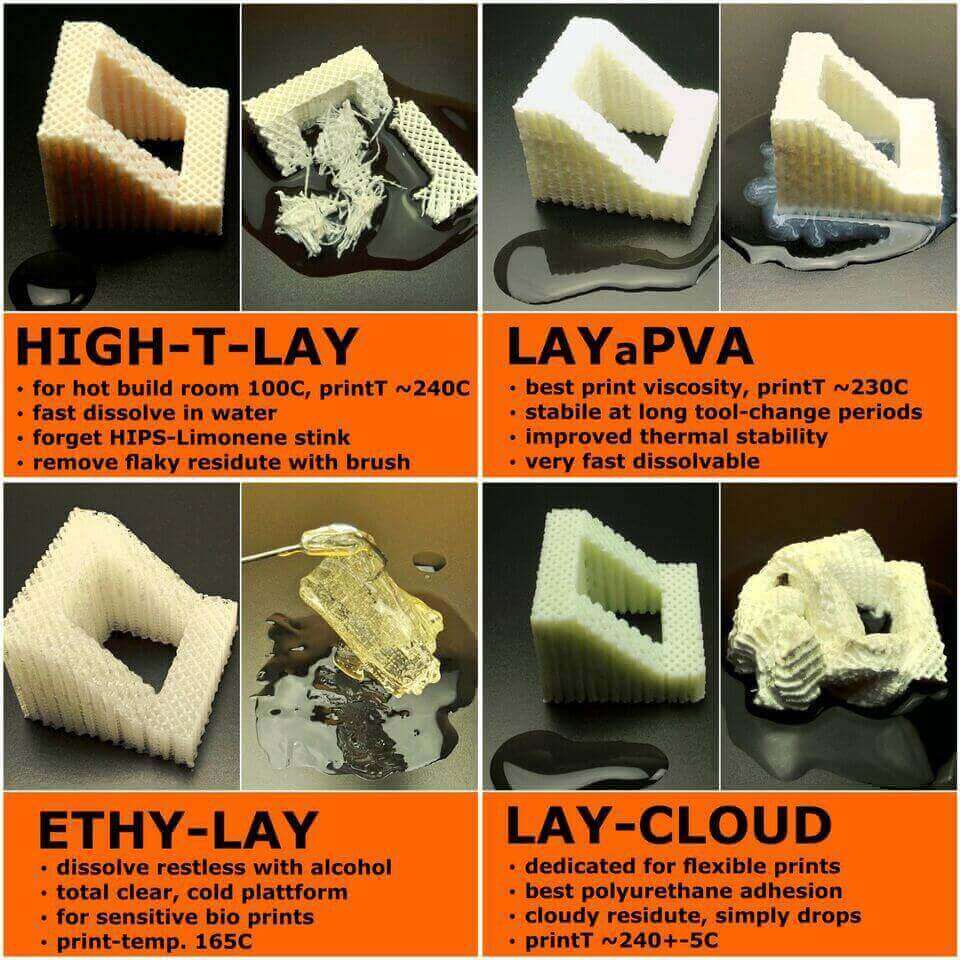 3D printing soluble filaments are on the market for quite some time… but what's new here is the possibility to pick a material suited for your print. Secondly, it's interesting to see that innovation in 3D printing is coming just as much from makers as from big companies.
We're looking forward to more exciting filaments from Kai Parthy in the future.
(via: 3ders)
License: The text of "Kai Parthy Shares 3D Printing Soluble Filaments "LAY-AWAY"" by All3DP is licensed under a Creative Commons Attribution 4.0 International License.
Subscribe to updates from All3DP
You are subscribed to updates from All3DP
Subscribe
You can't subscribe to updates from All3DP. Learn more…