The controversial 3D printing startup Just3DPrint loses its defamation lawsuit against 3DR Holdings in the last of three court battles.
Update: 8/18/17
After taking Stratasys, TechCrunch, and 3DR Holdings to court over defamation allegations, the 3D printing startup Just3DPrint has just lost its final legal battle. If you've been following the 3D printing community closely, you've likely heard about last year's scandal involving an eBay store that sold the 3D printed models of various Thingiverse designers without permission.
The debacle sparked a much-needed conversation about copyright issues within the 3D printing community, and ultimately pitted Just3DPrint against a swath of designers and media publications. The startup's eBay store was shutdown once the controversy reached its boiling point, and Just3DPrint president and CEO Ryan Simms decided to file a defamation lawsuit against Stratasys (which owns MakerBot, and thus Thingiverse), TechCrunch, and 3DR Holdings, a technology media company that is invested in 3DPrint.com and 3DPrintingIndustry.com.
Back in June, we covered the outcome of two out of the three cases, which you can read more about in the original article below. Somewhat surprisingly, Simms succeeded in his case against Stratasys, winning $12,000. However, Just3DPrint also lost their case against TechCrunch. Now, All3DP has just discovered that the infamous eBay seller has now failed its third lawsuit against 3DR Holdings.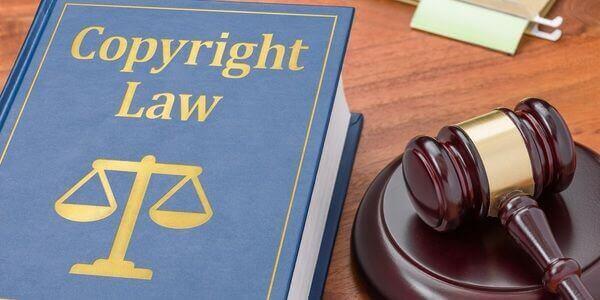 Just3DPrint Loses Defamation Lawsuit Against 3DR Holdings
In the publicly available court order, Philadelphia Municipal Court Judge Joffie C. Pittman III gave an exceptionally detailed explanation behind his decision. After going through the origins of the controversy, including a summary on the back-and-forth between Just3DPrint and Thingiverse user Loubie, who led the charge against the startup after she discovered her Aria the Dragon was being sold on their eBay store.
After Loubie filed a complaint against the plaintiff through eBay, Just3DPrint responded by defending themselves in the comment section of Thingiverse. This led both 3D printing and general tech publications to report on the ensuing controversy (including All3DP).  After eBay suspended Just3DPrint's account, Simms decided to take the three companies to court over defamation allegations.
According to Judge Pittman, the plaintiff failed to demonstrate the defamatory character of the communication and also didn't prove that special harm resulted from the publication's coverage of the matter.
"Other than factually summarizing the dispute between Lourbie and the plaintiff and on occassion using somewhat "unflattering" words to describe the plaintiff's conduct, there is nothing in any of the articles which would lead this court to find the publications to be defamatory. In fact, the tone of the defendant's articles is no different than the tone in the plaintiff's February 19th comment on Thingiverse," Pittman states in the court order.
Although Just3DPrint certainly lost revenue due to the suspension of their eBay account, the plaintiff failed to show how the 3DR articles played any part in that. While the judge claimed that Just3DPrint or 3DR are unqualified to publish a legal opinion, both are entitled to share their opinions on copyright issues.
Meanwhile, court records show that Stratasys, who lost the initial ruling against Just3DPrint, is currently settling the matter through arbitration.
Original Article: Written 6/21/17
Last year, the 3D printing community was knee-deep in controversy over an eBay store that allegedly sold 3D printed models created by other designers. It all started when a designer named Loubie found her "Aria The Dragon" model for sale on an eBay store belonging to Just3DPrint. The designer created and uploaded the "Sad Face!" model onto the Thingiverse 3D printing marketplace in order to raise awareness about the issue.
After Loubie asked the just3dprint eBay store to take down her models, the Philadelphia startup responded with a strongly worded message denying any wrongdoing on their part. "When you uploaded your items onto Thingiverse for mass distribution, you lost all rights to them whatsoever. They entered what is known in the legal world as "public domain,"" the first part of their statement read.
Want to learn more about this issue? Read our previous coverage here.
This response set off an explosive discussion throughout the community, garnering responses from every major 3D printing marketplace, Shapeways legal expert Michael Weinberg, and many others (including ourselves). After a few weeks of debate, eBay removed all listings from the just3dprint storefront. Loubie celebrated the victory by uploading a "Happy Face!" model, and all seemed to be set right in the 3D printing community.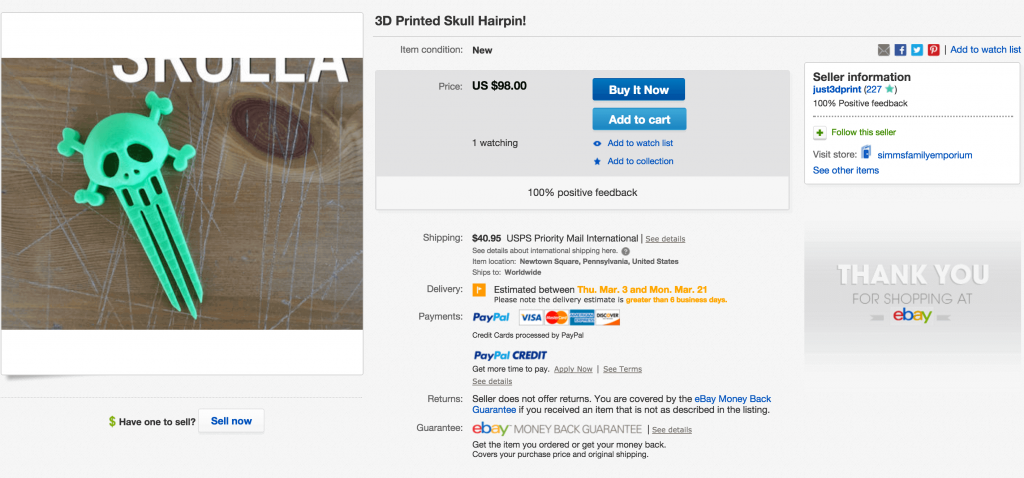 However, reports show that Just3DPrint is not going down without a fight. It's recently been revealed that the startup has sued Stratasys, TechCrunch, and 3DR Holdings, which manages the website 3DPrint.com.
Just3DPrint Files Lawsuit Against Stratasys, TechCrunch, and 3DR Holdings
We first caught word about this resurfacing controversy from Twitter user "JATMN – CaptainBAWLS," a 3D printing evangelist that hosts the webshow 3D Printing Tonight.
Looks like "just3dprint" that was selling everyone else works is now going around and suing everyone that talked bad about them. #3dprinting

— JATMN – CaptainBAWLS (@THEJATMN) June 19, 2017
The matter was also investigated by Joel Telling of the popular YouTube channel 3D Printing Nerd. In his video, Telling sorted through the Philadelphia Municipal Court Records, finding that Just3DPrint's CEO Ryan Simms successfully sued Stratasys for defamation. The startup defeated Stratasys in court and won $12,000, but also lost their case against TechCrunch. At the moment, it's unclear why Stratasys lost the case and TechCrunch did not.
Simms is also currently suing 3DR Holdings for an article published last year on 3DPrint.com, which they claim "is defamatory in nature and has caused my firm considerable harm."

According to the Court Records, Just3DPrint claims that they were "projected to generate $2,000,000 a month in gross profits within one to two years after the eBay controversy took place. The startup also alleges that they lost a $10,000 annual contract, two advisors, a potential employee, investment opportunities, and so on and so forth.
But in the 3DPrintingNerd video, Telling found information that could potentially refute the $2 million per month claim. After looking at "Exhibit 1" from the Court Records, he found that test results from eBay show that the storefront made under $2,000 over the course of more than five months. Therefore, it seems like quite a bold claim that the startup thought they would make between $100,000,000 and $200,000,000 of "revenue stream over the next decade."
Want To Know More?
If you want to learn more information about the lawsuits, you can lookup the cases via Philidelphia Municipal Court Records. The three cases can be found as follows:
Just Print It INC vs Stratasys: Case #: SC-17-02-24-6077
Just Print It INC vs Techcrunch: Case #: SC-17-02-24-6074
Just 3D Print vs 3DR HOLDINGS LLC Case #: SC-17-02-21-5340
You can also check out the recap from 3D Printing Nerd below:
License: The text of "UPDATE: Just3DPrint Loses Defamation Lawsuit Against 3DR Holdings" by All3DP is licensed under a Creative Commons Attribution 4.0 International License.
Subscribe to updates from All3DP
You are subscribed to updates from All3DP
Subscribe
You can't subscribe to updates from All3DP. Learn more…