Josef Prusa nabs himself a coveted spot on the Forbes 30 Under 30 list for Technology in Europe, and shares a status update on the Original Prusa i3 MK3 3D printer two months after shipping began.
Don't Miss: All3DP Visits Josef Prusa at the New Prusa Research Facility
It's been officially two months since the Original Prusa i3 MK3 3D printer and 3D printer DIY kits started shipping to eager customers.
Launching a brand new product is a busy and intense period for any company. So two important updates reach us from Prusa Research HQ in Prague today, both pertaining to recent developments.
The first is that CEO Josef Prusa has been added by Forbes Magazine to their 30 under 30 list for technology in Europe. Such recognition by a respected international business publication is no small achievement. Particularly since — as the profile notes — Prusa is a college dropout from the University of Economics in Prague.
"In the last five years," runs the accompanying copy, "Josef Prusa has grown his eponymous company from a bootstrapped enterprise to one of the largest 3D printer companies in the world."
Some official numbers from the profile are that Prusa has shipped tens of thousands of printers to over 130 countries. In 2017, the company made over €33M in revenue, and Forbes Czech Republic estimated its valuation to be €236 million in 2016.
Less interesting nuggets from the profile are is that "celebrities" like Wil Wheaton and Conan O'Brien are fans, but each to their own.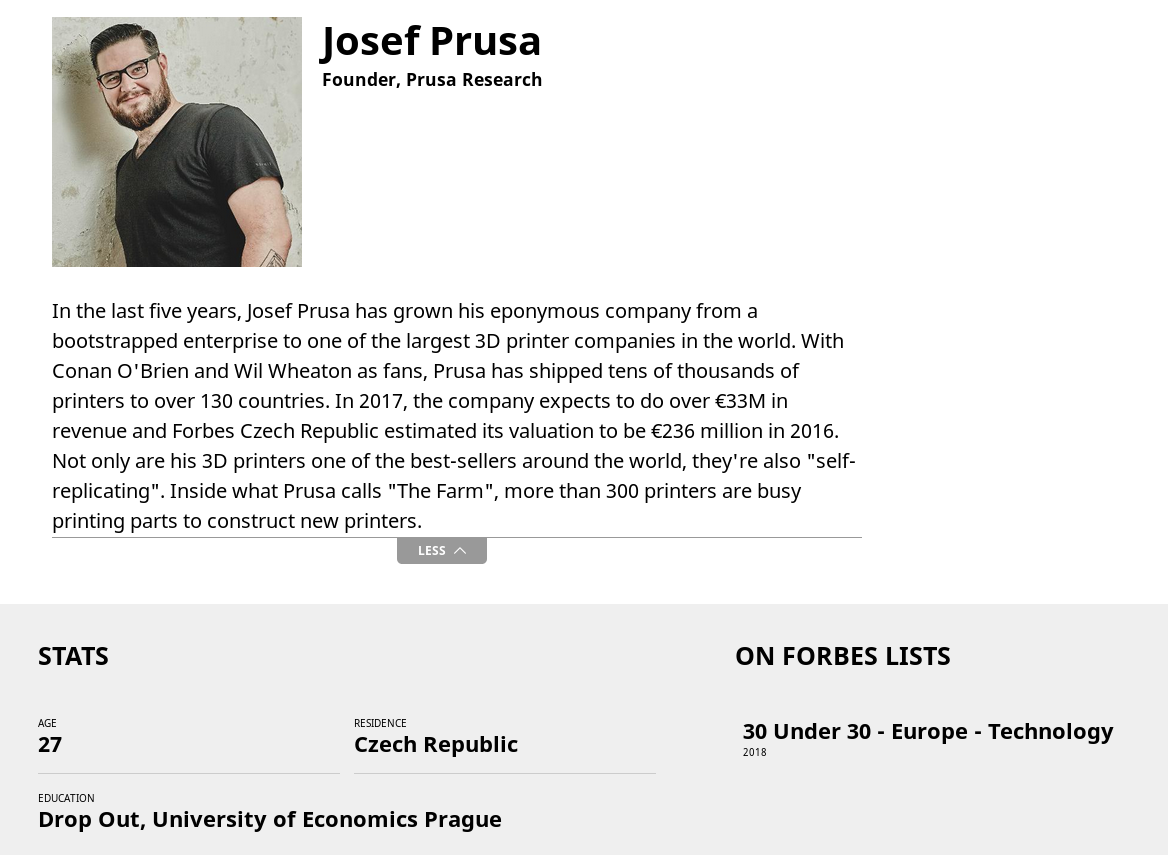 Over 2,000 Original Prusa i3 MK3 Units in the Wild
Don't Miss: 2019 Original Prusa i3 MK3S Review: Simply the Best
The second item of news is perhaps more pertinent to current and future customers of the Original Prusa i3 MK3. Josef Prusa has shared a frank assessment of the launch of his new printer, discussing problems the team encountered and the fixes being implemented.
The first bit of information is that 2,000 units were shipped before Christmas. ALL3DP was one of those lucky recipients (with a unit that the company paid for, so no preferential treatment for us).
Prusa says the launch went pretty smoothly compared to the MK2 launch; what was different was the greater number of printers shipped and the greater demand for feedback from their user-base.
"Not being able to manage this was the single biggest fail of the launch," he says. "Lesson learned, with next product I will limit the number of units shipped in the first month and ship preferably to long time users."
The Jolly Bearded One also drilled down to specific areas such as the Power Panic feature, quality of printed parts, firmware releases, crash detection, and more. If you already have a MK3, it's strongly recommended that you read through the post and see if it addresses any specific issues you've encountered.
What's especially remarkable is the volume of iterations and improvements released in only 2 months. We've already assembled and are testing an Original Prusa i3 MK3 in the ALL3DP workshop, and there's a sizeable backlog of updates we need to implement for our unit.
"To sum it up, all the little annoyances were easily solved via drivers and firmware updates," explains Prusa. "Parts we mixed up during manufacturing are replaced free of charge and I am looking forward to see the MK3's bright future."
Main Image Credit: Prusa Research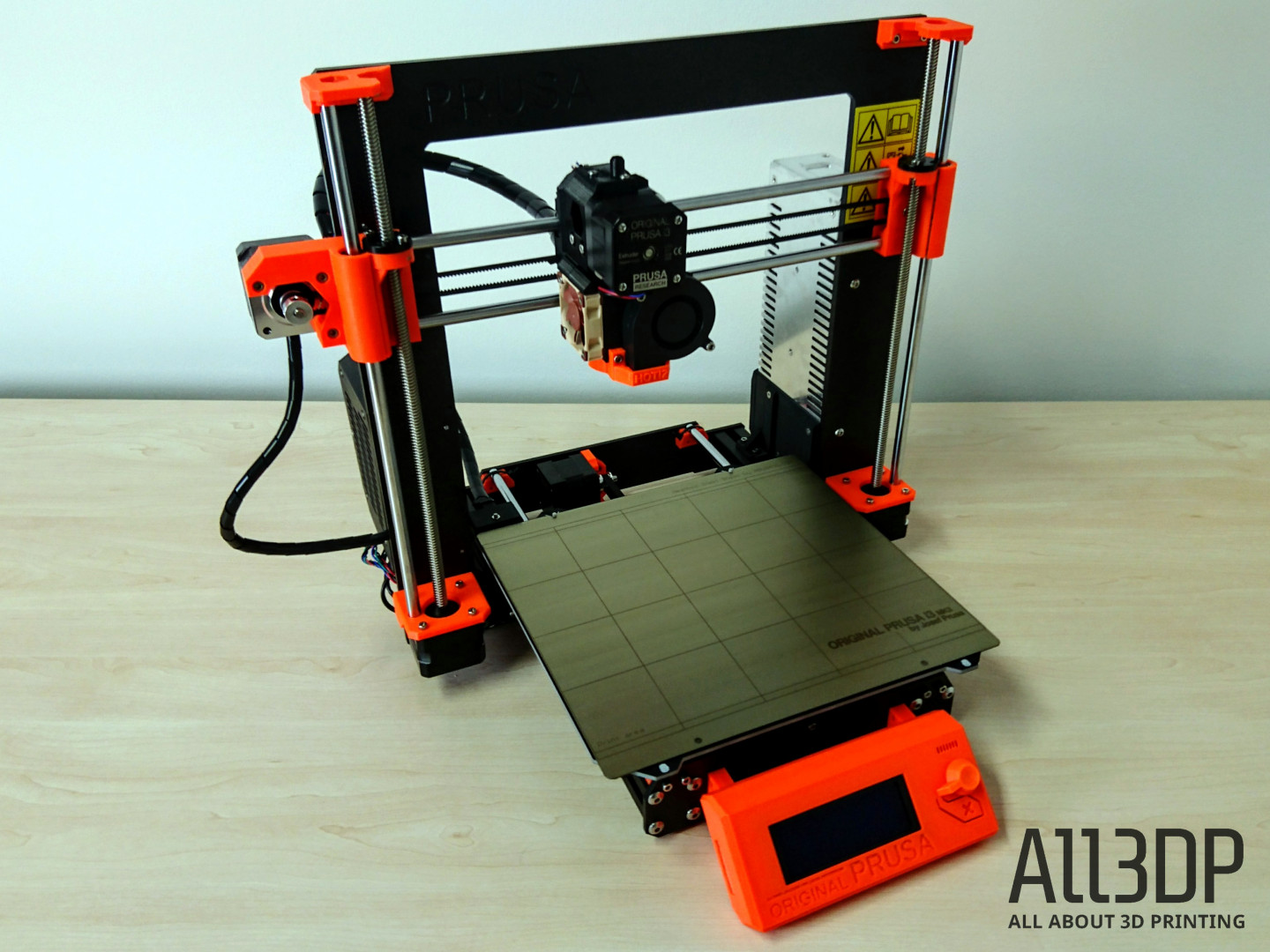 License: The text of "Spot for Josef Prusa on Forbes 30 Under 30 in European Technology List" by All3DP is licensed under a Creative Commons Attribution 4.0 International License.
Subscribe to updates from All3DP
You are subscribed to updates from All3DP
Subscribe
You can't subscribe to updates from All3DP. Learn more…