All3DP talks with Danish entrepreneur Simon Breum Fisker about the new and improved Sculpto+ 3D printer, now live on Kickstarter.
Innovation in the field of 3D printing is taking root all across the world. The Nordic country of Denmark is one the latest to emerge onto the scene, in no small part due to the startup Sculpto. Originally founded in 2015 by entrepreneurs Simon Breum Fisker and Jacob Lindeberg, the duo set off to make desktop 3D printing more accessible for the everyday consumer.
The first printer, aptly called Sculpto, met modest success on Kickstarter, surpassing its goal of DKK 150,000 ($24,000) with DKK 266,820 ($42,692). Labeled as "a 3D printer for the whole family," the target audience for this printer were novice consumers and classrooms.
After gathering feedback from customers, the team went back to the drawing board to develop an improved machine. And thus, the Sculpto+ was born. Similarly to the first iteration, the new printer is a polar-style design, featuring a circular printer bed. Although the printer is the size of your average home coffee machine, it has an impressive five liter build volume.

The upgraded printer also comes with a slew of new features, including a flexible Buildtak build plate and a smart three layer raft system to fight curling and other adhesion problems. The Sculpto+ is also able to print with S-curve acceleration, which leads to faster and smoother prints.
Equally impressive are the new motor-controllers inside of the printer, reportedly creating an amazingly silent and stable printing experience. The Sculpto+ also comes equipped with "model engine" software that enables full integration with Thingiverse. This allows users to seamlessly skim through 3D models and find the best content available.
Read more about Thingiverse: Thingiverse: An Inside Look At The Leading 3D Printing Marketplace
Needless to say, we here at All3DP were extremely intrigued by the potential of the Sculpto+. The new printer launched on Kickstarter today, and has almost doubled it's fundraising goal of DKK 200,000 ($32,000) in a matter of hours.
To learn more about this Danish desktop 3D printer, we talked to co-founder Simon Breum Fiske about the new features in the Sculpto+, lessons learned from the past, future plans as a company, and much more!

All3DP: You say that the original Sculpto is one of the best-selling 3D printers in Denmark. Who is your typical customer? What are the official sales figures for the printer?
Simon Breum Fisker: Our typical customers are middle-aged men with children. Also, 88 % percent of our customer have very limited or no experience with 3D printing – which makes it even more important to make sure that the printing process is easy and intuitive!
Any interesting case studies involving the original Sculpto which you can share?
Denmark is divided into 98 municipalities and at the moment a big part of these municipalities are investing in new and innovative technologies. In fact, many of them have decided to buy Sculpto 3D printers for their schools. One of the best cases is Ringkøbing Skjern Kommune who have build fablabs for each of the schools in the municipality. Here you will find 1 Ultimaker and 8 Sculpto 3D printers in every fablab.
So you're coming back to Kickstarter with the Sculpto+. What lessons have you learned about crowdfunding since your first experience?
We have learned a lot since our last Kickstarter campaign and hope the Sculpto+ will be a big success on Kickstarter. It's hard to pinpoint all the things that we have learned. But I can tell you the thing we are looking forward to the most. Apart from funding the production of Sculpto+, one of the things we are looking forward to is the huge network you get from running a campaign. Among our backers, there were 15 people who became key partners in finalizing the development, production and concept of the Sculpto 3D printer – so basically we ended up with a lot more than just funding. One of the people who backed is the person who runs the injection molding company where Sculpto's plastic parts are manufactured today.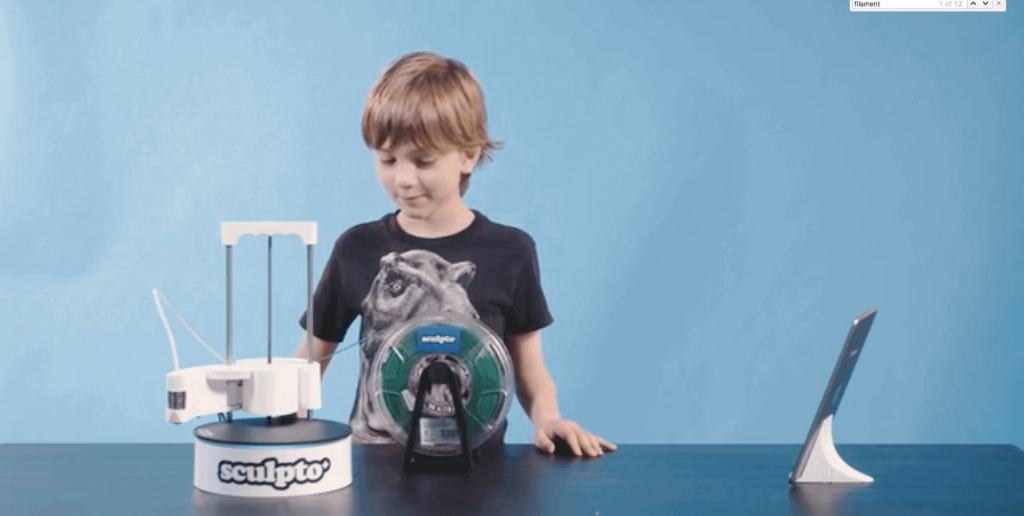 How would you classify the Sculpto Plus? Is it a toy for kids? Or is it a tool for makers? Or something else?
Sculpto Plus is a creative tool that can be used to help kids as well as adults to go from idea to prototype very fast.
Can you tell us more about the "model engine" software and how it integrates with Thingiverse?
The model engine is going to use data from our users to do 2 primary thingsSeparate good and bad content. Bad content are 3D models that are not designed for 3D printing, e.g. because they are scaled out of proportion, rotated in a way where they use unnecessary support or in other ways don't contribute to our user standing with a nice object in their hand at the end of the printing process.
Secondly, it helps us figure out exactly what our user thinks is interesting both in the long-term and short-term. We will use this to present even more and even better content from Thingiverse to our users while making sure they get the highest possible success rates on their 3D printing experiences.
The reported noise level of the Sculpto+ is around 46 db. How did you manage to make a desktop 3D printer so quiet?
First of all, some brand new micro-motor-controllers were released in January shortly after we started developing the Sculpto+. This helped making the movement of the printer completely silent. After that it was all about trying to get the fans of the printer at the lowest possible noise level.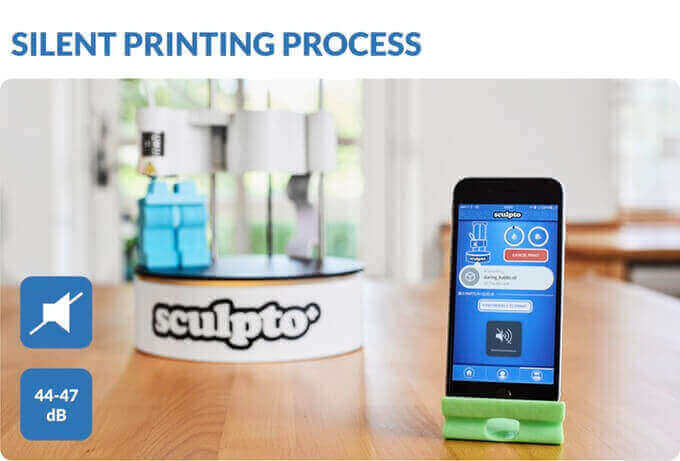 The Polar 3D printer is a rare and special beast in the world of desktop additive manufacturing. What inspired you to adopt this design?
What we believe is genius about the (bi-)polar design is that we needed less parts for manufacturing the machines. It helped us making an extremely compact and lightweight 3D printer and when we build our first simple prototypes a few years ago, we also discovered that the system was actually really stable. We only needed to occasionally calibrate the Z-axis when the conditions had been really rough, but even after bike rides through the city of Aarhus while carrying prototypes in our backpack, we could often start the printer without any calibrating! This is, of course, also because we use a good raft-technology and a very sticky buildplate which allows the printer's Z-distance to deviate a bit.
What does the future hold for Sculpto the company? Any grand plans or products beyond this new Kickstarter campaign?
First of all, we're working hard to build up distribution outside Denmark to make Sculpto available for even more people. But one of the things we are really focusing on is to make 3D printing even more intuitive through extremely intuitive software. And once we have connected people's device and their 3D printer in an intuitive way, presenting content and the option for printing your models easily, is working really great. We hope to one day make this available on all printers not just our own.

What advice would you give to anyone else starting out in the 3D printing industry?
Give great service to your users. We learned from the beginning how extremely important it is to take good care of your customers. It might take some time and cost some money, but we believe our extra efforts is one of the reasons for our high number of faithful ambassadors around Denmark who want to recommend our products.
Finally, what's the most useful thing you've ever 3D printed?
When developing the Sculpto and the Sculpto+ it has been extremely useful to have 3D printing at our disposal. In fact we have been printing all the plastic parts of the Sculpto and the Sculpto+ over and over again. This way we could see, feel and look at every component at make sure it was just how we wanted it before making our injection molds for big quantity production. This made both the development faster and made sure that our 5 injection molds which manufacture the 13 plastic parts on the Sculpto+ worked almost perfectly from the beginning.
License: The text of "Inside Look at Sculpto+: Bringing Accessibility to Desktop 3D Printing" by All3DP is licensed under a Creative Commons Attribution 4.0 International License.
Subscribe to updates from All3DP
You are subscribed to updates from All3DP
Subscribe
You can't subscribe to updates from All3DP. Learn more…