Maker builds an interactive geodesic LED dome using Arduino, 3D printing, and a bright imagination. Each panel lights up when you touch it.
When we think of a geodesic dome, we think of NASA experiments where a gang of poor souls are cut off from the outside world. You know the ones, where they bicker and fight for several months while stewing in smelly odors.
But hey, wouldn't you know it, there's more than one application for these structures. Like for starters, an interactive disco of color and noise.
Maker Jon Bumstead has created this interactive geodesic LED dome, complete with programmable lights that respond to touch. The resulting build is pretty freaking awesome, and we want to climb inside it.
Each triangular section lights up with an RGB LED, and further information is output to five MIDI signals that can produce sound.
This means that up to five people can play the dome as an instrument, all at the same time. Plus, the dome is capable of playing a version of Simon or Pong (which practically guarantees it will be the life of the party).
See the interactive geodesic LED dome in action in the video below:
Building the Interactive Geodesic LED Dome
Bumstead has shared his project on Instructables, for anyone who's inclined to build a dome of their own.
As he explains on the project notes:
"I constructed a geodesic dome consisting of 120 triangles with an LED and sensor at each triangle. Each LED can be addressed individually and each sensor is tuned specifically for a single triangle. The dome is programmed with an Arduino to light up and produce a MIDI signal depending on which triangle you place your hand."
The structure is about a meter wide and 70 cm tall, and primarily made from wood, acrylic, and 3D printing. The 71 joints holding the dome together rolled off the print bed from a MakerBot Replicator.
It really is a magical piece of work. And a neat variation on the plethora of LED tables and cube projects that are already popular on Instructables.
"There are several great Instructables on LED tables and cubes that inspired me to start this project," explains Bumstead. "I couldn't think of a better structure for the project than a geodesic dome."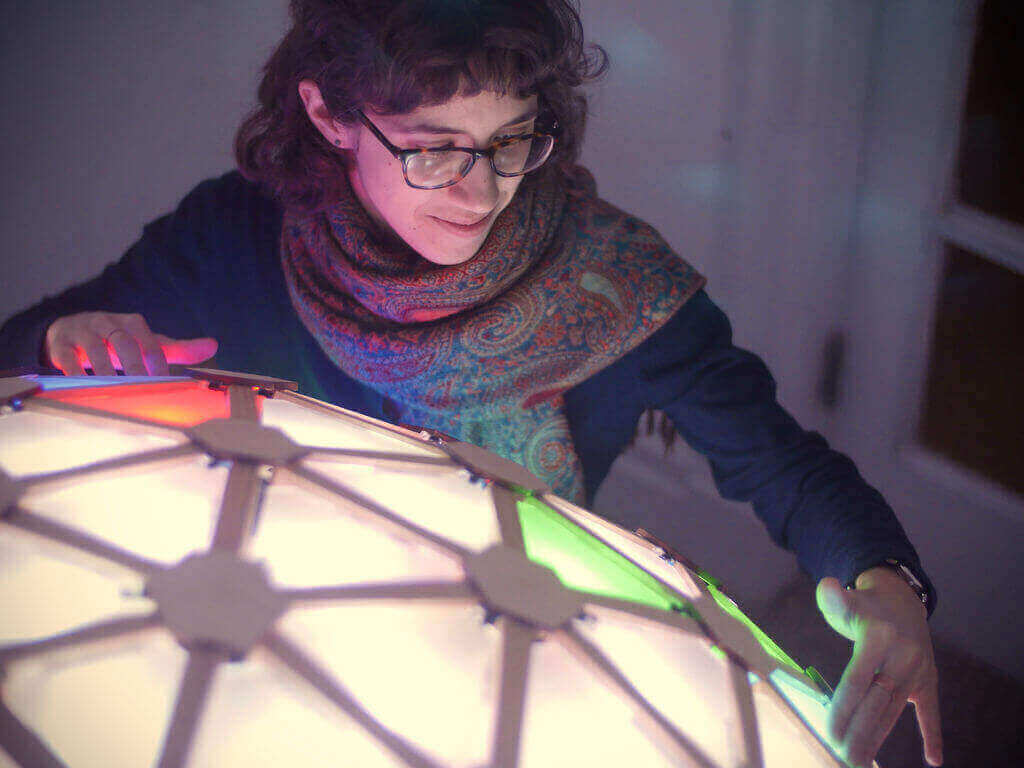 License: The text of "This Interactive Geodesic LED Dome is Crazy Hypnotic" by All3DP is licensed under a Creative Commons Attribution 4.0 International License.
Subscribe to updates from All3DP
You are subscribed to updates from All3DP
Subscribe
You can't subscribe to updates from All3DP. Learn more…