Two companies, Vestibular​ ​Today​ ​and​ ​3D​ ​Brooklyn​, have collaborated on a​ ​3D​ ​printed​ ​inner​ ​ear to assist vertigo sufferers.
The condition of vertigo is a sensation of feeling off balance. Folks suffering from these dizzy spells might feel like they're spinning, or that the world around them is spinning.
A medical company called Vestibular Today has developed an innovative way to help vertigo sufferers, in collaboration with the National Institutes of Health's 3D Print Exchange Program and the creative expertise of 3D Brooklyn. It's a 3D printed inner ear which functions as a tool for both clinician and patient education.
The original model was made by NIH using Magnetic Resonance Imaging to map a patient's vestibular organ. This process led to an exact replica of the organ. It accurately depicts the correct canal angles in relation to each other and the utricle. It also features changing canal diameters.
Vestibular Today worked with 3D Brookyn to help refine the model and increase the size to scale. In the process they created a new innovative tool as an affordable educational product.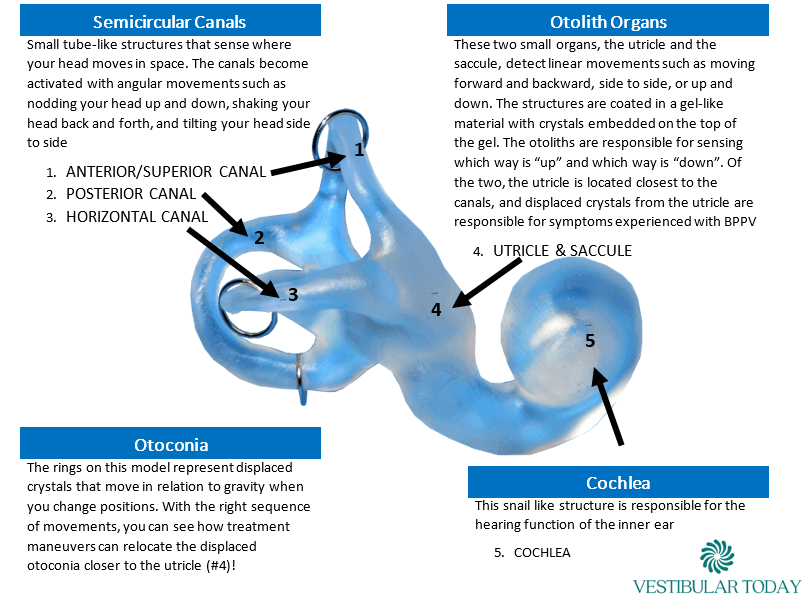 Vertigo Treatement with a 3D Printed Inner Ear
According to Will​ ​Haude,​ ​Chief​ ​Creative​ ​Officer at 3D Brooklyn:
"We're used to creating functional product prototypes for clients, but working with a scan of an organ was a nice shakeup. It was the perfect combination for 3D scanning and 3D printing technologies… The end result is a functional and educational medical device to help guide patients through necessary motions needed to relieve vertigo. CAD programs aren't the right tool for this project. For a realistic model with accurate proportions, 3D scanning along with some 3D modeling programs allowed us to clean up the model and add specific features to help call out certain sections of the organ."
Symptons of vertigo often occur because of a problem with the inner ear. The inner ear sends signals to the brain about head and body movements relative to gravity, which helps you keep your balance.
One of the most common causes is benign paroxysmal positional vertigo, or BPPV for short. BPPV occurs when tiny calcium particles called canaliths clump up in canals of the inner ear.
Vestibular Today is now using the 3D printed model to educate patients about BPPV, demonstrate the canalith repositioning maneuvers, and spread the word about the vestibular therapy.
Source: 3D Brooklyn
https://youtu.be/mIWWwjnbHgU
License: The text of "How 3D Printing and Scanning Technologies Can Relieve Vertigo" by All3DP is licensed under a Creative Commons Attribution 4.0 International License.
Subscribe to updates from All3DP
You are subscribed to updates from All3DP
Subscribe
You can't subscribe to updates from All3DP. Learn more…