A smartphone 3D scanner is the hot new thing on Kickstarter. For under $300, the system promises high-res scans in just 5 minutes.
If you are looking for 3D scanners, hand scanners like the Artec EVA (Artec, €13.700) can give you stunning results. On the other end of the spectrum, consumer 3D printer companies like Makerbot offer you 3D scanners (Digitizer, €949) which work hand in hand with their systems.
Australian company Eora 3D had a problem with this huge price and quality gap: "None are accurate unless you have $15,000 to spend. So we challenged ourselves to design and engineer a 3D scanner that not only was extremely precise and accurate but also fast, portable and affordable."
Eora 3D launched their Kickstarter campaign for a smartphone based 3D scanner just three days ago, It is is already 250 percent funded.
How the 3D Scanner Works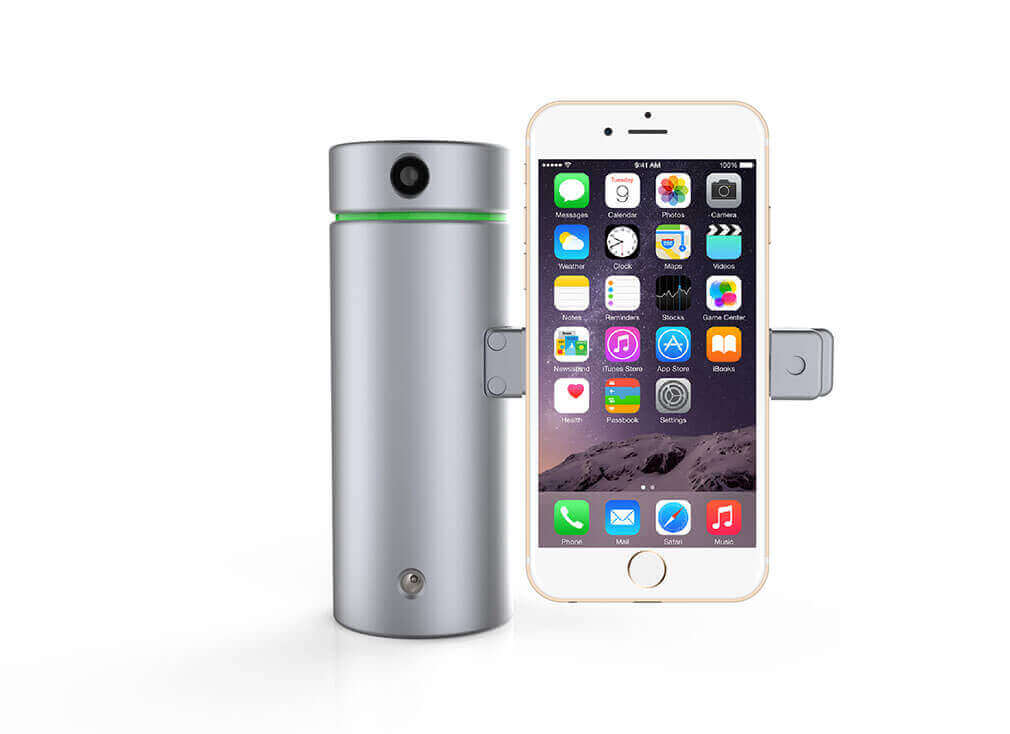 The system consists of four parts: The scanner (a metal rod that encases the laser), a turntable (optional), an app plus your phone.
After you've installed the free app, you attach the phone to the scanner. Then you place the object on a turntable. When you start the scan from the app, the turntable moves synchronized to the scanner. Whether it is your clay model or a custom figurine, you should be able to digitize it within minutes.
The phone works as storage for your 3D files and also as a viewing screen.
Impressive Specifications
The specs read impressive for a low-cost 3D scanner system. It should let you capture everyday physical objects and surfaces and turn them into high-quality 3D models.
The Scanner
According to the company, the precision of the Eora 3D scanner is sub-100 microns.
It is capable of scanning 8 million points in just 5 minutes.
The green 5 mW laser works at a wavelength of 520 nanometers. It is eye-safe and has a glass lens with anti-reflection coating.
You can mount the system to a tripod.
Also, you can export models as .ply, .obj or .stl.
The Turntable
Scans are captured in full-color and are rendered on-screen.
You can scan up to 1 meter.
The App
Works with Android: Samsung S5, HTC One, Sony Xperia, Google Nexus 6 and above.
Works with Apple: iPod touch 5th generation and above, iPhone 5, iPhone 6, iPhone 6 + and above.
The app stitches scanned objects together, so you don't have to buy the turntable.
You can share and 3D print from 3D Hubs, Shapeways, and Sketchfab.
Kickstarter Check: Scanner Or Scammer?
Eora 3D obviously hit a sweet spot in the maker community – currently, they've gathered a sum of $276.837 from nearly 1000 backers.
The price is very low compared to other 3D printing scanning solutions:
The Kickstarter Special for the Eora 3D scanner is priced at $225 (early adopter price, later $255).
If you add a Bluetooth turntable, you're at $289 (early adopter special, later $318).
If you want this setup already in April 2016, you pay $419.
The campaign looks slick, professional and impressive (the sentence "milled from a block of aluminum" combined with an Apple-ad look and feel made us smile).
Eora 3D presented a working product already at the World Maker Faire 2015 in New York and Sydney.
The Beta units are due April 2016. Kickstarter backers should receive their Eora 3D Scanner in June 2016. This schedule looks a bit tight to us – if anything in the production fails or needs to be re-evaluated, delivery might be later than expected.
We can't see any bigger flaws and holes in their campaign so far. As usual, it's all about the quality delivered.
We'll keep you posted on this interesting scanner.
License: The text of "High-Precision 3D Scanner for Your Smartphone" by All3DP is licensed under a Creative Commons Attribution 4.0 International License.
Subscribe to updates from All3DP
You are subscribed to updates from All3DP
Subscribe
You can't subscribe to updates from All3DP. Learn more…