The Vietnamese security firm Bkav claims they cracked Apple's Face ID with a mask of 3D printed plastic, silicone, makeup, and paper cutouts.
Back in September, Apple CEO Tim Cook took the stage at the company's 2017 Keynote to reveal the iPhone X. The latest and most advanced smartphone from Apple offers a lot of perks. However, the feature that stirred the most controversy thus far is the Face ID security system.
During the announcement for the new iPhone X, Apple claimed that this technique has only a one in 1,000,000 chance of being hacked. But the Vietnamese security firm Bkav has raised some serious doubts about the unlocking measure, which uses 3D scanning and facial recognition to identify your face and unlock your phone.
Related: What the iPhone X Could Mean for 3D Scanning
The team of hackers claim that they were able to trick the security system using a composite mask. This mask was made with a 3D printed plastic frame, along with silicone, makeup, and paper cutouts. Bkav states that Apple's Face ID relies too heavily on AI, and that they needed just half a face to unlock the new smartphone.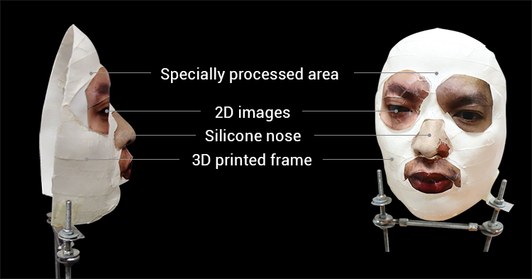 Hackers Crack Face ID System on Apple's iPhone X With 3D Printed Mask
According to Bkav, they were able to combine these materials to create a mask capable of tricking the iPhone X into unlocking. Starting with a plastic 3D printed frame, the security experts added a sculpted silicone nose, as well as two-dimensional eyes and lips printed on paper. The cost of the entire mask is less than $150.
Although the security firm hasn't unveiled much detail behind their process, they do admit that a lot of work went into spoofing Face ID. They claim that their technique requires a detailed measurement or digital scan of the iPhone's owner face. This means that the average hacker would be unable to unlock phones at will, and would be more useful for highly targeted espionage.
"The recognition mechanism is not as strict as you think. We just need a half face to create the mask. It was even simpler than we ourselves had thought."
If true, security experts believe that this could make Face ID much less secure than the fingerprint-based Touch ID process. For instance, if fixed and 2D printed eyes are able to trick the facial recognition measure, this means simpler spoof masks could also unlock a user's iPhone. The same could be true for someone who is sleeping, restrained, or even dead.
Still, the chances that a thief or hacker will manage to create a silicone-and-plastic mask of your face is highly unlikely. Without definite proof, some are skeptical about whether Bkav truly hacked the Face ID security system or not. The company claims that they will reveal more information in a press conference later this week.
Source: WIRED
License: The text of "Hackers Crack the iPhone X Face ID System With 3D Printed Mask" by All3DP is licensed under a Creative Commons Attribution 4.0 International License.
Subscribe to updates from All3DP
You are subscribed to updates from All3DP
Subscribe
You can't subscribe to updates from All3DP. Learn more…