So you want a Black Widow action figure? And Marvel is letting you down? Then have this gorgeous 3D printed Black Widow statuette… in 2016!
Sometimes, fans have to be very, very, very patient with companies. Even if we want to throw our money at them, they just don't react. Like in this story.
Fans love Gentle Giant. The California-based company specializes in designing and printing figurines of the world's most beloved characters. They focus on capturing the details and real likeness of actors, props and scenes to give consumers exactly what they want: highly accurate geek merchandise.
Lucky for us, they've unveiled a gorgeous Black Widow Figurine. No, really, look at it. The quality is just incredible.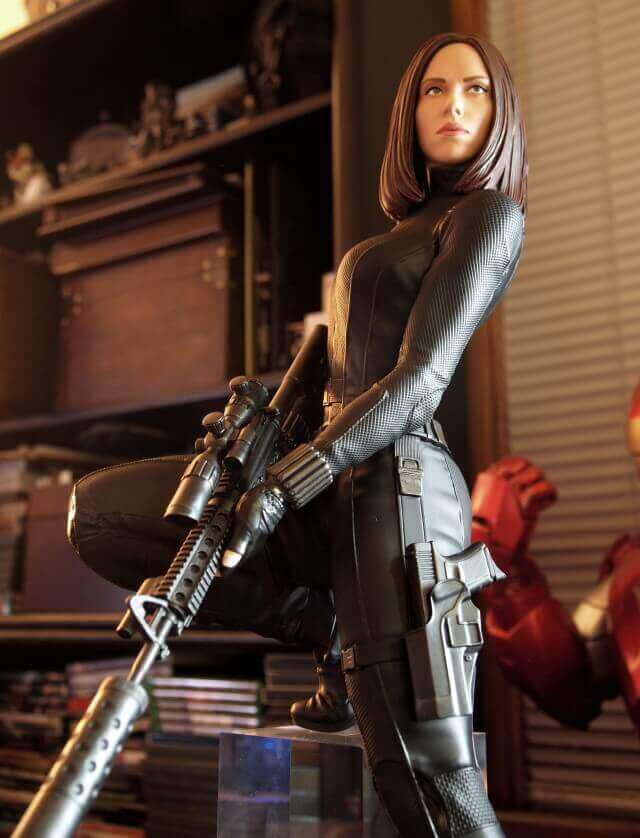 Why, you ask, should you buy your Black Widow figurine from a 3D printing company than through Marvel's website directly? It seems the various Black Widow toys and items are surprisingly hard to come by. Marvel's toy portfolio is currently missing most female action figurines like the Black Widow.
You Might Have The Impression Marvel Doesn't Believe In Its Characters
Excited dudes and dudettes have been clamoring ever since Marvel first announced Black Widow… and the clamoring continued as various faux pas were made by the Marvel team (and actors) concerning the legendary spy. One of the latest blows to the superheroine's fan-club was the extensive exclusion of Black Widow from the wide range of Avengers toys.
Recently, Hasbro manufactured a toy chronicling one of the famous Black Widow moments from Avengers: Age of Ultron. The Hasbro set allows you to help Captain America ride his freedom-bringing motorcycle from the hidden confines of his superhero jet. Yes, the famous scene from the movie actually featured Black Widow falling from the sky, but that didn't stop Marvel and Hasbro from replacing her with Captain America.
That's a joke, right?
Here She is. But Be Patient. Be Very Patient.
Luckily, Gentle Giant is giving us not just the character we want, but the quality. The statuette may be a bit pricey for the average hobbyist, costing $150. Also, the 3D printed figurine (H 9" x W 5" x D 5") is only available for pre-order — you'll have to wait many more months for delivery. Currently the release is scheduled for Q3 2016, which is just ridiculous timing.
If you want to take up your grievances with Marvel, feel free. Marvel has actually featured an article on their website directing customers to get their Black Widow fix at the Gentle Giant, so we can only assume they're happy to let third party companies do the work for them.
As a first step, it's good Marvel reacts – but Q3 of 2016? Really?
Hopefully this use of 3D printing inspires companies like Hasbro and Marvel to take a change of course. Vote with your money, and don't be afraid to get your geek merchandise and statuettes elsewhere.
License: The text of "Gorgeous 3D Printed Black Widow Statue Arriving… in 2016??!?" by All3DP is licensed under a Creative Commons Attribution 4.0 International License.
Subscribe to updates from All3DP
You are subscribed to updates from All3DP
Subscribe
You can't subscribe to updates from All3DP. Learn more…