Each year a specially selected artwork graces Times Square for the month of February. For 2018, a huge 3D printed Fresnel lens has that honor.
If you happen to be passing through Times Square in February next year, there'll be a extraordinary photo op ripe for the taking. Window to the Heart is a huge freestanding lens channeling the constellation of lights and billboards that surround it.
Measuring 12-feet wide and with a heart-shaped aperture at its… well, heart, it'll cut an imposing enough figure. But perhaps the coolest thing about it is that it consists entirely of hundreds of transparent 3D printed blocks.
The folks responsible the installation are design studio Aranda\Lasch and Marcelo Coelho. Coelho is a lecturer for MIT's Department of Architecture, and Head of Design at Formlabs. This leaves it no surprise then, that Formlabs is heavily involved in the production of Window to the Heart.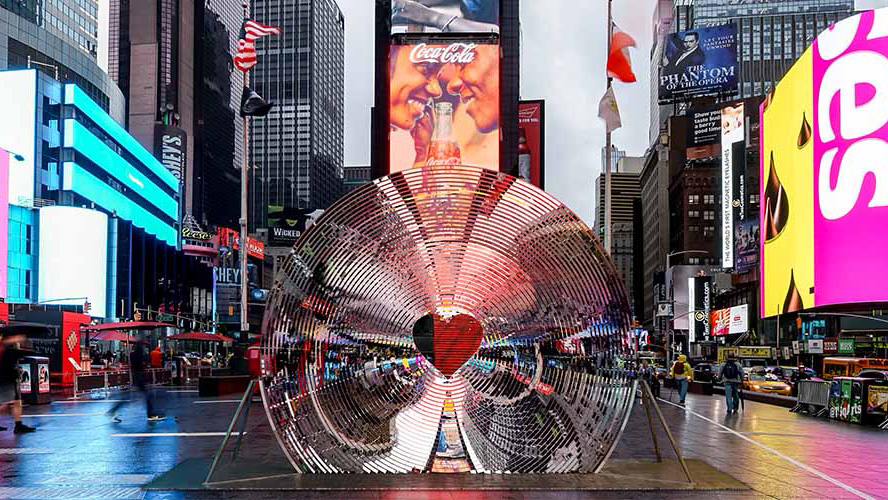 New York Love for Formlabs
The designers entered this oversize fresnel lens in the Times Square Valentine Heart Design Competition. Put on by public arts initiative Times Square Arts, the annual event is New York's most populous attraction's celebration of Love through art.
Playing in to the notion of Times Square being one of the world's most Instagrammed places, the designers reason what better to frame love than a lens that focuses the Square's lights to a heart-shaped aperture. Designed to be photographed, its message it clear.
To construct the installation, desktop SLA pioneer Formlabs provided the heavy lifting so to speak. Printing hundreds of transparent blocks in clear resin, the bricks were then arranged in an assembly professional facade designer Laufs Engineering Design.
If you want to Instagram Window to the Heart yourself, you'll have the whole month of February to do so. The installation will be open to the public from 11AM on February 1st, 2018, at the northern point of Times Square.
Source: ArchitectsNewspaper
Renderings courtesy of ArandaLasch + Marcelo Coelho with Formlabs.
License: The text of "Formlabs 3D Prints Huge Lens for Times Square Valentine Heart" by All3DP is licensed under a Creative Commons Attribution 4.0 International License.
Subscribe to updates from All3DP
You are subscribed to updates from All3DP
Subscribe
You can't subscribe to updates from All3DP. Learn more…