According to a new study by auditing and consulting company Ernst & Young, German companies are world leaders in the use of 3D printers.
A report published by the auditing and consulting company Ernst & Young finds that businesses in Germany are leading the world in the adoption of the 3D printing. The findings of the "Global 3D Printing Report 2016" are based on a study of 900 companies around the world, including 200 in Germany.
The major findings are that 37% of German companies are using 3D printing already, while 12% are planning to adopt it in the future.
By comparison, 24% of companies surveyed in China and South Korea have experienced the technology, followed by 16% in the United States, 17% in Great Britain, and 22% in the rest of Western Europe.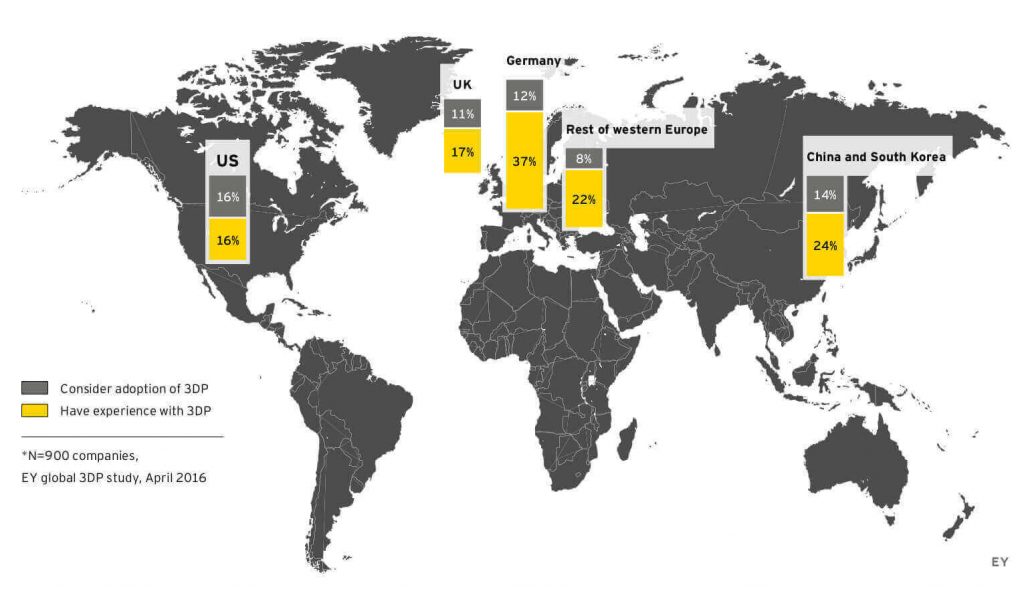 The report also has details on 3D printing applications by industry sector, where 38% of companies in the plastics industry worldwide have already had some experience with additive manufacturing.
Close behind are the mechanical engineering and the automotive and aerospace industries with 29% each. Pharmaceutical and electronics industries round out the top 5 at 28% and 27%, respectively.
But looking ahead, the automotive and aerospace industries are projected to rapidly overtake the plastics industries with a 49% surge.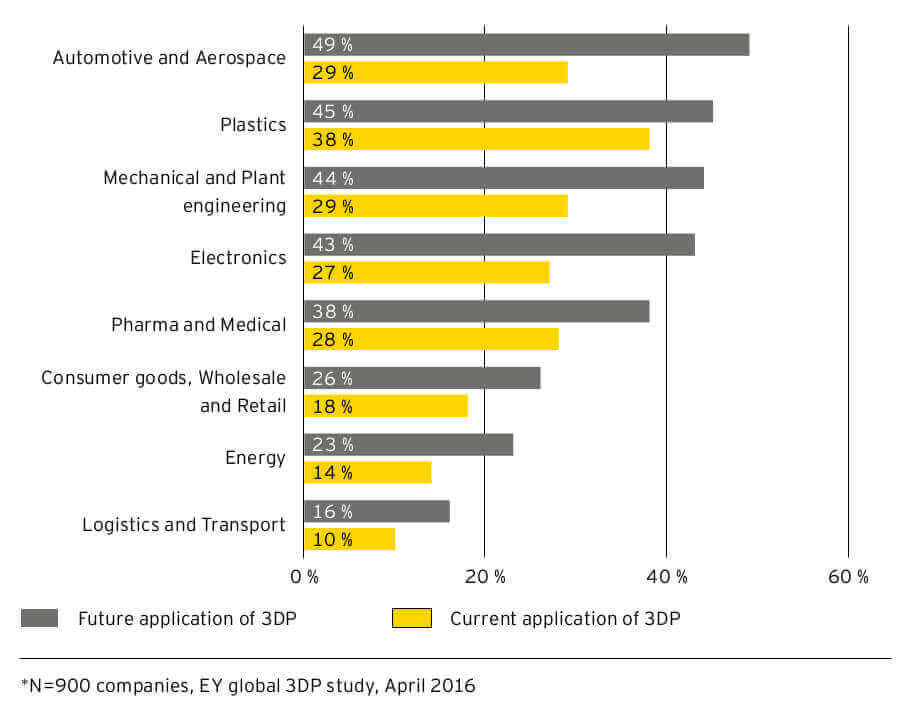 Ernst & Young Report Highlights 3D Printing Benefits & Challenges
According to the study, the contribution that 3D printing technology makes to these industries is an estimated €10 billion in sales. Of that total, €1 billion comes from German companies.
But the proportion of revenue generated in relation to the total sales in Germany is still rather small — for those companies that use 3D printing it only generates 1.8% of their revenue. By comparison, the share of sales in the United States stands at about 5%, with 3% revenue.
Despite these positive signs, however, the study finds that there are still obstacles to further uptake of the technology. Companies have expressed concerns about high implementation costs, a lack of expertise, and higher costs for materials and services.
For small and medium-sized businesses, in particular, the acquisition costs of industrial 3D printers are still far too high. But Andreas Müller, partner at Ernst & Young and lead author of the report, is confident that new service providers will provide the solution:
"The cheap production also of small numbers can bring any business advantage. We will increasingly see in future providers offering 3D printing 'on demand' for other companies. So have smaller companies not even finance the technology and the expertise and can order parts whenever they need it. "
Another area where Germany is currently leading in the world is in the production of finished products by means of additive manufacturing, representing 5.5% of their collective output.
This lead will be short-lived, however, as a greater proportion of companies in other countries are expected to dramatically increase their production of 3D printed end products within five years. China and South Korea are projected to grow from 4.7% to 55.9%, in particular.

Elsewhere in the study, 44% of surveyed companies with experience of 3D printing cite primary benefits from being able to improve the quality of their products; 41% welcome the enhanced capability for customization; and 35% highlight the ability to manufacture more complex products.
Next, 24% of all companies surveyed regard 3D printing technology as a competitive advantage — where they plan to capitalise on the development of new business model — with the remaining 14% using it to strengthen the value chain.
According to Müller:
"Companies see in 3D printing technology (an advantage), with the increased demand for personalized products can be met cost-effectively. In addition, it allows to offer customers completely new products that would not produce with conventional technologies."
Overall, the Ernst & Young Global 3D Printing Report is a fascinating document, and we urge you to dig in and have a read for yourself. There's not much in here about consumer 3D printing, but it's refreshing to read something about the 3D printing industry that's based on substantial research and analysis.
Source: Press Release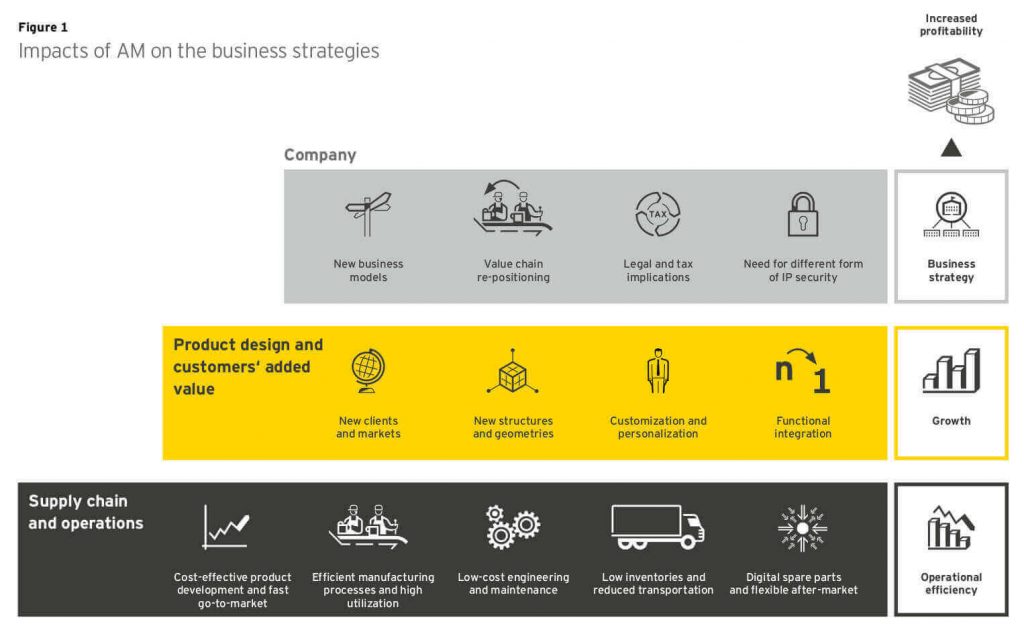 License: The text of "Ernst & Young: German Companies Lead in 3D Printing Use" by All3DP is licensed under a Creative Commons Attribution 4.0 International License.
Subscribe to updates from All3DP
You are subscribed to updates from All3DP
Subscribe
You can't subscribe to updates from All3DP. Learn more…