No longer the stuff of Hollywood blockbusters, EduExo is a Kickstarter project that offers a 3D printable exoskeleton powered by Arduino.
Don't Miss: **INACTIVE** Kickstarter 3D Printer Project
The humble exoskeleton occupies a major spot in popular culture and science fiction. We've seen them in movies like Aliens and Elysium, and marvelled at the possibilities they offer. But could they one day become a reality?
In actual fact there are already a fair number of promising experiments into exoskeletons underway. But the technology can be prohibitively expensive, which puts it beyond the reach of ordinary folks. EduExo is a new attempt by robotics researcher Volker Bartenbach to bring this technology to a mass market.
EduExo takes the form of a cuff for the upper and lower arm, together with a motor and force sensor so it can be used for haptic control. The device is powered by an Arduino Uno and is assembled from 3D printable parts. The innovative project is now seeking funding on Kickstarter.
EduExo to Bring Exoskeletons to the Masses?
The core concept behind EduExo is pretty cool; a robotic exoskeleton kit that you can assemble and program yourself. If successfully funded, the hardware should contain everything you need to build an elbow exoskeleton.
An accompanying handbook will contain a tutorial to guide you through each stage of assembly steps. In addition, the handbook provides background information on the history of the exoskeleton, functionality and technology.
Once complete, Bartenbach promises that you'll have a solid understanding of exoskeleton technology and their applications. Non to mention hands-on experience building and programming your own robotic exoskeleton.
In a lower pledge tier for the campaign, backers with access to a 3D printer can obtain the STL files and a bill of materials to build their elbow exoskeleton. Larger pledges will receive all the parts necessary to build it, and doesn't require a 3D printer.
Interested? Curious? Intrigued? Check out Bartenbach's campaign, and decide if the EduExo is worthy of your backing.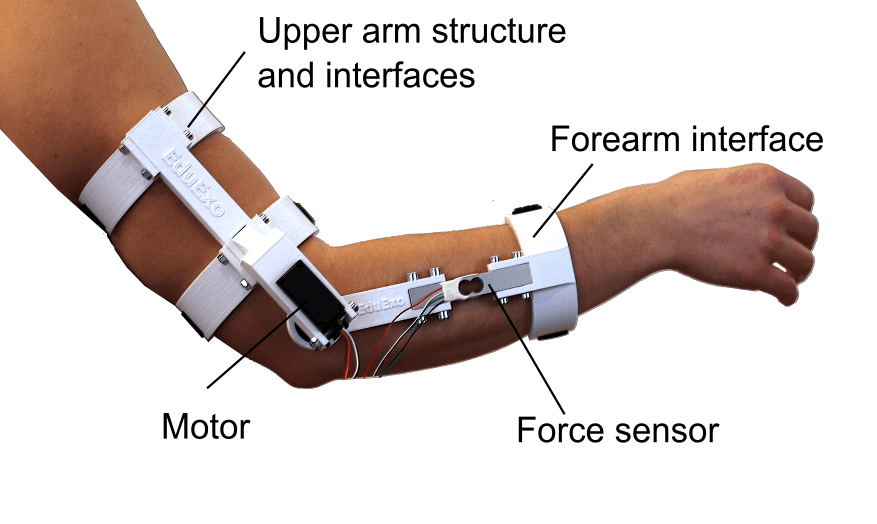 License: The text of "EduExo is a 3D Printable Exoskeleton Kit on Kickstarter" by All3DP is licensed under a Creative Commons Attribution 4.0 International License.
Subscribe to updates from All3DP
You are subscribed to updates from All3DP
Subscribe
You can't subscribe to updates from All3DP. Learn more…