At Formnext in Frankfurt, Danish footwear brand Ecco released details of its data-driven midsole, the Quant-U. Bespoke to every foot, the company will 3D print each one in-store.
Danish footwear brand Ecco has teamed with multiple partners, including Dassault Systèmes' FashionLab and German RepRap, to bring a particularly fancy piece of footwear to market. Using 3D scanning and printing tech paired with biomechanically-driven generative designs, the project claims to bring "a revolution in engineered comfort".
The project goes by the name Quant-U or, to give it its fuller title, Quantified You. Using biomechanical data gathered from a fitting session that uses Volumental 3D scanners, Ecco 3D prints a tailored midsole from silicone for your (Ecco, naturally) shoes.
Perfectly tailored to the foot's shape and wearer's gait, the custom insert cuts out some 75% of the polyurethane that would normally go into a midsole. Fabricated from medical grade silicone, the delivery of the footwear presents something of a revolution for in-store customization and personal data tracking.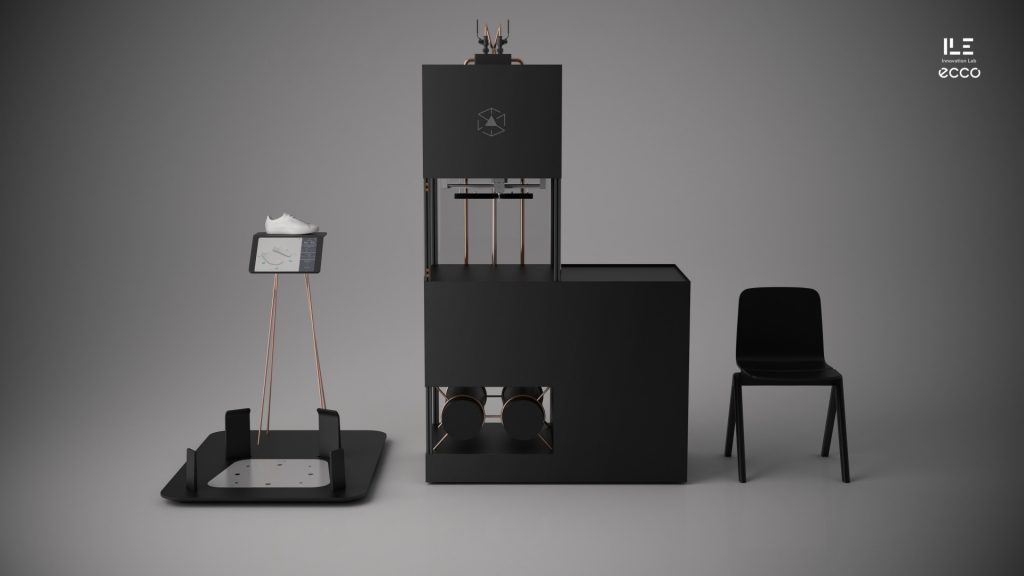 Revolutionary Footwear
Ecco establishes its ambition for viable, additively-enabled bespoke products in a release regarding Quant-U. "We see a lot of activity on the subject of 3D printed footwear without a solid solution for true mass customization from competitors" explains Patrizio Carlucci, project lead and head of Ecco's Innovation Lab. "Additive manufacturing offers the chance to create bespoke parts in series but this is rarely translated in a consumer product".
The implementation of Quant-U would see potential customers rock up to a participating store for a 10-minute fitting session where detailed scans of the feet are generated. The data is then processed into an ergonomically ideal midsole design which is 3D printed live in-store for fitting into a new pair of shoes. The printing process would take approximately one hour.
To achieve such flighty results, Ecco partnered with German RepRap to create a custom 3D printer. Designed to withstand the hardships and safety concerns of in-store usage, the printers work with a specific silicone material developed by The Dow Chemical Company.
An intriguing aspect of the silicone and printer Ecco use is that the printed product requires zero post-processing.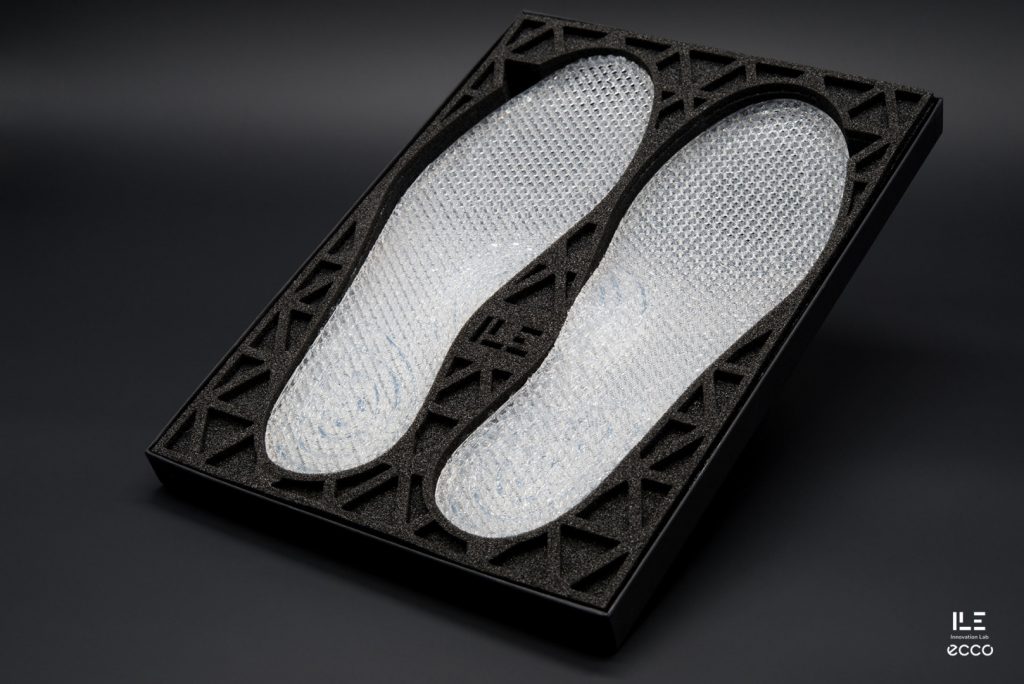 When Can I Get Some?
Currently classified an experiment by the company, the only known place you can encounter the Quant-U system will be Ecco's W-21 concept store in Amsterdam, from February. And even then only select few customers will get to try it out, inserting their custom midsole in the company's Soft 8 – Q shoe.
At around €400 Euros a pair, they're certainly not cheap. However, in addition to the futuristic in-store printed parts concept, Quant-U also incorporates a fitness tracking  aspect with an inbuilt sensor suite. Pairing with a companion app, the data it relays in real-time highlights specific characteristics about your walk.
In anticipation of the W-21 run, the company will open up online enrollment for 200 prospective EMEA region customers in December. Similar programs for Asia and America will follow in 2018.
Source: Press Release
Images courtesy Innovation Lab Ecco
License: The text of "ECCO Shoes to Offer 'Augmented' Quant-U 3D Printed Midsoles" by All3DP is licensed under a Creative Commons Attribution 4.0 International License.
Subscribe to updates from All3DP
You are subscribed to updates from All3DP
Subscribe
You can't subscribe to updates from All3DP. Learn more…