What happens when you unbox and assemble an E3D BigBox 3D Printer for your YouTube channel? A totally awesome and epic time-lapse video, of course.
Last summer, E3D Online ran a successful Kickstater campaign for their E3D BigBox 3D Printer. For those unfamiliar, this is a large volume FDM printer built to high specifications, and the maker community enthusiastically backed the campaign with over £250,000 in funding.
The first BigBox kits have now begun shipping to backers. ALL3DP received one just after Christmas — strictly in a backer capacity, no queue jumping or special treatment for us — and handed our kit over to YouTube video-blogger Thomas Sandladerer for professional assessment in his workshop.
The result is this totally awesome and epic video embedded below, where you can see the kit being unboxed and painstakingly assembled over the course of several days. It looks like a very complex build, and the workshop is drowning in biodegradable corn starch chips, but the result is "absolutely baller" (according to Thomas).
Skip ahead to the 10:12 mark to get straight to the time-lapse, but the preamble is worth watching as well, just to get an idea of the sheer quantity of components and features this monster 3D printer is packing in.
Kickstarter Update on E3D BigBox 3D Printer
However, there is some less positive news to report. In the latest update to Kickstarter backers, E3D Online have been reporting some issues that have forced them to temporarily stop shipment of the printers.
First up is a problem with the leadscrew nuts. The company has been having communication issues with the manufacturer/supplier of a core component, resulting in a delay before they can begin shipping out printers again.
We sampled parts and vetted the manufacturer of the leadscrews and nuts before placing the final order, this was a manufacturer we had worked with in the past. However, when the parts arrived it became clear that the nuts manufactured for the large main order were not within specification. The nuts were significantly too tight on the leadscrews, and this would lead to either mild binding of the nut on the leadscrew or in bad cases the nut becoming entirely stuck on the leadscrew.
It all sounds very frustrating, as much for the E3D team as for the backers waiting to receive their printers.
The second problem is concerning reports from early BigBox recipients of a wobbly Z-axis on their printers. The explanation is very complex, and certainly worth reading in full on the Kickstarter update, but it appears that the tolerances of the steel rods used for the Z-axis of the print bed are slightly too big, and the increased friction is causing a noticeable flaw in the prints.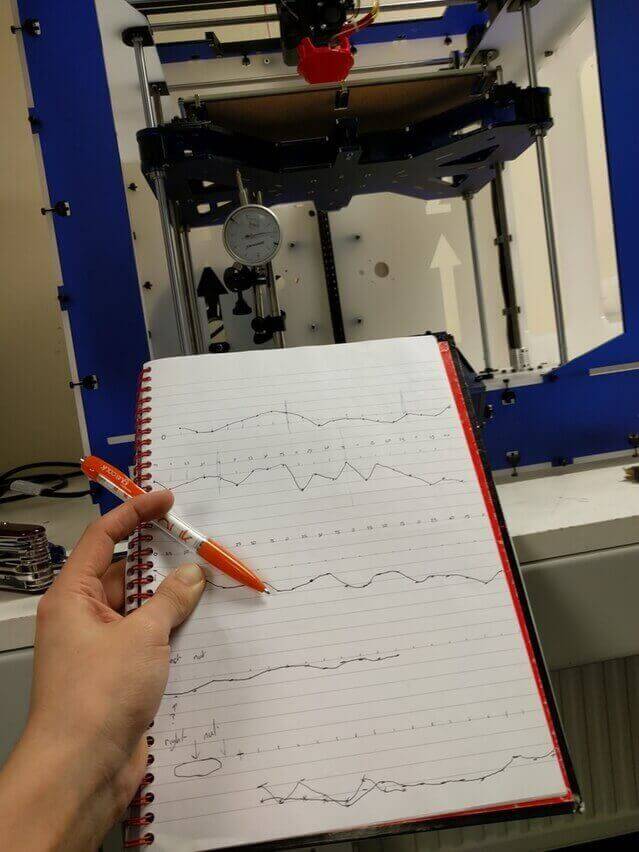 Regardless, they're assuring backers that they're working hard to resolve these issues, and that the printers will be delivered soon.
We are in a position at the moment where we are fighting some very small issues and it is of course delaying shipment. We understand that people are really keen to get their hands on their machines, and delays are never a good thing. However we think it is worthwhile us taking just one more week to do these final tweaks as we feel we should be shipping the best possible machine we can rather than settling for 'good enough'.
As is often the case with Kickstarter campaigns, things can easily go wrong and gum up the works on a production schedule. But E3D have been transparent in the issues they've faced, and we're confident they'll turn things around.
In the meantime, Thomas is putting together his video review and in-depth test of the E3D BigBox 3D Printer. We'll be sharing his findings with you very soon.
License: The text of "E3D BigBox 3D Printer Assembled in Epic Time-Lapse" by All3DP is licensed under a Creative Commons Attribution 4.0 International License.
Stay informed with notifications from All3DP.
You get a notification when a new article is published.